Here I provide essentials for anyone looking to deepen their understanding and skills in this ancient art form. From books and online courses to YouTube channels and community workshops, these resources offer a wealth of knowledge. They cover everything from basic techniques for beginners to advanced methods for seasoned potters. Websites and blogs provide free tips, while educational apps offer interactive learning experiences. Supply stores and marketplaces are also valuable resources for finding quality materials. Utilizing a mix of these resources can significantly enhance your pottery skills and keep you updated on the latest trends and techniques.
Continuous learning in pottery is crucial for mastering the craft and staying updated on new techniques, materials, and trends. Whether you're a beginner or an experienced potter, there's always something new to learn. The role of various resources in this journey cannot be overstated. Books offer in-depth knowledge, online courses provide structured learning, and YouTube channels give visual insights into different methods. Community workshops offer hands-on experience and the chance to learn from experts. Websites and blogs are great for quick tips and updates. By leveraging these diverse resources, you can significantly enhance your pottery skills, creativity, and marketability.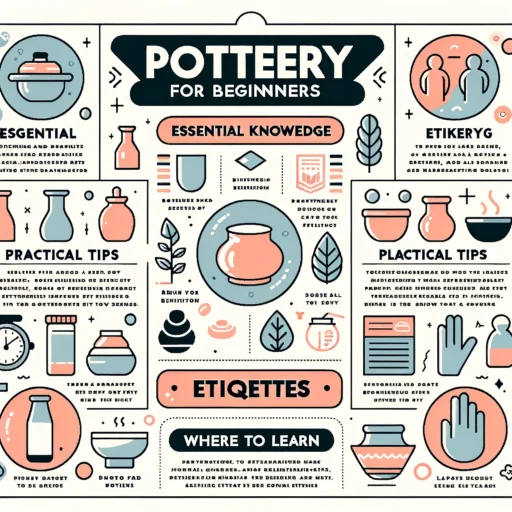 Section 1: Books and Publications
Recommended Books for Different Skill Levels
Intermediate: "Clay: A Studio Handbook3" by Vince Pitelka, "The Potter's Dictionary4" by Frank Hamer
Journals and Magazines
Ceramics Monthly7: A comprehensive magazine covering techniques, artists, and trends.
Pottery Making Illustrated8: Focuses on the how-to aspects of pottery.
Studio Potter9: A journal dedicated to discussions on aesthetics, styles, and the culture surrounding pottery.
Section 2: Online Courses and Tutorials
Benefits of Online Learning
Convenience: Learn at your own pace and schedule.
Variety: Access to a wide range of techniques and styles.
Community: Online forums and social media groups for peer support and feedback.
Top Platforms Offering Pottery Courses
Udemy10: Offers beginner to advanced courses, often at affordable prices.
Skillshare11: Focuses on creative courses, including pottery.
Coursera12: Provides more academic-oriented courses, sometimes in partnership with universities.
Free vs. Paid Courses
Free Courses: Great for beginners, but may lack depth and personalized feedback.
Paid Courses: Offer more comprehensive coverage, often with expert guidance and assessments.
Section 3: YouTube Channels
Popular YouTube Channels Dedicated to Pottery
Simon Leach Pottery13: Covers traditional techniques and offers detailed explanations.
Earth Nation Ceramics14: Focuses on wheel throwing and glazing techniques.
Pottery Crafters15: Provides beginner-friendly tutorials and project ideas.
Tips on How to Maximize Learning from Video Tutorials
Take Notes: Jot down key points and steps as you watch.
Pause and Rewind: Don't hesitate to pause or rewind the video to fully understand a technique.
Practice Along: If possible, practice the technique while watching the video.
Engage: Leave comments or questions; many creators respond with additional tips.
Section 4: Websites and Blogs
Websites That Offer Free Tips and Techniques
Artabys.com16: A comprehensive resource that offers in-depth articles, how-to guides, and tips for potters at all levels.
Blogs That Provide In-Depth Articles and How-To Guides
Artabys.com: This site not only offers articles but also features interviews with expert potters, reviews of pottery tools, and a community forum for sharing tips and seeking advice.
Websites and blogs are excellent platforms for learning more about pottery. They offer a range of resources from articles and tutorials to community forums. Artabys.com stands out as a one-stop resource for all your pottery learning needs. A shameless plug for ourselves, yes, I know. But we have to pay the bills too.
Section 5: Community and Workshops
Importance of Joining a Pottery Community
Being part of a community can provide you with invaluable feedback, inspiration, and a sense of belonging. It's a great way to stay motivated and continuously improve your skills.
Finding Local Workshops and Events
Local workshops offer hands-on experience and direct interaction with instructors. Events like pottery fairs can also be a great source of inspiration and networking.
Online Forums and Social Media Groups
Online platforms offer the convenience of learning and interacting with fellow potters from the comfort of your home. They are excellent for quick tips, troubleshooting, and staying updated on the latest trends and techniques.
Joining a community, whether online or in-person, can significantly enhance your pottery journey. It offers a platform for continuous learning, sharing experiences, and even showcasing your work.
Section 6: Educational Apps
Apps that offer interactive learning
Section 7: Museums and Galleries
Learning from Historical and Contemporary Pottery Pieces
Museums and galleries offer a unique opportunity to study both historical and contemporary works. This can provide inspiration and deepen your understanding of various techniques and styles.
Recommended Museums and Galleries for Pottery Enthusiasts
Museums and galleries serve as rich resources for learning and inspiration. They allow you to see the breadth and depth of pottery, from ancient artifacts to modern masterpieces, enriching your own creative journey in the process.
Footnotes