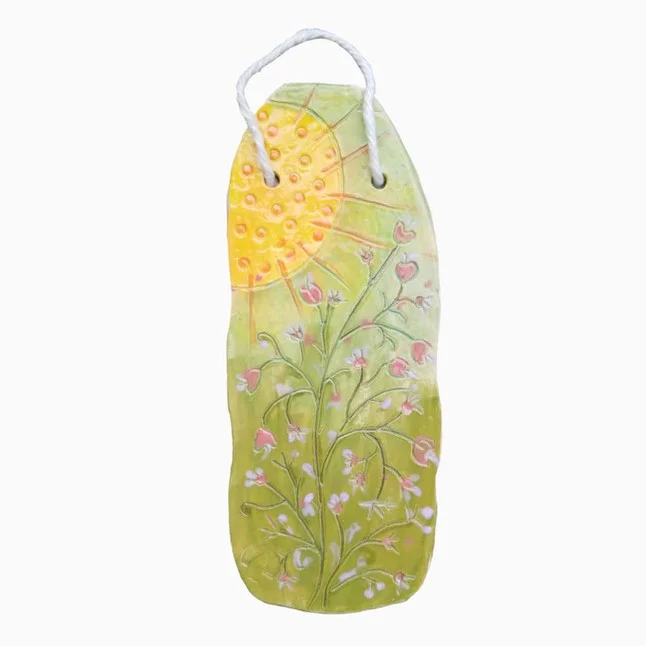 Sunshine and Flowers Ceramic Wall Decor Description
Sunshine and Flowers wall art. Beautifully handmade from ceramic. The artwork is approximately 10.5 inches tall by 4.5 inches wide. Ready for hanging and signed by the artist. The top (Face) of the artwork is hand painted. This is not a porcelain item. All artwork is formed by hand no molds are used. This is not a reproduction. Sunshine and Flowers is an original ceramic artwork; no more exits. This is a one of a kind ceramic wall decor. This item is not intended for outdoor use.
Shipping to the 48 continental United States only.
Price includes shipping and tax.
Contact Information
Artabys
Murfreesboro, TN 37129
Phone: (6 1 5) 5 7 6 – 0 4 7 0
Contact Form
Artabys Return Policy

If your Artabys.com purchase does not meet your satisfaction, you may return it within two months (60 days) of purchase. To return an item (excluding sample products), the item must be in new condition, unused and in its original packaging. To return an item by mail, follow steps below:
Call (6 1 5) 5 7 6 – 0 4 7 0
Our agent will provide you with a return address.
You are responsible for shipping and insurance.
Drop-off the package at your nearest UPS location.