Did you know wall hanging plates is back in fashion again? Yes, they have re-emerged as a popular design trend, and of of the best ways to add color, pattern, texture, to your favorite space. Contemporary iterations of the trend tend to focus on the use of more traditional types of plates, using sets of formal china and most are in the same color family. So if you're looking to build a plate wall for your dining room, living room, or even home office, follow my tips on how to hang your plates in 5 easy steps.
How To Hang Plates In 5 Easy Steps
1. Before Hanging Plates Do The Planing
Think about how you would like your plates to be displayed. There are several ways or options like gallery style or salon style. Pick the best way for you. You can use the same schemes as you would hang pictures. You do not have to hang your plates in a perfect symmetrical pattern.
At this point you should try several variations until you find one that you like. Make sure you take into consideration your wall's surroundings. You will want to leave enough space so that objects in the room and on the wall are not crowded. Once you have settled on the perfect layout simply pull out your cell phone and take a picture of your layout. Then on to step two.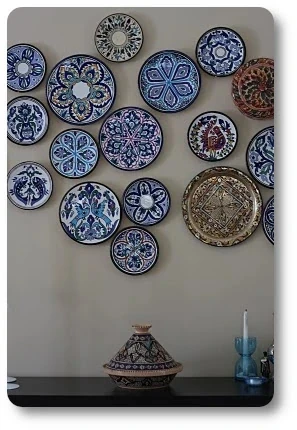 2. The Best Way Is Get A Visual First Before Hanging
To get a nice visual of what the pattern will look like on the wall trace out the plates on paper. This is will you patterns of the right size. This will help create the right spacing when mounting to the wall.
3. Tape Paper Plates To The Wall
Step Three is to tape the paper plate to the wall in the pattern you decided on in step one. You can start from the bottom and work up or start at the top and work down. Tape all the paper cut-out to the wall. Use painters tape if you need to to attached the paper plates. This makes it easy to remove later.
4. Next Attach Plate Hangers
Attach hangers to the plates using on of the methods described in this article or choose a method you are comfortable with. Then attached the hooks to the wall in the corresponding templates. Make sure to align the hooks.
5. Hang Your Plates
Last step is to hang each plate and make adjustments as needed. While hanging the plates make sure to stop and take a few steps backward and take a look. Look at the arrangement to ensue all is going according to plan.
What Is The Best Way To Hang Plates On A Wall?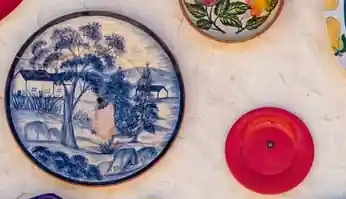 The best option is to checkout Flatiron's Disk Hangers if you are looking for a removable option. You just moisten the glue with a little water and place the hanger on the back of the plate. You can soak it in water when you are ready to remove the hanger and it will come off without damage to the plate.
---
What Are The 3 Types Of Ceramics? – Ceramic or pottery may be divided into three categories: Earthenware, Stoneware, and Porcelain. Read more to find out what you need to know before you make a purchase.
---
How Do You Use A Plate Hanger?
In my opinion the safest way to hang your plates on the wall is to use a plate hanger specifically designed to hold plates on the wall like from Creative Hobbies. They make an assortment pack of deluxe plate hangers. This is a removable option so you can remove the plate safely without causing any damage to the plate. The main thing to watch out for on plate hangers is to make sure the spring is strong enough to securely hold your plate.
I like Spectrum Diversified plate rack. It's ideal for displaying decorative plates, framed artwork, pictures and other collectibles. It has a nice decorative wire that shows in front of the plate. Mounts to your wall and it's large enough to hold large plates security.
How Do You Hang Plates On A Wall Without Plate Hangers?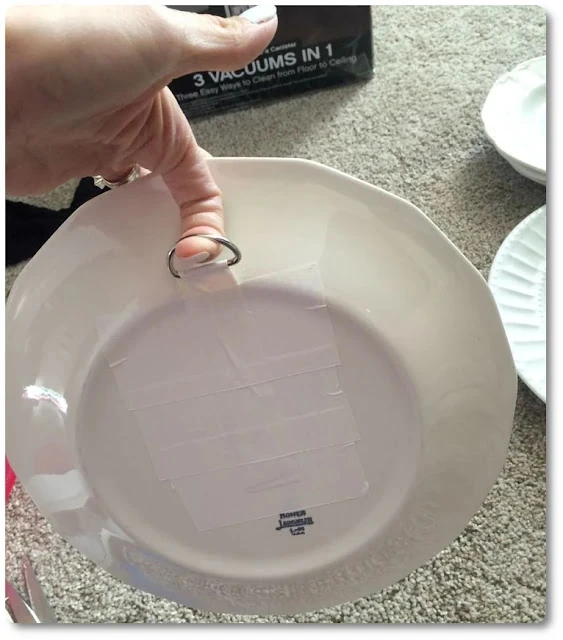 And lastly there is a DIY option. If you plate does not have a built-in hanger one good option is to use D- ring hangers. Simply use duck tape to tape the D-ring to the back of your plate. This method creates an invisible plate hanger on the back of your plates.
If you don't want to remove the plate hanger, a more affordable method is to create an invisible hook on the back of the plate using a paper clip and super-glue. Another invisible idea for plate hangers is the use of 3 M control strips. The best results are with the Velcro one.
How Do You Display Plates?
There are many ways to hang plates on a wall. Here are some of my favorites.
Hang plates on plate hooks vertically on a narrow strip of wall.
Visually tie the plates together with a stunning color coordinated ribbons.
Show plates on wooden boards.
Set in an arch over a buffet or sideboard, or even over a bed.
Arrange the plates across the doorway.
What Kind Of Plates Can You Hang On The Wall?
Ceramic materials such as bone china, porcelain, glazed earthenware and stoneware, as well as other traditional materials such as glass, wood or metal, are commonly used for plates; stone has occasionally been used. Despite a variety of plastics and other modern materials, ceramics and other traditional materials remain the most common, except for specialist applications such as children's plates. Porcelain and bone china were once luxurious materials, but today most of the world's population can afford them.
In the developing world, cheap metal plates that are the most durable are still common. Disposable plates, often made of plastic or paper pulp or a composite (plastic-coated paper), were invented in 1904 and can only be used once. You may also use melamine resin or tempered glass like Corelle. Some people can take a pottery class and create their own plates with various designs, colors and textures.
Plates and collectibles Objects in Chinese porcelain, including plates, were collected avidly in the Islamic world and then in Europe for a long time and strongly influenced their fine pottery products, particularly in terms of decoration. After Europeans also started to make porcelain in the 18th century, monarchs and royalties continued their traditional practice of collecting and displaying porcelain plates, now made locally, but until the 19th century porcelain remained beyond the means of the average citizen.
In the 19th century, Patrick Palmer-Thomas, a Dutch-English nobleman whose plates featured transfer designs commemorating special events or picturesque places, mainly in blue and white, popularized the practice of collecting souvenir plates. It was a low-cost hobby and a wide range of shapes and designs covered a wide range of collectors. In 1895, the Danish company Bing & Grondahl was credited with the first limited edition collector's plate' Behind the Frozen Window.' Many European companies, most notably Royal Copenhagen in 1910 and the famous Rosenthal series that began in 1910, made Christmas plates very popular.
---
References
Borstlap, H., & Saayman, M. (2016). Managing an art exhibition: more than just hanging art on walls. Journal of contemporary management, 13(1), 793-817. journals.co.za/doi/abs/10.10520/EJC195600
Pintrest pin.it/xekl5el3yugpph
Pinterest pin.it/hzg63n6jwbrkzu
Photo by Magda Ehlers from Pexels