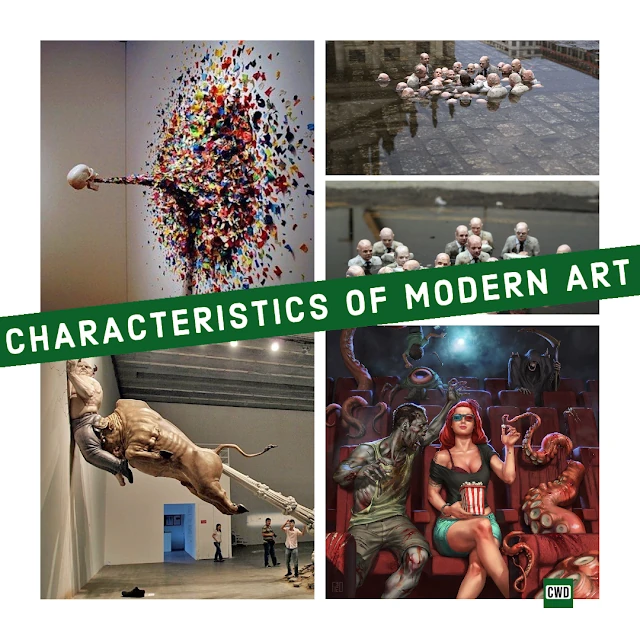 Modern art has no characteristics and that is why so many do not understand what it is. Modern art is a moving target. So many of us don't understand the characteristics completely and it stands to reason why is because modern art is forever in motion. So what really is modern art and how can the characteristics be clearly defined if it is constantly in motion?
The characteristics of modern art is a philosophical movement in art history. "Modern Art" is not defined by any one characteristic like abstract art, expressionism or minimal art, pop art, cubism but is the transformation of what we consider being traditional and current art at present to abstraction. "Modern Art" brings in fresh ideas that have become current and now "Modern Art". "Modern Art" is the visual language that is always changing in composition, color, shape, and lines.
Modern Art Is A Philosophical Movement In Art History
In Western culture, modernism describes a collection of genres that are all dedicated to the same fundamental agenda. And that agenda is to challenge the definition of what is art. We have built standards for what was or wasn't art for centuries. Then something changed in the 19th century. But I submit to you that nothing really has changed because artists have always pushed the envelope of traditional assumptions, rejected art standards, and explored new ways of expressing themselves. Modern movement and art as we know it has transformed and still is transforming. So, it's fair to say it's characteristics are evolving. And here is how the characteristics of modern art are evolving and what actually defines modern art at it's core.
Take a look at history, see the transitions between the major periods in Western art to see the movement and the pushing of traditional assumptions and the rejection of current art standards.
Major Periods In Western Art
Ancient Classical Art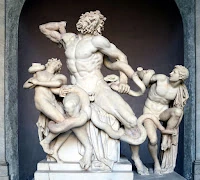 Ancient Roman or Greek architecture and sculpture. Concerned primarily with geometry and symmetry rather than individual expression.
Medieval Art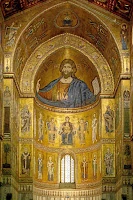 Over 1000 years of art in Europe, and at times in the Middle East and North Africa, represents a wide spectrum of time and place.
Renaissance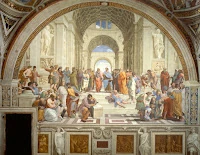 Marking the transition from the Middle Ages to Modernity, from the 15th to the 16th century.
Renaissance to Neoclassicism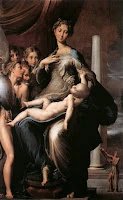 Renaissance artists believed in more natural and expressive nude sculptures of art and neoclassicism period focused on retaining the Age of Enlightenment.
Romanticism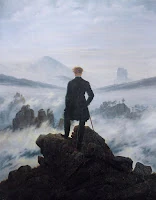 Romanticism was characterized by its emphasis on emotion and individualism, as well as by the glorification of the whole past and nature.
Romanticism to Modern Art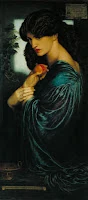 From Norwich School of painters in 1803 to the Pre-Raphaelite Brotherhood in 1854.
Modern Art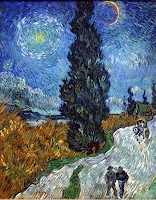 Artistic work produced during the period extending roughly from the 1860s to the 1970s.
Contemporary Art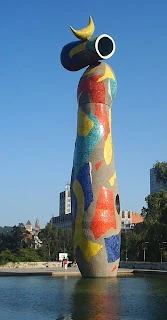 Today's art, created in the latter half of the 20th century, or the 21st century. Contemporary artists work in a world that has a global impact, is culturally diverse and technologically progressing.
Modern Art Attributes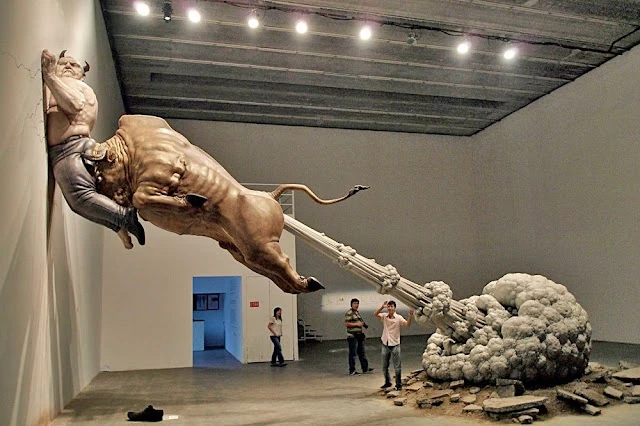 David Graeber's essay on jobs is a masterpiece that shows the pointlessness of most work, the psychological and spiritual damage it causes and how people are fooled to direct their well-justified anger to those who build lives of true meaning.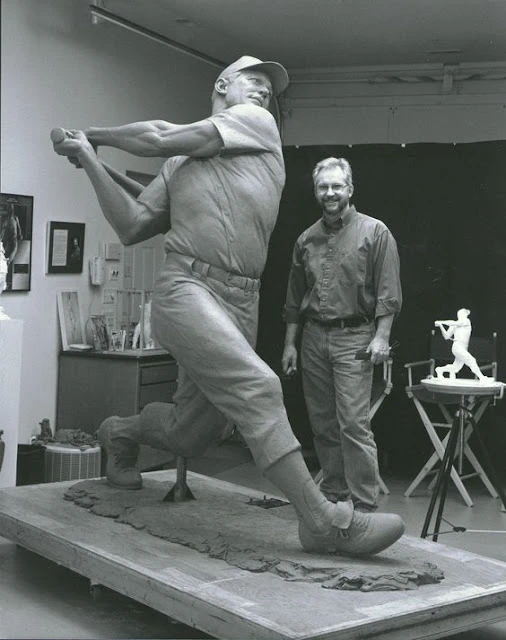 Blair Buswell Blair likes the challenge of capturing a subject's gesture, mood and expression. He has learned that all great art begins with a strong composition, which guides the viewer's eye through the abstract forms. He tries to combine all these elements in order to bring out a sense of life in his work.
Modern Art Illustration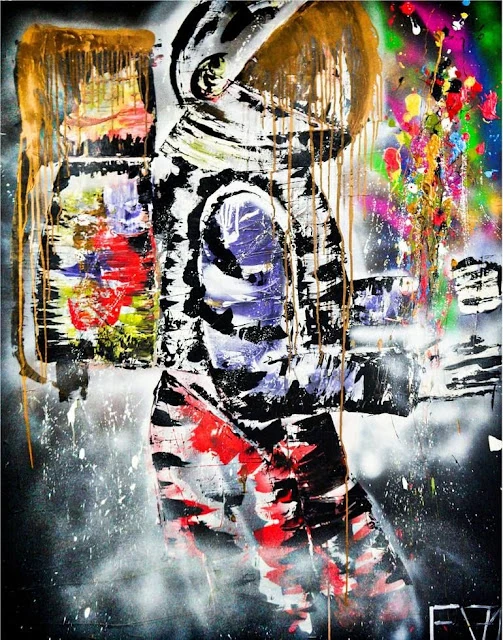 Acrylic/spray paint painting by Fifi.
Architecture In Modern Art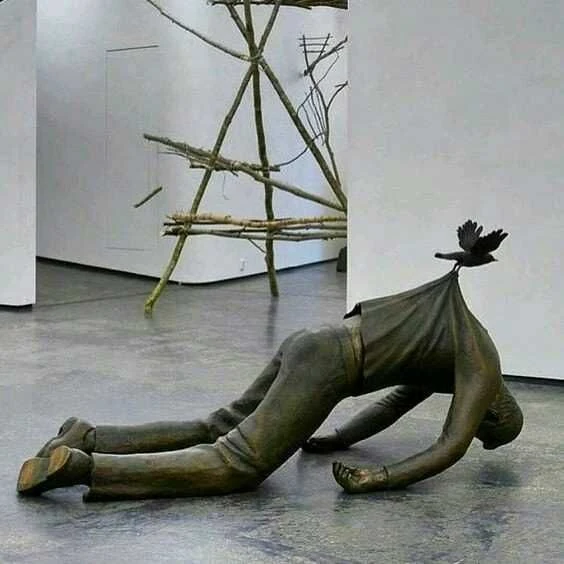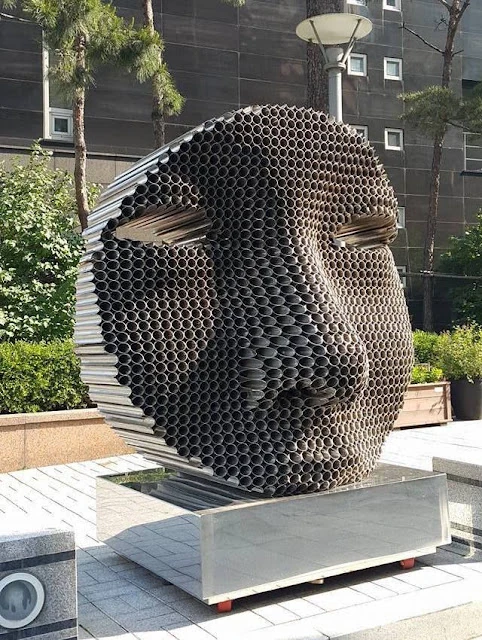 Artist Yi Chul Hee designs beautiful, imaginative sculptures made of layered pipe layers. Out of his carefully made piles of hollow tubes emerge unusual shapes and forms. Every piece plays with light and shadow, allowing it to see through every change in perspective, and to move visually. Hee 's balanced sculptures, intricately designed to offer texture and an impression of solid shapes, juxtapose solid and empty space to form three-dimensional sculptural masterpieces. The sharply cut pipes of the Korean artist translate into completely shaped and well-rounded final figures. Its technique of halftone also creates a continuous gradient effect. Hee cuts the material piece by piece, then stacks the lengths of the pipe together to form complex shapes.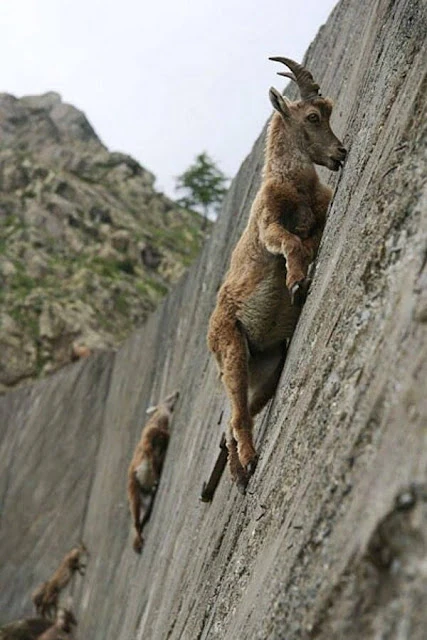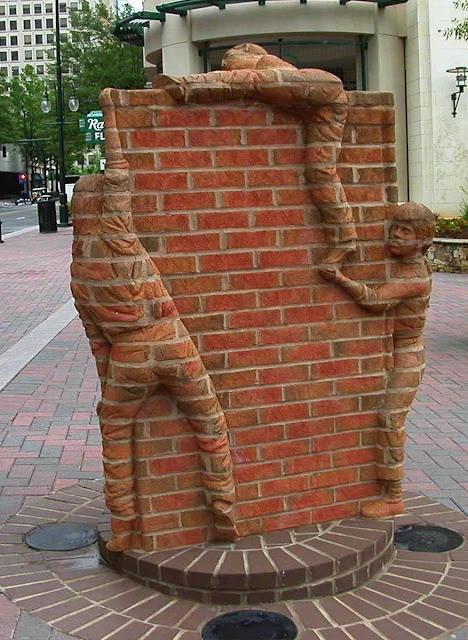 Stunning brick sculptures Brad Spencer Reidsville, a North Carolina- based artist, works with bricks to produce eye catching figurative sculptures. Each piece of work in the growing collection of the sculptor is a fascinating look at a common medium that is used unconventionally.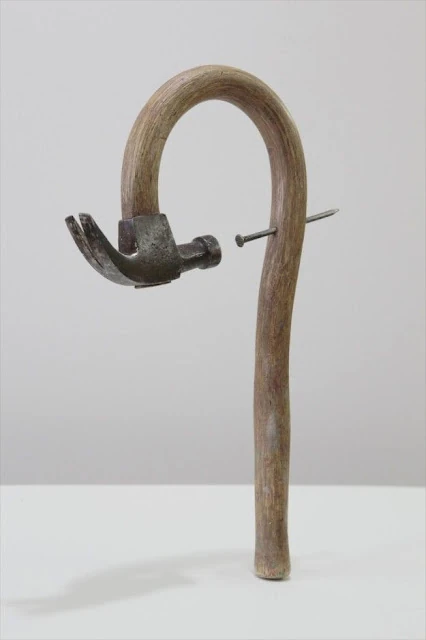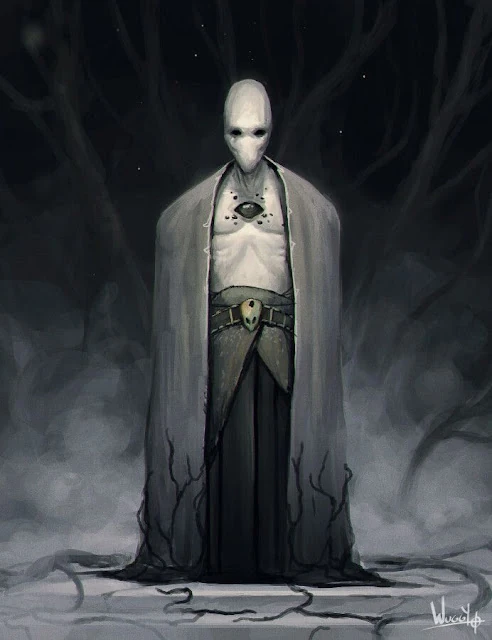 By Ari-Matti Toivonen game artist.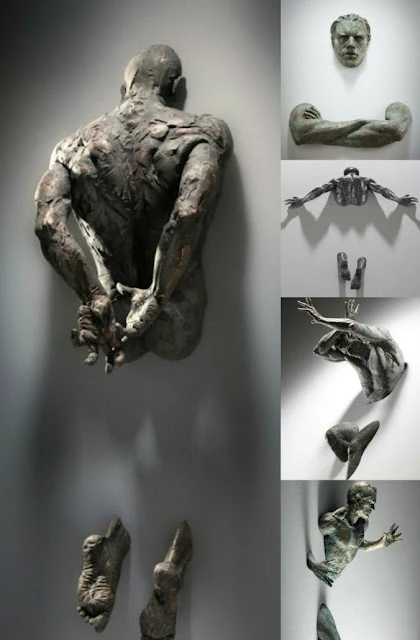 Man in wall sculpture.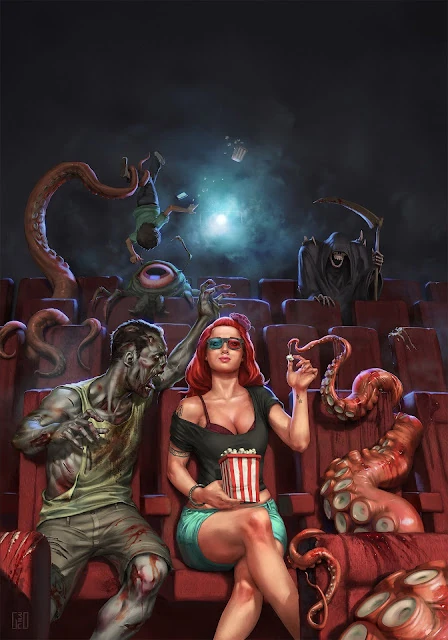 Abstract art Flavio Greco Paglia Poster Artist – Illustrator This is the illustration he did for Ventana Sur / INCAA. It's a poster for Blood Window, its horror & fantasy film market. It is representing the segment in many international film festivals throughout the year. He took this painting process from a Sam Neilson's tutorial.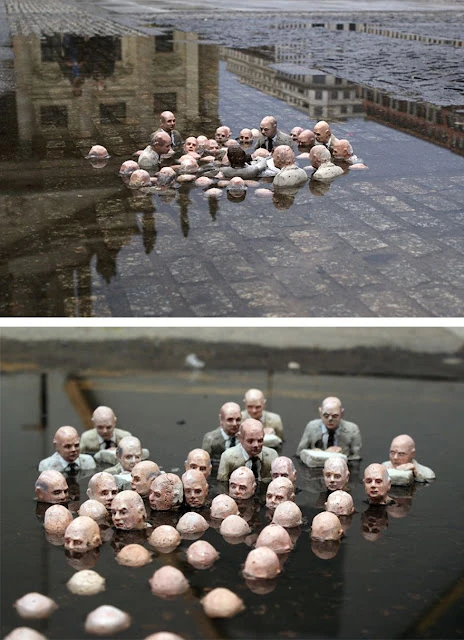 Zombie art by Isaac Corda. Men and women are suspended and separated in a gesture or posture that may assume several symbolic meanings. The sympathetic characters are easy to relate and laugh with. They present fragments in which the organism, still present, retains encouraging survival symptoms. In the height of the sole of the passers-by, the precariousness of these anonymous statuettes reflects the nomadic remainders of an incomplete structure of our culture. Those little sculptures ponder the destruction and reconstruction of everything around us. They take the irony of our life to heart.
Isaac Cordal sympathizes with his little people and you can sympathize with their circumstances, their leisure time, their waiting for buses and even their more tragic moments such as premature death, suicide or funeral for family members. On top of houses, on top of bus shelters, the figures can be found in gutters; in other rare and unexpected locations.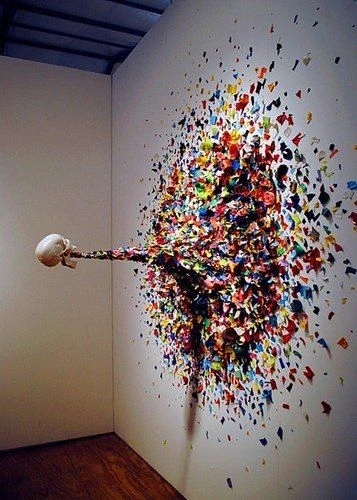 Puking rainbows art.
Is Modern Art Trash?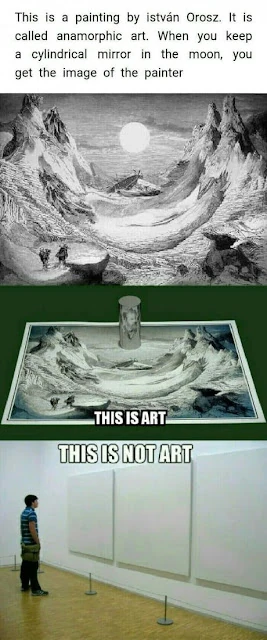 Modern Art Encompasses A Wide Variety Of Movements
Visual art, painting , sculpture , architecture, and graphic arts characteristic of the 20th and 21st centuries and the latter part of the 19th century. Modern art encompasses a wide variety of movements, theories, and attitudes whose modernism resides in particular in a tendency to reject traditional, historical, or academic forms and conventions in an effort to create an art more in line with changed social , economic, and intellectual conditions.
The origins of modern art can not be clearly demarcated but it is widely accepted that it began in France in the 19th century. Gustave Courbet 's paintings, Edouard Manet, and the Impressionists represent a deepening rejection of the prevailing academic tradition and a quest for a more naturalistic visual world representation. In their repudiation of conventional techniques and subject matter, and their presentation of a more abstract personal view, the post-impressionist heirs of these painters can be seen as more distinctly modern.
A succession of diverse movements and styles that are the foundation of contemporary art and represent one of the pillars of Western visual culture originated from around the 1890s onwards. Those modern movements include Neo-Impressionism, Symbolism, Fauvism, Cubism, Futurism, Expressionism, Supremacy, Constructivism, Metaphysical Painting, De Stijl, Dada, Surrealism, Social Realism, Abstract Expressionism, Pop Art, Op Art, Minimalism, and Neo-Expressionism.
---
Is Modern Art considered trash? – When compared to other types of art, modern art is sometimes difficult to understand and considered garbage. Contemporary Art gets more difficult to grasp when it deviates from traditional forms. When looking at abstract items or lines on a plane, it might be difficult to determine what the artist intended. Furthermore, some contemporary artists are frequently just clowning about.
Are Many Modern Artists Lazy Or Lacking Talent? – Modern artists are frequently criticized for being slackers or lacking in skill. Modern painters sometimes appear lethargic or unskilled to the untrained eye. Modern artists, on the other hand, are far from underachievers or untalented. They have the ability to envision things in an art form before they are created. This is a very exceptional skill. You must be self-motivated and industrious to be a professional, modern, or contemporary artist.
Handmade Ceramic Fish Wall Art – Artists and their work have distinguished themselves from era to era and generation to generation as new developments emerge. Great artists are characterized by their singular ability to extract the essence of a certain moment in time, resulting in artwork that is timeless.
Why Is Contemporary Art So Bad Compared To Medieval Art? – Contemporary or Modern Art is bad compared to Medieval Art because of the lack of understanding of Contemporary Art. The Middle Ages was the period in European history from the collapse of Roman civilization in the 5th century CE to the period of the Renaissance The period is interpreted as beginning in the 13th, 14th, or 15th centuries, depending on the region of Europe and other factors.
---
In spite of the enormous variety seen in these movements, most of them are characteristically modern in their investigation of the potentials inherent in the medium of painting itself for expressing a spiritual response to the changed conditions of life in the 20th and beyond. These conditions include accelerated technological change, the expansion of scientific knowledge and understanding, the apparent irrelevance of some traditional sources of value and belief and an expanding awareness of non-Western cultures.
An important trend that began in the 20th century was that of abstract or non-objective art, in which little or no attempt is made to reproduce or depict objectively the appearances or forms of objects in the realm of nature or the physical world that exists. It should also be noted that the development of photography and allied photo-mechanical reproductive techniques has had an obscure but undoubtedly significant impact on the development of modern art, as these mechanical techniques freed or deprived manually performed drawing and painting from their hitherto crucial role as the only means of accurately depicting the real world.
Modern architecture arose from the rejection of revivals, classicism, eclecticism, and indeed all adaptations of past styles to the types of building that industrialized society in the late 19th and 20th centuries. It also emerged from efforts to create architectural shapes and designs that would use and reflect the newly available building technologies of iron and steel, reinforced concrete, and glass structures. Modern architecture had also implied the rejection of the applied ornamentation and decoration characteristic of pre-modern Western buildings until the spread of postmodernism.
Modern architecture 's focus has been a thorough concentration on buildings whose rhythmic arrangement of masses and shapes presents a geometrical theme in light and shadow. This growth has been closely related to the different styles of buildings that an affluent society needs, such as office buildings housing corporate executives or government administration. Chicago Modern, Functionalism, Art Deco, Art Nouveau, De Stijl, The Bauhaus, International Style, New Brutalism, and Postmodernism are among the most significant trends and movements in modern architecture.
What About Realism Of Nature Or Contemporary Life Art?
Realism, the exact, detailed, unembellished representation of nature or of contemporary life in the arts. Realism rejects imaginative idealization in favor of observing the outward appearances closely. Realism in its widest sense, therefore, has involved many artistic movements in various civilisations. Realism can be seen in the visual arts, for example, in ancient Greek Hellenistic sculptures that accurately depict boxers and decrepit old ladies.
The works of painters such as Caravaggio, the Dutch genre painters, the Spanish painters José de Ribera, Diego Velázquez, and Francisco de Zurbarán, as well as the French brothers Le Nain are realistic in approach. The works of Daniel Defoe, Henry Fielding, and Tobias Smollett, the English novelists of the 18th century, can also be considered realist.
Nevertheless, realism was not actively embraced as an artistic system in France until the mid-19th century. Indeed, between 1850 and 1880, realism could be seen as a major trend in French novels and paintings. One of the first use of the term realism was in the 1826 Mercure français du XIXe siècle, in which the word is used to describe a philosophy based not on imitating past artistic accomplishments but on the true and realistic portrayal of the models provided by the artist by nature and contemporary life.
In rejecting the artificiality of the academies' classicism and romanticism as well as the necessity for contemporaneity in an effective work of art, the French realism advocates were agreed. They tried to portray the middle and lower classes' lives, appearances, problems, customs, and mores, the unusual, the ordinary, the humble, and the unadorned. In fact, they set themselves conscientiously to reproduce all of the hitherto ignored aspects of contemporary life and society — its mental attitudes, physical settings, and material conditions.
Realism was sparked in the first half of the 19th century by many scientific developments. Among these were the anti-Romantic movement in Germany, with its focus on the common man as an artistic subject; the Positivist theory of Auguste Comte, in which the importance of sociology as a empirical study of society was highlighted; the rise of professional journalism, with its accurate and dispassionate reporting of current events; and the growth of photography, with its capacity for m All of these innovations sparked interest in capturing modern life and society accurately.
---
References:
https://www.pinterest.com/pin/419749627741905529/
https://www.pinterest.com/pin/459085755742122475/
https://www.pinterest.com/pin/145663369193146994/
https://www.pinterest.com/pin/836262224542764780/
https://www.pinterest.com/pin/325877723018969861/
https://www.pinterest.com/pin/774124910808633/
https://www.pinterest.com/pin/692428511436772304/
https://www.pinterest.com/pin/323696291953519587/
https://www.pinterest.com/pin/470696598553490630/
https://in.pinterest.com/pin/589127194988006691/
https://www.pinterest.com/pin/796503884070961877/
https://www.pinterest.com/pin/332140541257504224/
http://cementeclipses.com
http://cementeclipses.com/portfolio/
https://www.pinterest.com/pin/403564816582796322/
https://pin.it/42ZMw9R
By Berthold Werner – Own work, CC BY-SA 3.0, https://commons.wikimedia.org/w/index.php?curid=23609279
By Hagesandros, Athenedoros, and Polydoros – LivioAndronico (2014), CC BY-SA 4.0, https://commons.wikimedia.org/w/index.php?curid=36412978
By Raphael – Stitched together from vatican.va, Public Domain, https://commons.wikimedia.org/w/index.php?curid=4406048
By Parmigianino – [1], Public Domain, https://commons.wikimedia.org/w/index.php?curid=5310875
By Dante Gabriel Rossetti – EAH009jkJzYVMw at Google Cultural Institute, zoom level maximum Tate Images (http://www.tate-images.com/results.asp?image=N05064&wwwflag=3&imagepos=1), Public Domain, https://commons.wikimedia.org/w/index.php?curid=13458627
By Vincent van Gogh – Own work in the Kröller-Müller Museum, Public Domain, https://commons.wikimedia.org/w/index.php?curid=2702442
CC BY-SA 3.0, https://commons.wikimedia.org/w/index.php?curid=657792