Choose your favorite handmade original ceramic wall hanging berry art from my handmade berry art collection.

Abstract Wall Art With Berries
Berry abstract wall decor artwork by artist Ed Shears. Berries are painted using dynamic colors on interesting clay shapes based on nature. Berries are hand formed into clay and then painted natural colors for a unique look.
The end result is a unique berry abstract artwork. Abstract, colorful, interesting, dimensional, contemporary, handmade and very unique artwork.
Abstract Berry Wall Decor Artwork
My red berries abstract wall decor art is painted on clay and fired to almost 2000 degrees creates an amazing ceramic wall decoration. I am sure if you like my berry art you will find other amazing all handmade art.
I created berry wall decor many times and folks either hung it on the wall or placed it in a place holder for decoration. Making this type of art is fun and exciting for me because of the freedom of creativity.
This is a set of four decor pieces that when grouped together forms a larger group that looks amazing.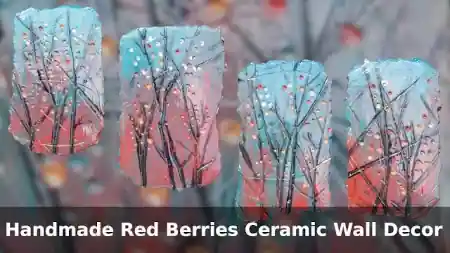 The set can be arranged in many different ways. For example can be horizontal or arranged in a square. Depending on the size of the wall or length of table if placing in a plate holder on a table you can arrange accordingly.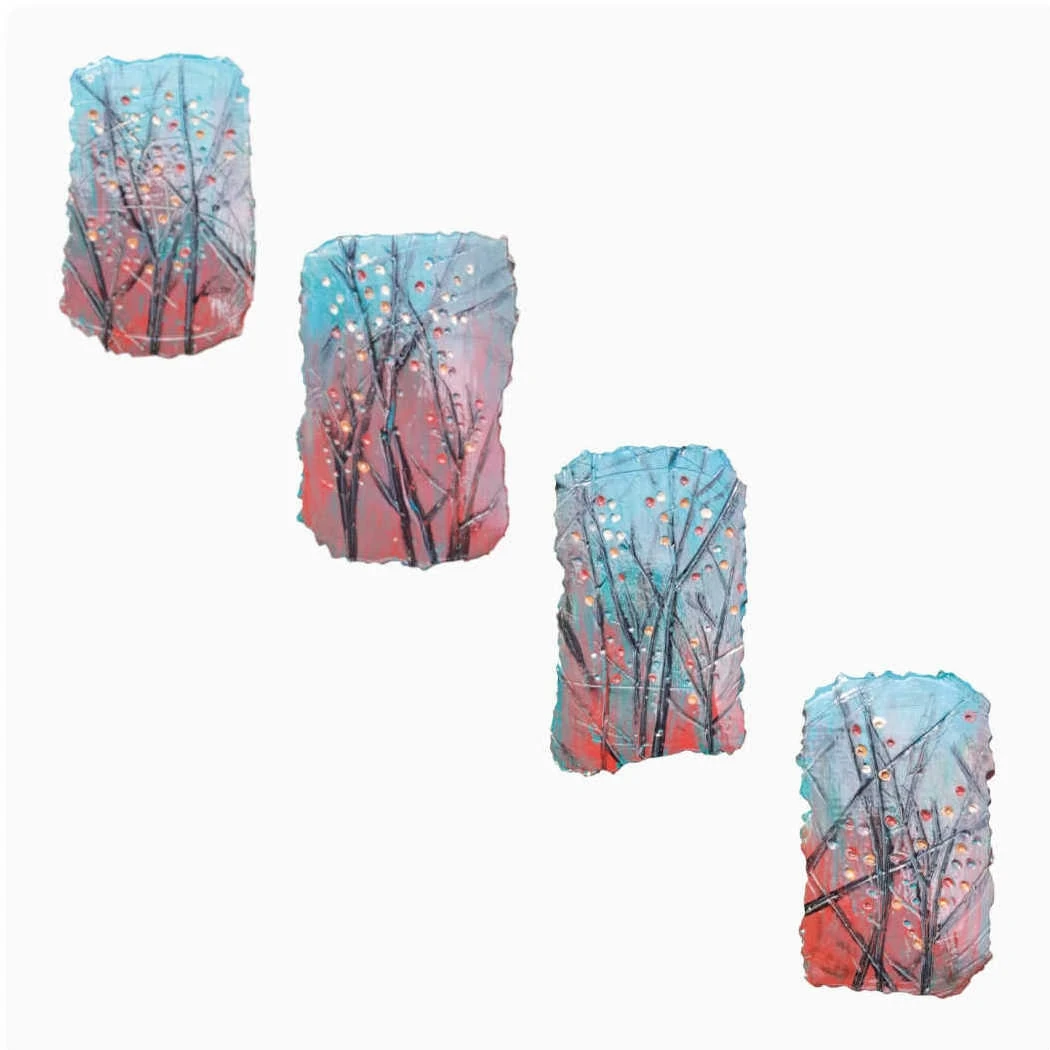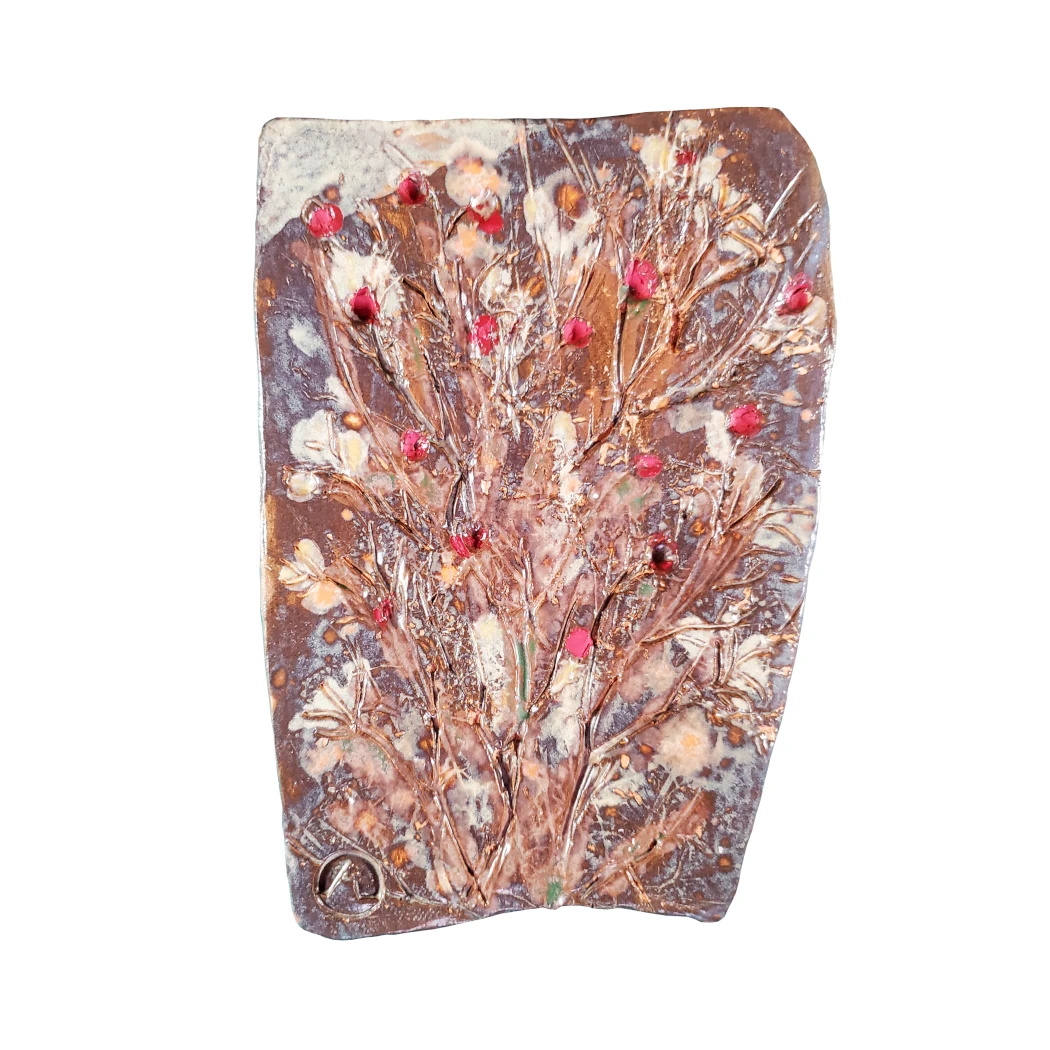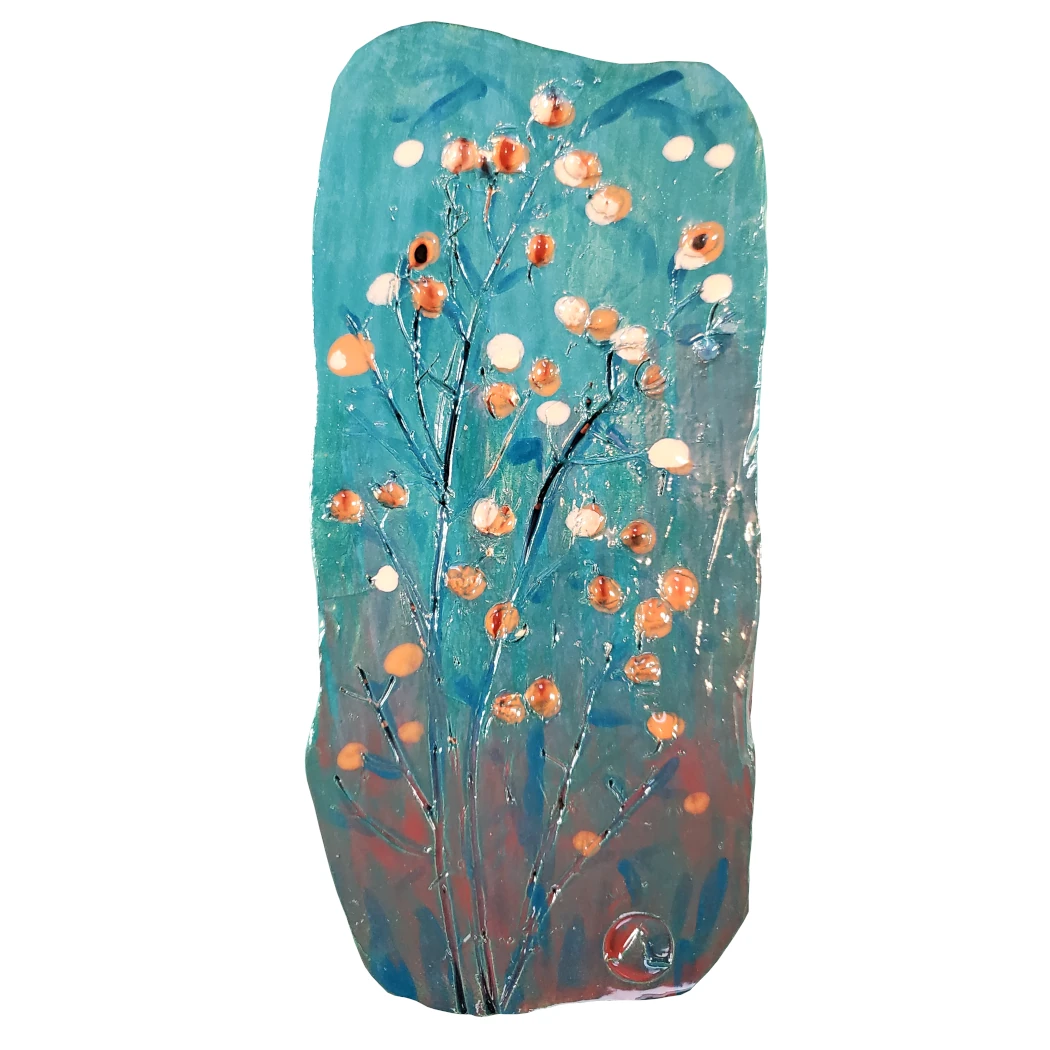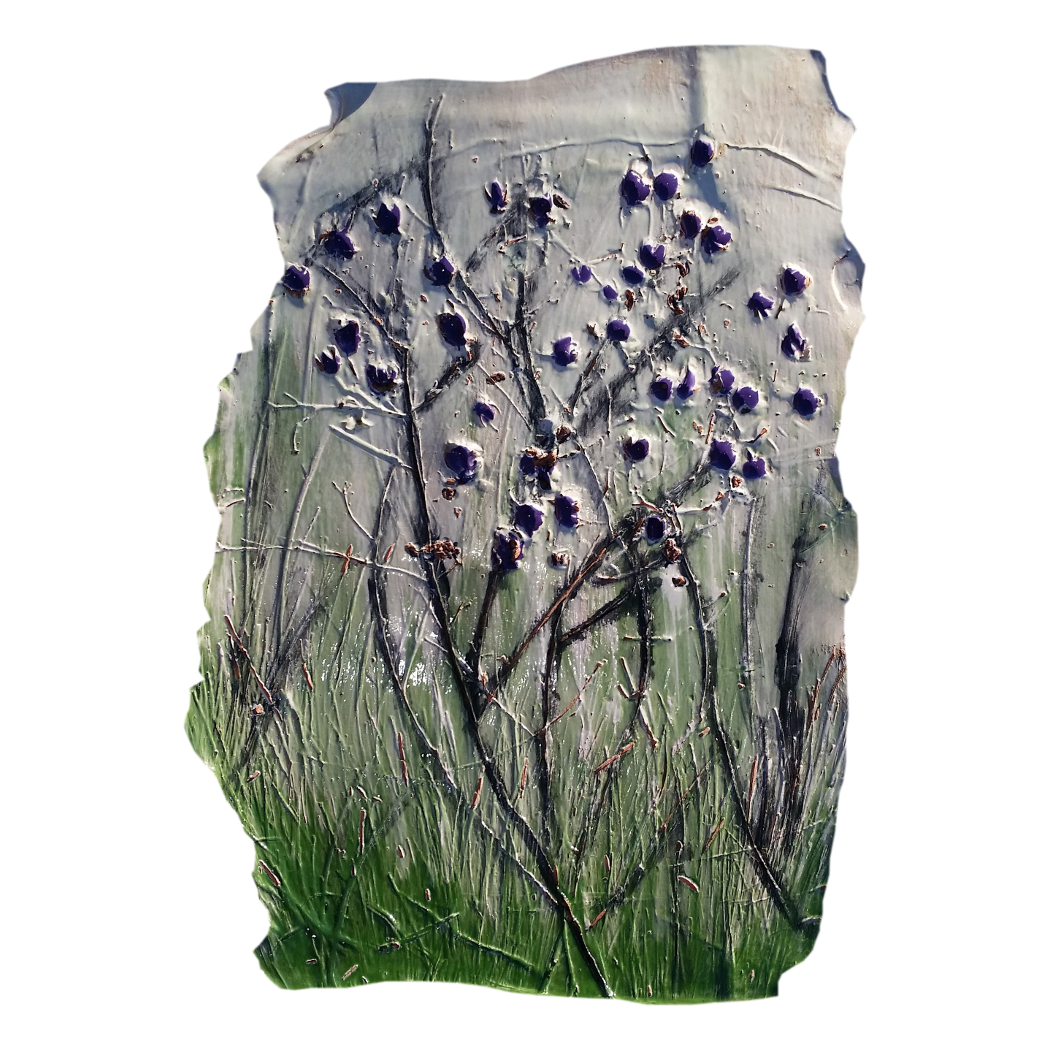 Original Berry Artwork
"Each piece of handmade art tells a story even in the simplest forms"
Abstract Ceramic Berry Artwork by Ed Shears
How I Paint The Berries
Painting the berries is fun. After I hand formed the clay into the exact size I wanted the next step was to paint the berries. As you can see in the image below I have the four pieces of clay arranged on the table and I am starting to paint the background color. I will continue to layer in colors building upon each layer till I get the desired look.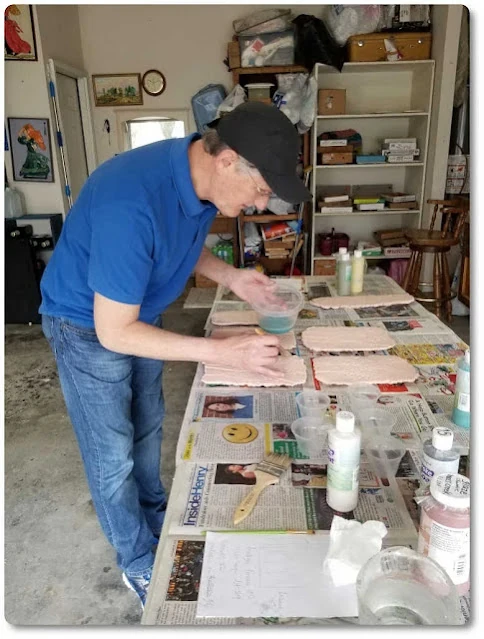 The colors of each piece will flow from one to another thus when grouped together will look as one piece. Branches will flow from one piece to another as well as the berries. Some of the berries will be a slightly different color to give contrast.
How I Create Berry Abstract Artwork Background
In the next photo you can see the background of each piece is painted. When fired in the kiln the artwork will look entirely different. In my mind I am visualizing the end look and not so much as what I am currently painting on the clay.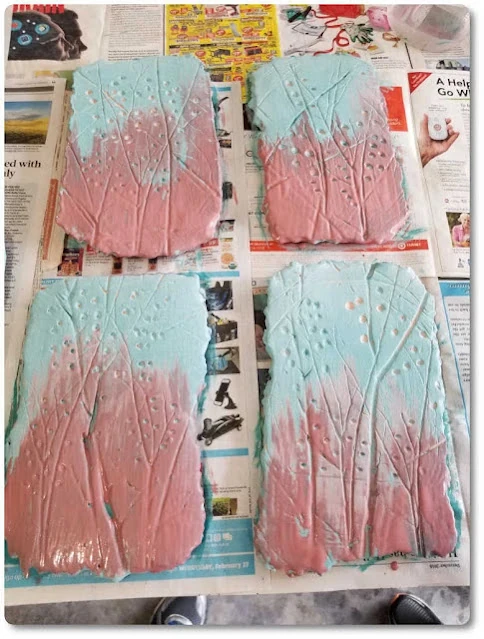 How I Paint Abstract Branches For Berries
The next step is to paint each branch. I want the branches to stand out from the background so I'll choose a darker color. As you can see from the photo below the branches are painted and all that is left is to paint more berries and a final touch up. Then off it goes into the kiln.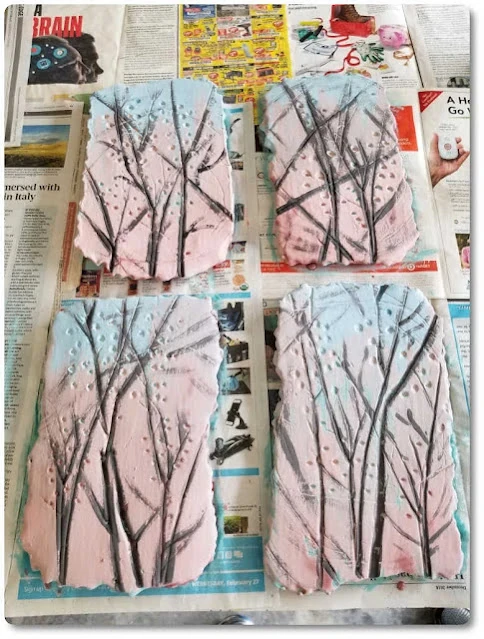 The Final Abstract Berry Results
Here is the final berry artwork results after removing the artwork from the kiln. When firing the clay you never know what you will get. Many times the pieces come out broken. Clay has a mid of it's own and sometimes is not in-line with the artist wishes and desires. But this time I was able to convince the clay to do what I wanted and the results are spectacular as you can see for yourself.
---
What Are The 3 Types Of Ceramics? – Ceramic or pottery may be divided into three categories: Earthenware, stoneware, and porcelain.
Handmade Ceramic Fish Wall Art – Colorful ceramic fish wall hanging.
---
Berry Art Number 1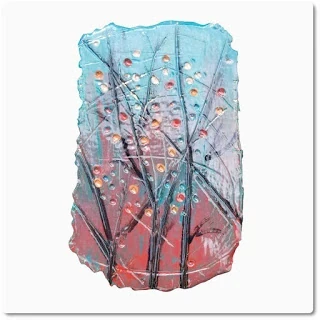 Berry Art Number 2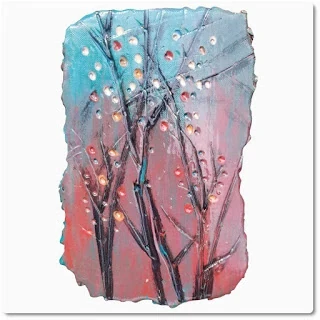 Berry Art Number 3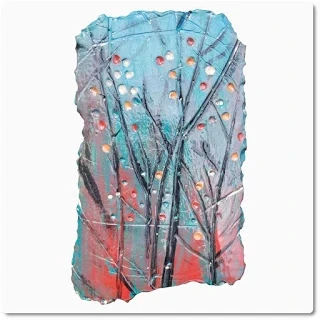 Berry Art Number 4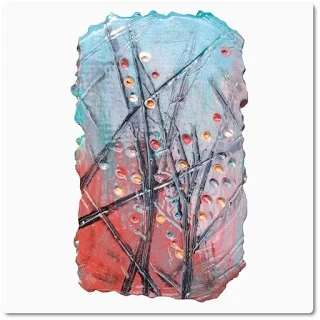 Abstract Berry Arrangements