John Mason was an American artist who was known for his experimental work with ceramic art and sculptures. John Mason was born on March 30, 1927, in Madrid, Nebraska, and died on January 20, 2019, in Carlsbad, California. Mason's work focused on exploring the physical properties of clay and its "extreme plasticity". He created new ceramic art characterized by an increasingly conceptual and geometric nature.
| | |
| --- | --- |
| Artist | John Mason |
| Born | March 30, 1927 – Madrid, Nebraska. Madrid is a village in Perkins County, Nebraska, United States. The population was 231 at the 2010 census. |
| Died | January 20, 2019 – Carlsbad, California. Carlsbad is a coastal city in the North County region of San Diego County, California, United States. |
| Education | Otis Art Institute – Otis College of Art and Design is a private art and design school in Los Angeles, California. And Chouinard Art Institute – Chouinard Art Institute – The Chouinard Art Institute was a professional art school founded in 1921 by Nelbert Murphy Chouinard (1879–1969) in Los Angeles, California. |
| Art Style | Geometric wall reliefs and expressionistic sculptures, often on a massive scale. |
| Nationality | American |
Where did John Mason work?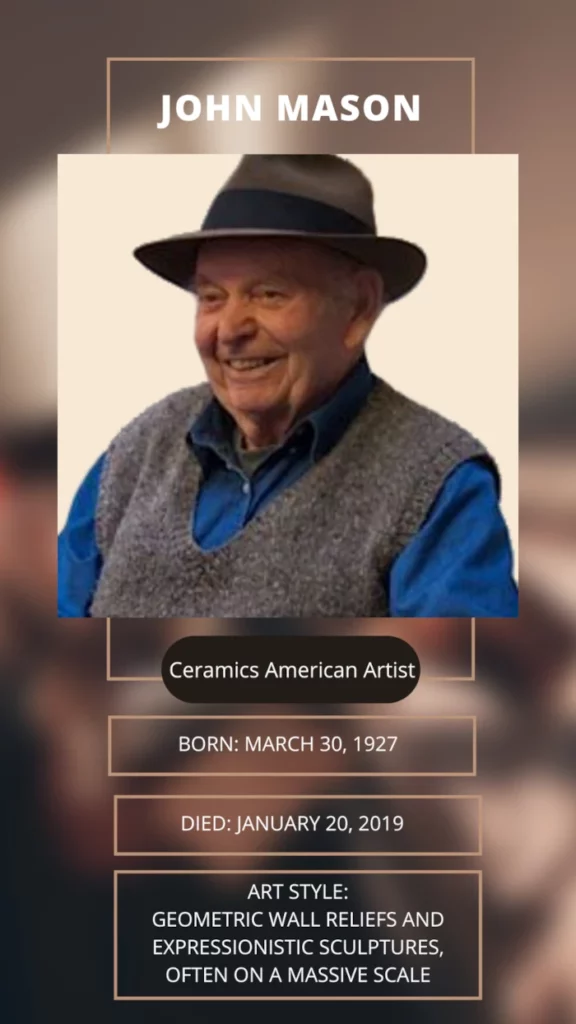 Mason spent his nights working in the ceramics studios alongside Voulkos and other students, and his days working independently. By 1957, Mason and Voulkos had relocated to a new studio on Glendale Boulevard that they shared with another artist.
John Mason's Education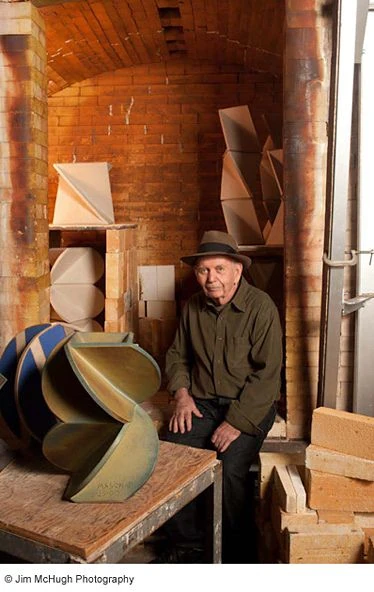 Mason grew up in the Midwest during his early youth. In 1937, his family relocated to Fallon, Nevada, where he completed his primary and high school education. He arrived in Los Angeles in 1949, when he was 22 years old.
He studied at Otis Art Institute before enrolling at Chouinard Art Institute in 1954, where he became a student and close friend of ceramicist Peter Voulkos, who became a mentor to him. It wasn't until the fall of 1958 that the two of them rented a studio space together, which they continued to use until Voulkos relocated to Berkeley, California.
John Mason's Early Career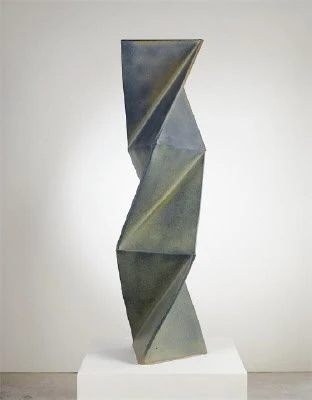 Mason's early Vertical Sculptures, which date back to the 1960s, were related with contemporaneous movements in Abstract Expressionism as well as the aesthetics of primitiveness, according to Mason.
Richard Marshall, a writer, said that in their "The rawness, spontaneity, and expressiveness of the work create the idea that it was shaped by natural processes, which is correct. However, despite the fact that they have been well planned and regulated, the formal and technical features of balance, proportion, and stability are overshadowed by the mere presence of the material itself ".
Mason was a sculpture instructor at Pomona College. Mason later equipped his studio to prepare, manipulate, and fire monumental sculptures in clay, many of which had to be fired in pieces weighing more than a ton in kilns that had already been adapted to serve his large-scale purposes before being assembled on the wall. Mason's monumental sculptures in clay were later assembled on the wall (how to hang ceramic art on the wall) by Mason himself.
Writing in the introduction to the publication for Mason's 1974 retrospective at Pasadena Museum of Art, writer and curator Barbara Haskell observed that "these pieces have a monumental and physical enormity that have no precedence in contemporary ceramics."
John Mason's Style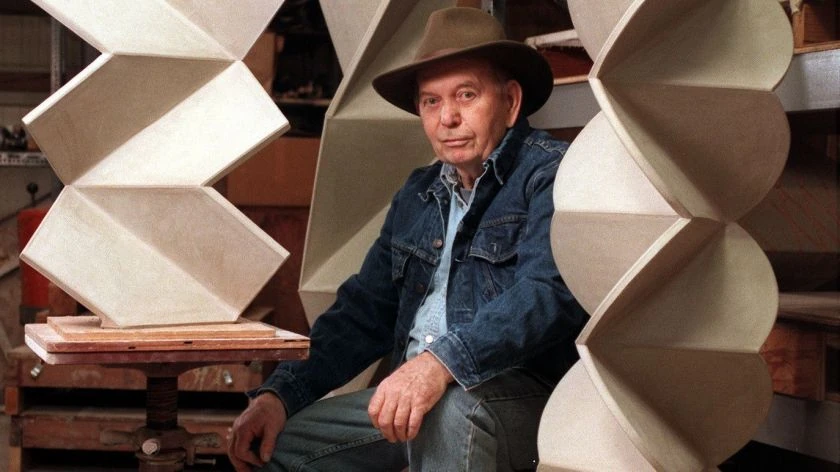 John studied ceramics under the pioneering ceramicist Peter Voulkos and went on to produce wall reliefs (ceramic wall art) and expressionistic sculptures, often on a massive scale, as a result of his studies.
"By looking at John Mason's art collection, I definitely see mathematics in his clay designs. Geometric shapes heavily characterized by the planned and balanced shapes taking spontaneity movement in space characterize John's ceramic art. His ceramic art has exact proportions and balance in which is no easy feat to construct considering the enormity."

Ed Shears
Mason's interest in mathematics is from a conceptual standpoint. It's one that is less concerned with physical properties of clay as a medium and more interested in what those properties allow one to depict. According to Richard Marshall's writing:
"The Firebrick Sculptures, begun in the early 1970s, reveal a shift in Mason's work away from an involvement with materials and technique toward an involvement with the conceptualization and systematization of a piece that is removed from its actual realization. While maintaining an association with the ceramic tradition – firebricks are made of ceramic material and are used for the construction of kilns – their neutral color and standardized form make it possible to conceive of and execute large-scale geometric configurations of stacked bricks, such as Hudson River Series VIII (1978), in a variety of mathematically plotted arrangements."
John Mason's Collections And Publications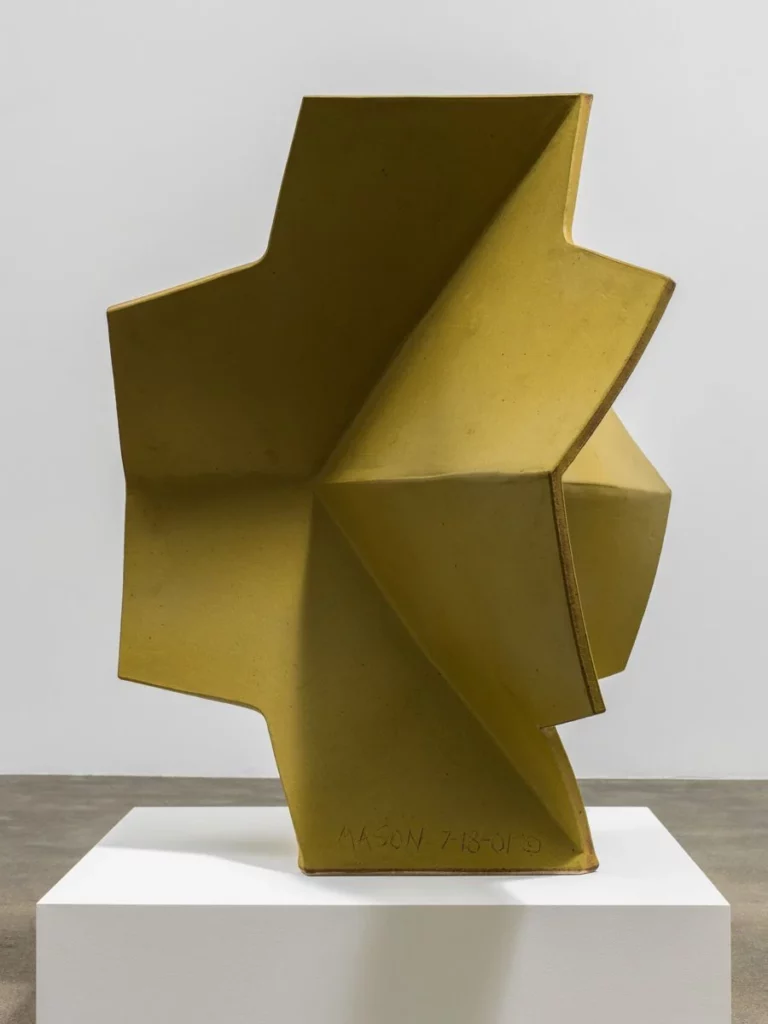 Aichi Prefectural Ceramic Museum
World Ceramic Center
Arizona State University Art Museum
Los Angeles County Art Institute
Los Angeles County Museum
Des Moines Art Center
San Francisco Museum
Carnegie Museum
Everson Museum
Metropolitan Museum
National Museum
Whitney Museum
Smithsonian American Art Museum
Smithsonian Institute
American Craft, Craft Horizons
Legendary Ferus Gallery
Hudson River Museum
New York Times, New York
Ruth Chandler Williamson Gallery
Norton Simon Museum
David Kordansky Gallery
Frank Lloyd Gallery
Renwick Gallery
Corcoran Gallery, solo exhibitions
Supplemental Reading
Los Angeles County Museum of Art. Color and Fire: Designing Moments in Studio Ceramics, 1950-2000. Text by: Jo Lauria, Gretchen Adkins, Garth Clark, Rebecca Niederlander, Susan Peterson, Peter Selz. Los Angeles: Los Angeles County Museum of Art, 2000
Belloli, Jay et al. Radical Past: Contemporary Art and Music in Pasadena, California. Essays by: Jay Belloli, Suzanne Muchnic, Peter Plagens, Jeff Vander Schnidt. Pasadena: Norton Simon Museum of Art, 1999
Coplans, John. "Abstract Expressionist Ceramics", Artforum, vol. V, no. 3, November 1966
John Mason, Who Expanded Ceramics' Boundaries, Dies at 91″. New York Times
Tuchman, Maurice. American Sculptors of the Sixties. Los Angeles: Los Angeles County Museum of Art, 1967
Conn, Catherine and Rosalind Krauss. John Mason: Installations from the Hudson River Series. Yonkers: Hudson River Museum, 1978
---
Resources: Pinterest