Maria Longworth Nichols Storer (March 20, 1849–April 30, 1932) is best known for being the founder of the famous Rookwood Pottery in Cincinnati, Ohio, in 1880. Maria was the first female owner of a ceramic shop at the time. Maria was the granddaughter of rich Cincinnati industrialist Nicholas Longworth. She worked hard to change the perspective that American pottery was unrefined.
| | |
| --- | --- |
| Artist | Maria Longworth Nichols Store |
| Born | March 20, 1849, United States |
| Died | April 30, 1932, Paris, France, Age 83 |
| Legacy | Founder of Rookwood Pottery Cincinnati, Ohio |
| Nationality | American |
| Art Style | Maria embraced the barbotine method of ceramics |
| Education | Art Academy of Cincinnati, Ohio |
| Spouse | Bellamy Storer, married in 1886 |
Maria Longworth Nichols Education And Background
Rookwood Pottery was founded by Maria Longworth Nichols Storer, who was the granddaughter of wealthy Cincinnati businessman Nicholas Longworth (the patriarch of the famous Longworth family).
She was a patron of fine art as well as the founder of the Rookwood Pottery in Cincinnati, Ohio, United States.
She was born Maria Longworth, daughter of Joseph H. Longworth, in Cincinnati, Ohio, into what was arguably the wealthiest Episcopalian family in the city at the time, and she grew up in Cincinnati.
Her privileged background exposed her to the great arts from an early age and developed interests in areas such as piano and painting as a result.
When she married Colonel George Ward Nichols in 1868, he was a veteran of the American Civil War who had been engaged by her family to catalog their extensive collection of artwork.
Ceramic Perfume Jug, Grasses & Spiders
Nichols was eighteen years older than she was. She was the first female in history to establish a music festival in the United States when she was in charge of planning and gathering funds for the now-annually celebrated Cincinnati May Festival in 1871, making her the first female in history to do so.
First held in 1873, the same year she began painting porcelain under the guidance of German immigrant and ceramic chemist Karl Langenbeck, the festival was a resounding success.
In the following year, she enrolled as a student at the School of Design, which would later become the Art Academy of Cincinnati. Benn Pittman, an expert in china painting, began teaching her how to paint on china. The work of the students was on show in the Women's Pavilion at the Centennial Exhibition in 1876, which was held in Philadelphia.
She visited the Centennial Exposition in Philadelphia, Pennsylvania, which was the first World's Fair to be hosted in the United States, which took place in 1876. She had developed a strong admiration for Japanese art by the time she went home to Cincinnati, and she began combining some of the characteristics she had leaned into her ceramic painting.
Maria Longworth Nichols Career
Painted And Glazed Earthenware Plate 1880
A local pottery company in Cincinnati commissioned the construction of an under-glaze and over-glaze kiln in 1879, which Nichols and colleague ceramics painter Mary Louise McLaughlin used to fire their ceramics creations. Nichols was also having pieces of pottery made to her specifications in a local pottery studio, after which she would decorate them with paint.
The next year, Nichols opened the now-famous Rookwood Pottery, making her the first woman in Cincinnati to run a pottery store of this nature. Soon after, she hired a small crew of men and women, including a potter and chemist named Joseph Bailey, as well as Clara Chipman Newton, who served as her general assistant and china decorator in addition to other duties.
She urged her team to be innovative, to experiment with many mediums and subjects, and to produce beautiful work. Maria was attempting to modify people's perceptions about American pottery, which was deemed unpolished.
The Aladdin Vase, a big vase with dragon and catfish designs that were inspired by Japanese art, was one of the very first pieces ever created by the company. With one claw hooked into the vase's opening, it depicted a dragon in low relief slithering around the vase's neck and into the vase's opening.
Nichols created the vase in 1882 as a response to a previous piece by her rival McLaughlin, the Ali Baba Vase, which was the largest underglaze-decorated vase in the United States at the time. However, the Aladdin Vase is wider than the Ali Baba Vase, making it a more technically difficult task to complete: 76 inches.
Nichols received a gold medal for several of her works at the Tenth Cincinnati Industrial Exposition in the same year she received the medal. She remarried in March of the following year to a lawyer named Bellamy Storer after her husband, George Nichols, passed away in 1885. As a result of the death of her first husband, Storer's creative productivity had decreased significantly.
In 1889, they awarded her a gold medal at the Paris Exposition, and the following year she sold her little company to William W. Taylor, who became its president (who incorporated the small factory).
The Rookwood Pottery Company has been in operation since 1890. The company's handmade products are still being produced. Dr. Art Townley purchased the firm's assets, which included master molds, secret glaze formulae, notes, and the Rookwood trademark, and used them to resurrect the company, which he named Rookwood. Dr. Townley and other investors have ensured that the company remains in the city where it was founded.
Maria Longworth Nichols, Music Festival Founder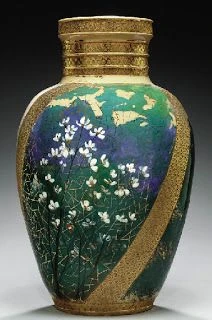 A few years after her marriage, Maria and George (George Ward Nichols, a civil war veteran, and writer on music and art.) teamed up with the renowned musical conductor Theodore Thomas to launch a series of choral and classical music events in New York.
When they made the overture to Thomas, Maria was 25 years old. She offered that a celebration is held in the style of the massive choral gatherings she had witnessed in Europe. The two men agreed upon that George Ward Nichols and other business people would handle all financial aspects of the festival, while Thomas would organize the program.
The Exposition Hall, also known as Saenger Hall or Saengerhalle, was the site of the Cincinnati Musical Festival's successful debut in 1873, which was hosted in the vast building. It was the only structure in town that was large enough to accommodate the choirs, orchestra, and other visitors at the same time.
Maria Longworth Nichols is the first woman to establish a music festival in the United States of America.
Maria Longworth Nichols Style
Earthenware Vase With Ducks
Louise McLaughlin, of Storer, embraced the barbotine method, which originated in France. Barbotine is the French word for ceramic slip, which is a mixture of clay and water that is used for molding and decorating ceramics traditionally. In English, the phrase refers to three different pottery decoration techniques, however; they are all used mostly for historical pieces of pottery.
"Maria Longworth Nichols Storer paints her ceramic vases in brilliantly colored slips. The ornamentation is essentially near the surface. The technique is normally employed for flower paintings, but as you can see, Maria excelled at utilizing it to create fish, ducks, and grasses on ceramics."

Ed Shears
Maria Longworth Nichols Legacy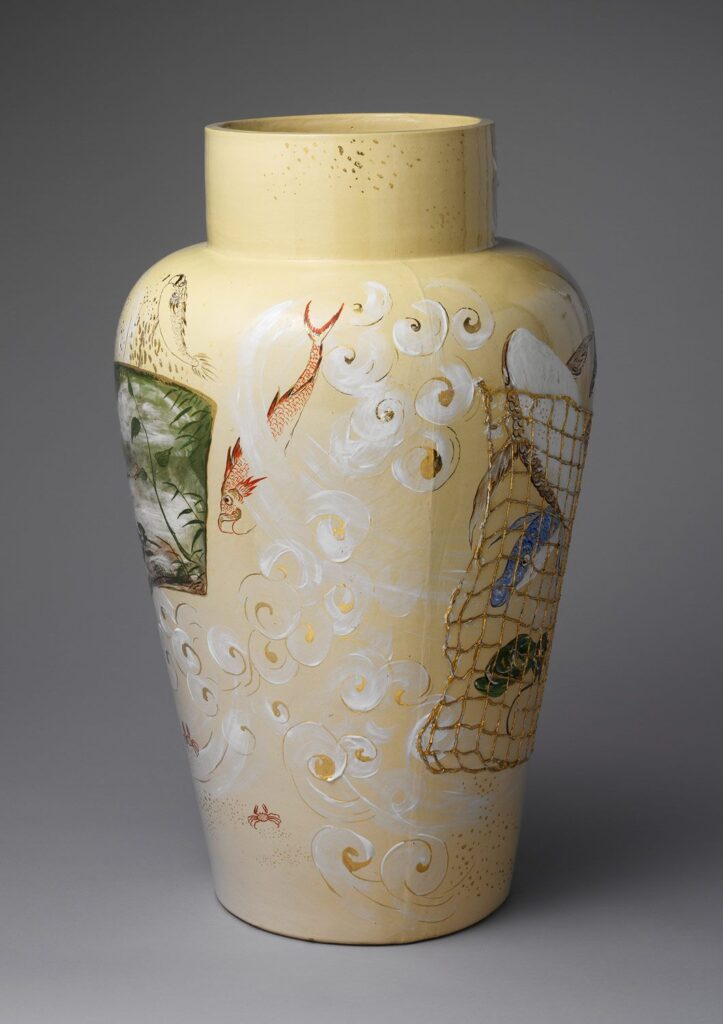 Bellamy Storer served as a member of the United States Congress from 1891 to 1895. From 1897 to 1898, he served as the United States ambassador to the Kingdom of Belgium. In 1896, on the advice of Archbishop John Ireland, the couple converted to Roman Catholicism and began a new life.
They awarded a gold medal to her for painting on bronze materials during the Universal Exposition in 1900, demonstrating her continued involvement in the arts. The two persuaded President William McKinley to seek Pope Leo XIII to elevate Archbishop Ireland to the rank of Cardinal in 1899 after the Spanish government appointed as Spain's foreign minister Bellamy Storer (with the help of New York governor Theodore Roosevelt).
The following year, McKinley arranged for the couple to meet with Pope Pius XII, and he permitted them to suggest John Ireland for consideration. When Roosevelt was President in 1902, he appointed Bellamy as Minister to Austria-Hungary because he did not want to become involved in the campaign to have Archbishop Ireland excommunicated.
Maria continued to promote the subject by meeting with members of the Vatican and spreading misleading information to others, such as the belief that Roosevelt supported such attitudes. These incidents resulted in Bellamy's departure from his position as minister, which caused quite a stir at the time when it was announced.
After everything was said and done, Maria's nephew, Nicholas Longworth III, went on to marry Franklin Roosevelt's daughter Alice, and Storer refused to attend the ceremony.
Popular Ceramic Artists
Reference
Pinterest