Richard Notkin is an American ceramic artist who was born in Chicago, Illinois in October 1948. In 1970, he received his BFA from the Kansas City Art Institute. He earned his MFA from the University of California, Davis. Notkin is best known for his teapots, non-functional vessels with elaborate decoration, and unglazed surfaces that pay respect to Yixing's heritage.
| | |
| --- | --- |
| Artist | Richard Notkin |
| Born | Chicago, Illinois in October 1948 |
| Died | Living |
| Legacy | Ceramic teapots with elaborate, meticulous craftsmanship, and unglazed surfaces, incorporating iconography |
| Art Style | Teapots inspired by Yixing, China |
| Education | BFA from the Kansas City Art Institute. He earned his MFA from the University of California, Davis |
| Nationality | American |
Richard Notkin Education And Background
Richard Notkin was born on October 26, 1948, in the city of Chicago, Illinois. His parents, an immigration lawyer, and a nurse grew up in a Jewish neighborhood that was socially conscious in the 1930s and 1940s, and their political and social beliefs were instilled in him as a young child.
Their beliefs had a significant impact on Richard, and they became a vital part of his career. Richard T. Notkin was born in October 1948 and was noted for being an American ceramic artist.
In high school, Notkin attended the University of Chicago's Laboratory School, which was an experimental high school where he first became acquainted with art. During his time at the school, Notkin had a good relationship with his art teacher, Robert Erickson, and it was because of his support that Notkin enrolled at the Kansas City Art Institute in 1964 as a painting major.
There, he discovered clay and switched his major from mathematics to sculpting, and in his junior year, he decided to concentrate on ceramics exclusively. The instructors Kenneth Ferguson and Victor Babu were influential in shaping his career, and he attributes much of his success to their guidance. He studied hand building and the wheel, but he was particularly drawn to slip casting because of the symmetry of the form.
In 1970, he graduated with a BFA from the Kansas City Art Institute, where he studied under Ken Ferguson. The University of California, Davis, awarded him an MFA in 1973 after he completed his studies under Robert Arneson, who served as a faculty member.
Notkin, who lives and works in Helena, Montana, is most recognized for his reinterpretations of traditional Yixing ceramics, which he has created in his studio.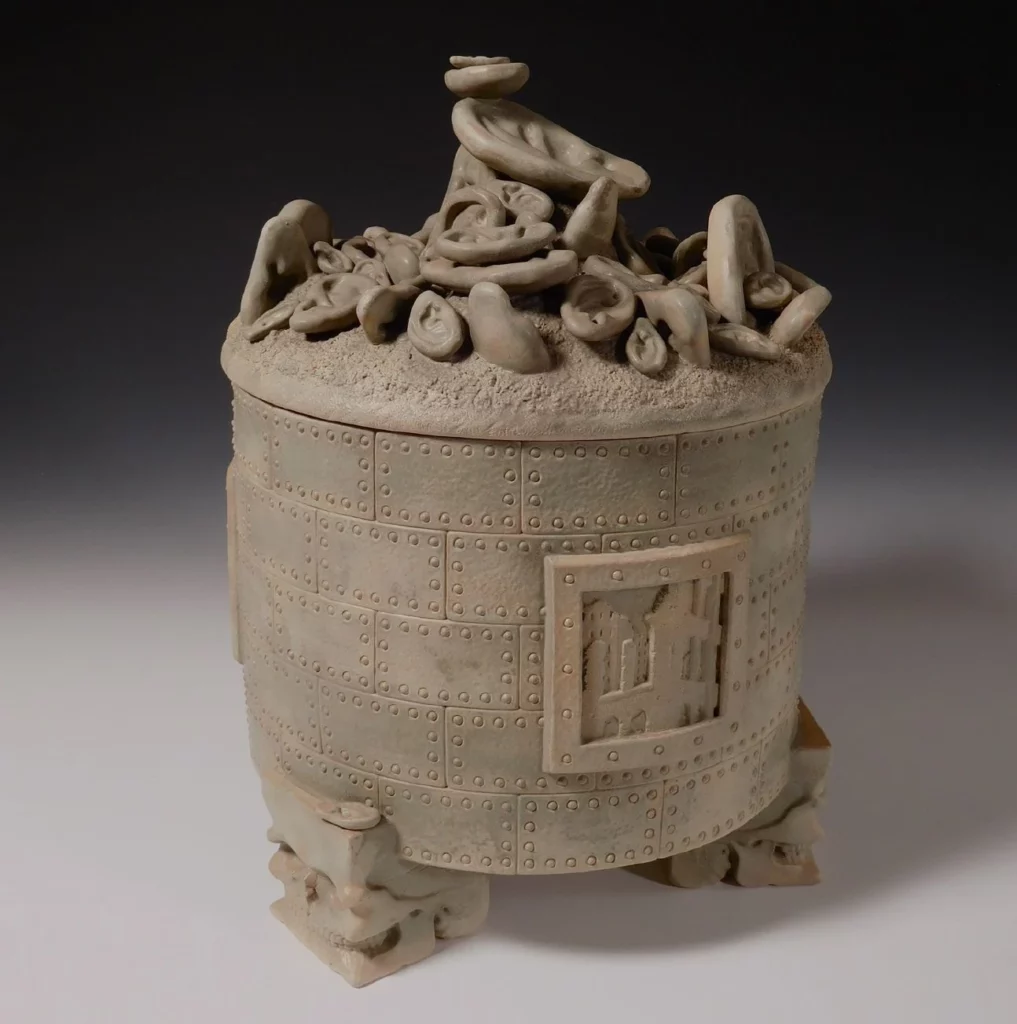 Notkin's strong political and antiwar sentiments were expressed in his artwork, and he also wrote to his draft board to inform them he would not be serving in the war. He did, however, fail the physical, and as a result, he could continue his graduate studies. On a trip to New York, he observed the work of Robert Arneson and decided that he wanted to study under him. Arneson hired him as a teaching assistant after he applied to and was accepted at the University of California, Davis.
It was Notkin who discovered that the program at Davis differed vastly from the one at KCAI – far more independent and intensive. Students were had to work long hours in Arneson's workshop, which was housed in an old Quonset hut that had been leftover from World War II. Arneson was a difficult professor to work with. He was tough on his students and extremely demanding, and it took a while for Notkin to realize how much this benefited his own learning experience under his supervision. While some students left because Arneson's technique was too difficult to handle, Notkin persisted and earned an M.F.A. in 1973.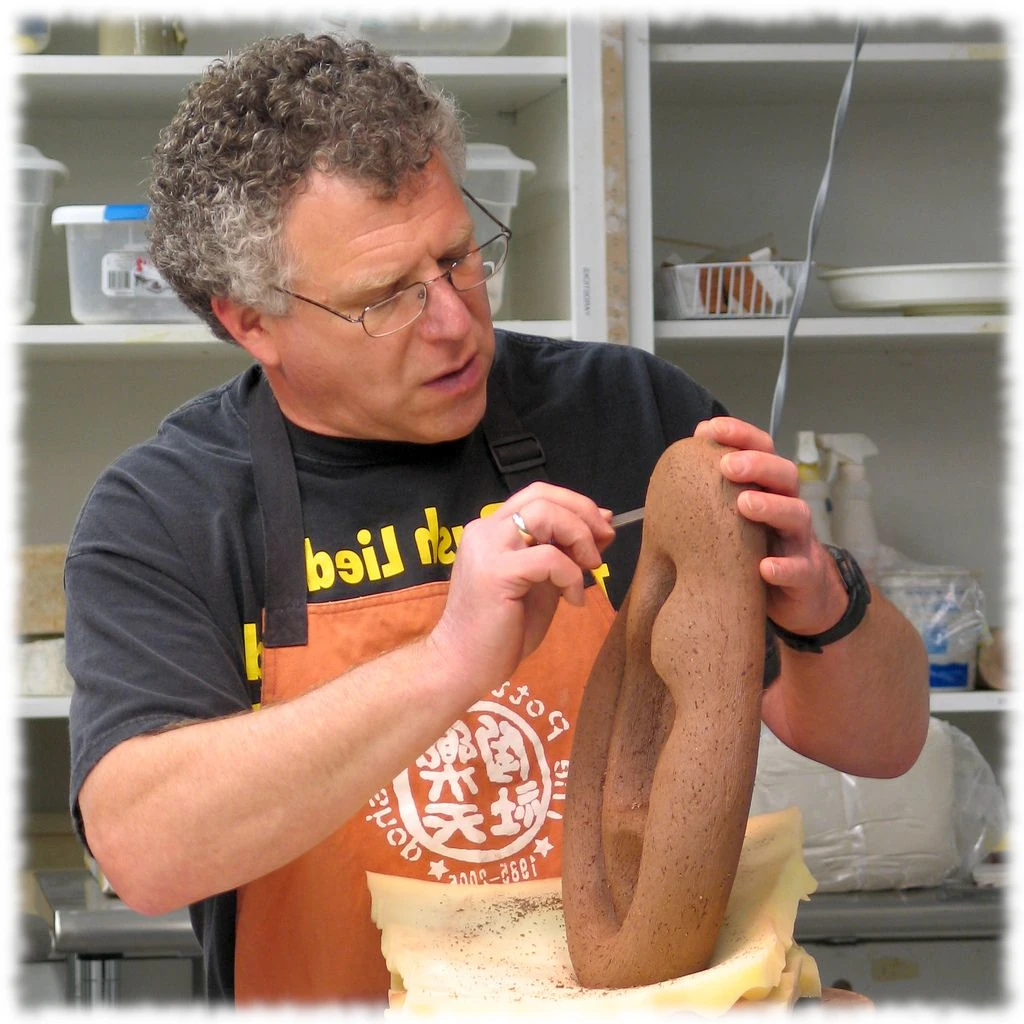 Following graduation, Notkin remained in Davis, where he sold some of his work and also taught adult education classes, making enough money to allow him to devote his time to becoming a full-time artist in his studio. When gallery owner Allan Frumkin viewed his art and expressed an interest in exhibiting it in New York, his career took a drastic shift. Because of his increasing popularity and wealth, he could discontinue his teaching career and dedicate his entire time to his work.
In order to keep costs down, he moved to Myrtle Point, Oregon, where he established a home and studio while continuing to exhibit his work at the Frumkin Gallery in Portland. During this period, he shifted away from the use of bright colors and heavy layers of low-fire glaze and worked in porcelain that had been stained and completed with glazes.
Richard Notkin's Style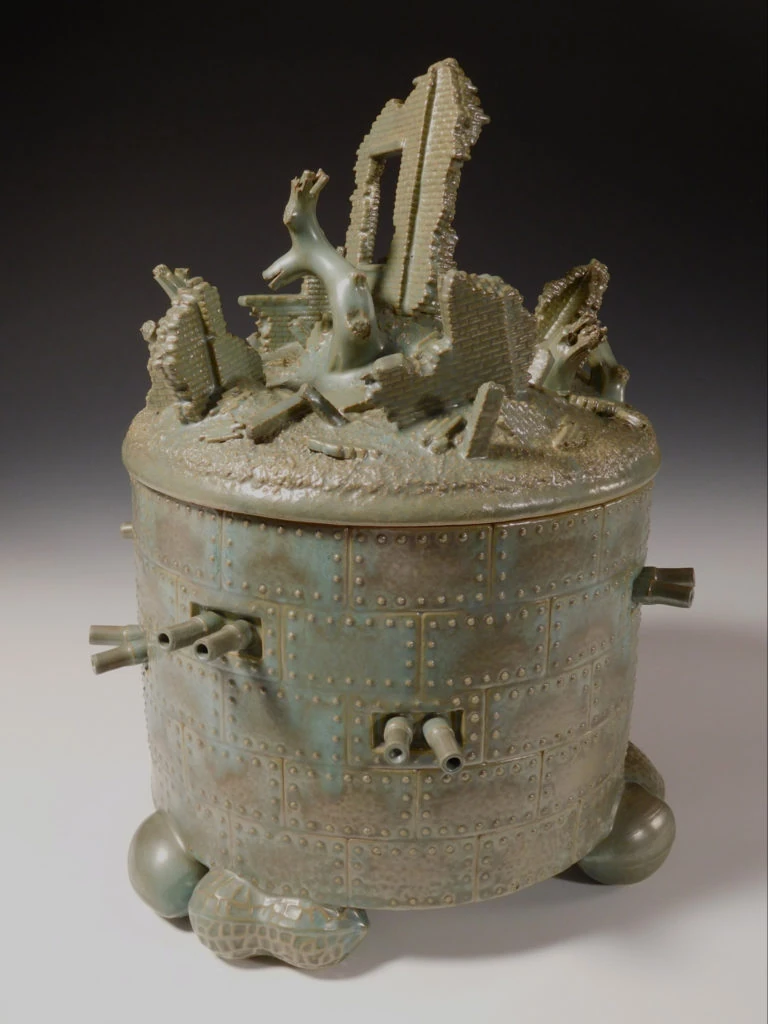 Notkin was in Montana at the Archie Bray Foundation in 1982, and he had a great time there. While there, at the recommendation of Kurt Weiser, he sent slides of his work to Garth Clark, who was pleased with them. Clark became intrigued by the teapots Notkin was just creating and decided to represent him in the marketplace.
Notkin's teapots were inspired by those from Yixing, China, which he had been researching for several years before creating his own. In Notkin's work, he was drawn to the elaborate, meticulous craftsmanship, the unglazed surfaces, and the iconography, all of which were always present but were now stressed even more so.
His most recent ceramic works are inspired by lessons not learned during the 20th century history.
Yixing is a county-level city in southern Jiangsu province, China, that is administered under the administration of the prefecture-level city of Wuxi. It is a part of the Yangtze River Delta. The city is famous for its classic Yixing clayware teapots, which are made of clay. It shares a pen-exclave with the city of Changzhou.
Nuclear Nuts Teapot by Richard Notkin
Notkin's teapots, in contrast to those on Yixing pottery, were not of nature but of political protest, notably Cold War tensions, nuclear proliferation, and human rights violations, as represented by the Cooling Towers Teapots, a series that began in 1983 and continues to this day.
Yixing clay is a type of clay that comes from the area around Yixing in Jiangsu Province, China, and has been used in Chinese pottery since the Song era (960–1279).
Notkin moved to Helena, Montana, in 1994, and the following year he broke out from the teapot shape because he felt it was getting too conventional and he wanted to test his abilities. In the same year, he also experienced a central retinal vein blockage, which resulted in the loss of a major portion of the retina in his right eye and required surgery.
He has been transitioning to larger-scale work for some time, but losing depth perception caused by the issue has sped up the process. Although he could finally retrain his hand-eye coordination to allow him to paint on a small scale again, he continued to create on a larger size as he experimented with new ways to communicate himself and his thoughts. In 1996, he constructed a gas kiln and began working on mastering reduction firing.
In addition, Notkin transitioned from slip casting to press molds and hand building and even began incorporating mixed media into his work. More recently, the scale has been significantly enhanced, with room-sized installation works made up of individual tiles now being produced.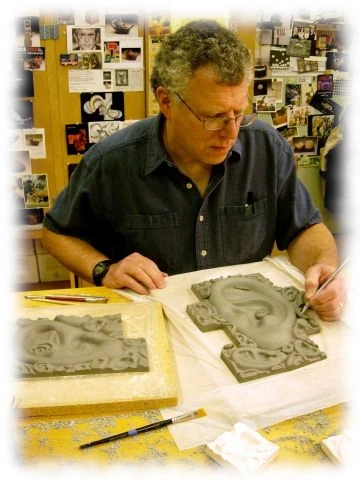 His works are concerned with the myriad conflicts that exist between nations, religions, ethnic groups, and other groups, as well as the consequences of these wars on the globe and its future. After a while, Notkin's emphasis has shifted from the specific to the more introspective, from specific social and political issues to the darker aspect of human nature itself, as the medium has matured.
Richard Notkin Galleries And Publications
Garth Clark Gallery, 24 West 57 Street, Suite 305 New York, New York 10019
Elizabeth Leach Gallery, 417 N.W. 9th Avenue Portland, OR 97209
"Slip Casting: Studio Tool of the "80"s." Ceramics Monthly 34 (January 1986): 34.
"Smoke Firing." Studio Potter 29, no. 1 (December 2000): 55-71.
Sweet, Marvin. "The Yixing Effect." Ceramics Monthly 47, no. 1 (January 1999) 66-69.
Adkins, Gretchen. "In Your Face." Ceramic Review no. 189 (May/June 2001): 46-49.
Brown, Glen R. "Embodied Conscience: the Sculptures of Richard Notkin." Ceramics (Sydney, Australia) no. 43 (2001): 6-11.
Cloonan, Mary. "An Interpretation of Tradition: Connection, Collaboration & Conspiracy." Ceramics (Sydney, Australia) no. 53 (2003): 12-16.
Dunas, Michael, and Sarah Bodine. "The Precarious Scale of Justice: Richard Notkin's Precious Protest." American Ceramics 5, no. 3 (1987): 16-23.
Eder, L. "Richard Notkin. Ceramics Monthly 30 (November 1982) 59-63.
Faberman, Hilarie. "Fired at Davis: Figurative Ceramic Sculpture." Ceramics (Sydney, Australia) no. 62 (2005): 52-53.
Failing, Patricia. "Richard Notkin: Conduits for Social Meaning." American Craft 51 (April/May 1991): 44-49.
Gess, Terry. "How Do You Cook the Moon? The First Yixing Symposium for Western Potters." Ceramics Monthly 45 (June/August 1997): 43-45+.
Kagan, Dick. "High Tea." Art & Antiques 27, no. 5 (May 2004). 56-59.
Lackey, Louana M. "Not Just Another Pretty Vase: New Work by Richard Notkin." Ceramics Monthly 48, no. 8 (October 2000): 54-57.
Newby, Rick. "Richard Notkin: Yellowstone Art Museum." Sculpture (Washington, D.C.) 19, no. 5 (June 2000): 73-74.
Notkin, Richard T. "The Correct Way to Dry Molds." Ceramics Monthly 39 (April 1991).
"Eighteen Ceramic Artists." Studio Potter 16 (December 1987)
Clark, Garth. The Artful Teapot. New York: Watson-Guptill, 2001. The Eccentric Teapot. New York: Abbeville Press, 1989.
Ferrin, Leslie. Teapots Transformed: Exploration of an Object. Cincinnati, Ohio: Northlight Books, (October 2000.)
Notkin, Richard. Passages: a Ceramic Installation. Yellowstone Art Museum, 1999.
Strong Tea: Richard Notkin and the Yixing Tradition. Seattle, Washington: Seattle Art Museum, 1990.
Peterson, Susan. The Craft and Art of Clay. Englewood Cliffs, New Jersey: Prentice-Hall, 1992.
Zakin, Richard. Ceramics; Ways of Creation. Iola, Wisconsin, Krause Publications, 1999.
People's Fine Art Publishing House
Smithsonian Institution
Los Angeles County Museum
Shigaraki Ceramic Cultural Park
Albert Museum
Richard Notkin Awards
Notkin has received many awards over his career, among them Artist Fellowships from the National Endowment for the Arts; Fellowship in Sculpture from the John Simon Guggenheim Memorial Foundation; and the Louis Comfort Tiffany Foundation Award. His work is in the collections of the Metropolitan Museum of Art, the Cooper-Hewitt Museum, Carnegie Museum of Art, and many others. He continues to work as a studio artist in Helena, Montana.
Popular Ceramic Artists
References
Pinterest
The Western Spokesman of Yixing-Richard Notkin, Ceramic Art