Michelle Erickson (born 1960) is an American ceramic artist who specializes in contemporary ceramics. Michelle Erickson is best known for her colonial-era ceramic styles, which she employs in the construction of twenty-first-century social, political, and environmental sculptures. Erickson received her BFA in 1982 from William and Mary in Williamsburg, Virginia.
Michelle Erickson's Career
Her first job after graduation was as a potter at the French-Canadian part of the Busch Gardens amusement park in Williamsburg, where she stayed for a year.
Aside from that, she accepted a position operating the ceramics studio at the Jamestown Settlement, where she began to research and replicate pottery from the archaeological collections housed at the historic location.
From July to September 2012, Erickson was the artist-in-residence at the Victoria and Albert Museum in London, England.
Erickson also completed two residencies, one at the Visual Arts Center in Richmond, Virginia, and the other at Starworks in Star and Seagrove, North Carolina, both of which he was awarded.
"My career-long fascination with ceramic history during the period of Western exploration expansion, and dominion began with exposure to archeological ceramics in the "colonial triangle" of Virginia. Fragments of British, European, Asian, and Native American pottery unearthed in the early colonial excavations embody a remarkable global convergence of cultures in clay. My practice in the rediscovery of lost ceramic techniques and the contexts of this history define my approach as a contemporary artist. I use the depth of history through the art of making to draw parallels through time such as the 18th century Staffordshire pottery industry and global design giant Nike, Wedgewood's abolitionist ceramics and 21st child slavery, the colonial discovery and obsession with fossils as prescient to our perilous addiction to fossil fuels. I make objects of the past from an imagined future in the present."
Michelle Erickson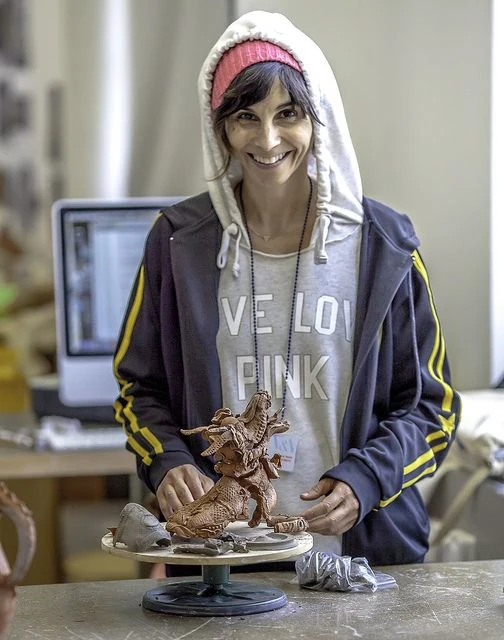 Working in historic Tidewater, Virginia, for more than thirty years, Erickson has conducted extensive research on the technology and history of the ceramics employed by American colonists in the seventeenth and eighteenth centuries. Erickson's work has been recognized internationally.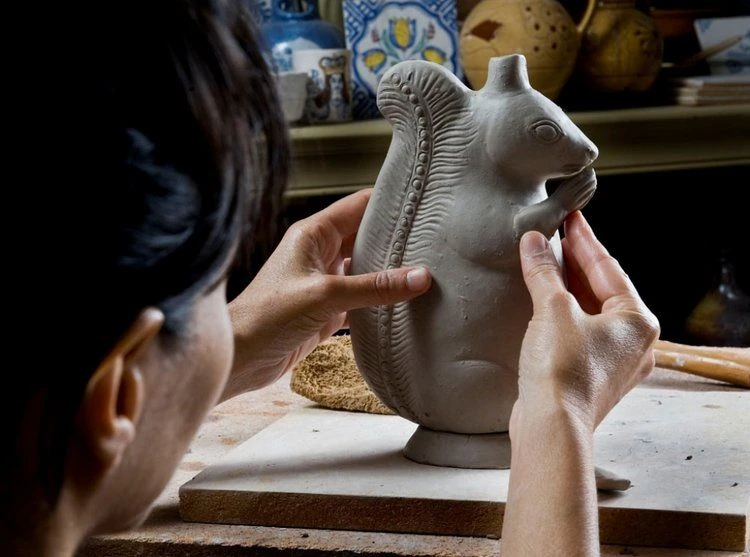 Her efforts have been rewarded with a portfolio of technical abilities that represent three hundred years of potting traditions, as well as a devoted following of ceramic collectors who are familiar with Anglo-American ornamental arts and ceramics in general.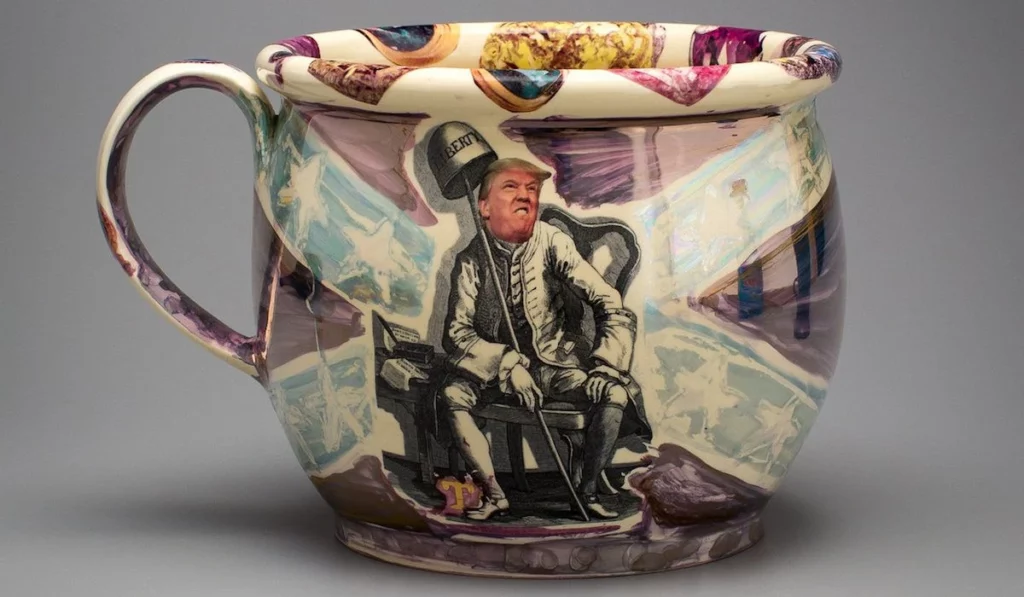 In addition to being an accomplished ceramic scientist who has worked with a vast variety of earthenware, stoneware, and porcelain bodies and glazes, she has successfully used these skills in her diversified modern body of work. She has a wealth of historical depth of knowledge and over 20 years of experience creating 18th-century reproduction pottery as of this writing.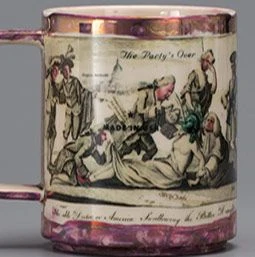 In the sphere of ceramic arts, she has set the bar for the present fashionable usage of historical references (mainly political change and environmental issues) by way of arcane ceramic techniques in which she pioneered. Her work captures current environmental narratives, social expression and social justice issues in which has won critical acclaim internationally. See photo above of modern day reinvention on ceramics.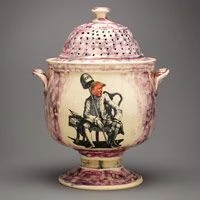 Michelle was an artist-in-residence at the Victoria and Albert Museum in London in 2012, where she worked in the category of World Class Maker, among other things. Over the course of her stay, Erickson worked with Nike on their 2012 Olympic Track and Field Innovation as well as on three interesting short videos made by the Victoria and Albert Museum in collaboration with the Chipstone Foundation.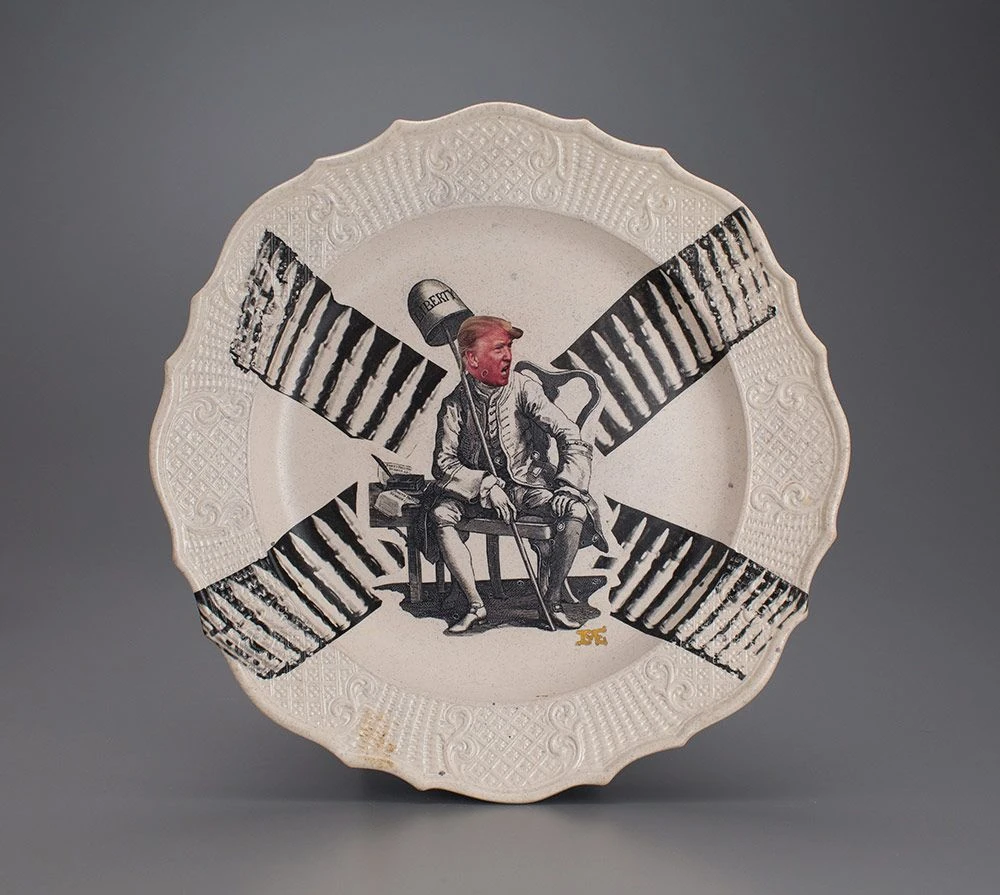 She was awarded a professional artist fellowship by the Virginia Museum of Fine Arts in 2013-14, and she was invited to be an international guest artist at the North Devon Festival of Pottery UK in 2013, which was supported by the British Council.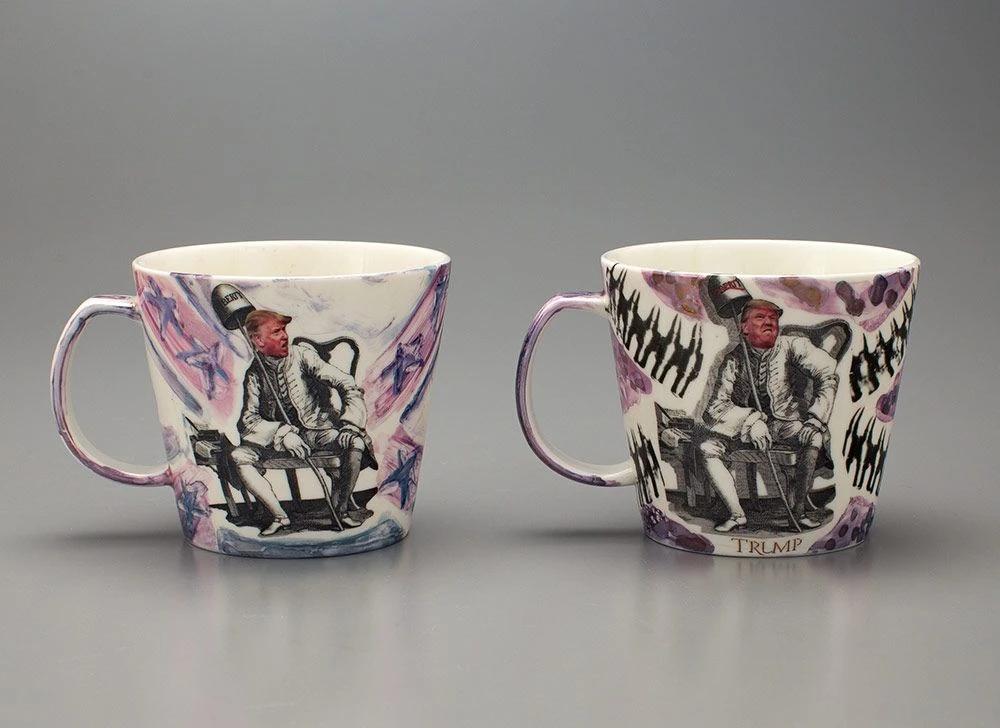 She was a presenting artist at the North Carolina Potters Conference 2014 and a demonstrating artist at the North Carolina Exhibition and Crafts Association 2014. "An Artist's Perspective: The Robert Ellison Jr. Collection of French Ceramics," a Friday focus series at the Metropolitan Museum of Art, featured Erickson as a guest artist. The series is now available online at MetMedia.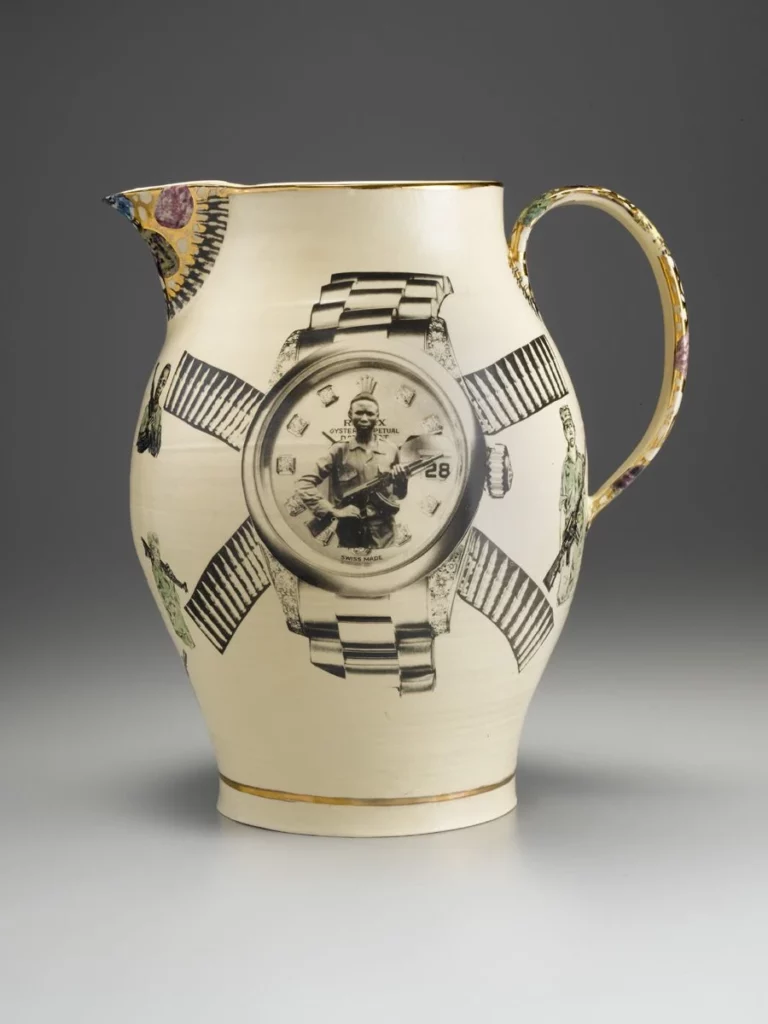 Michelle Erickson's Style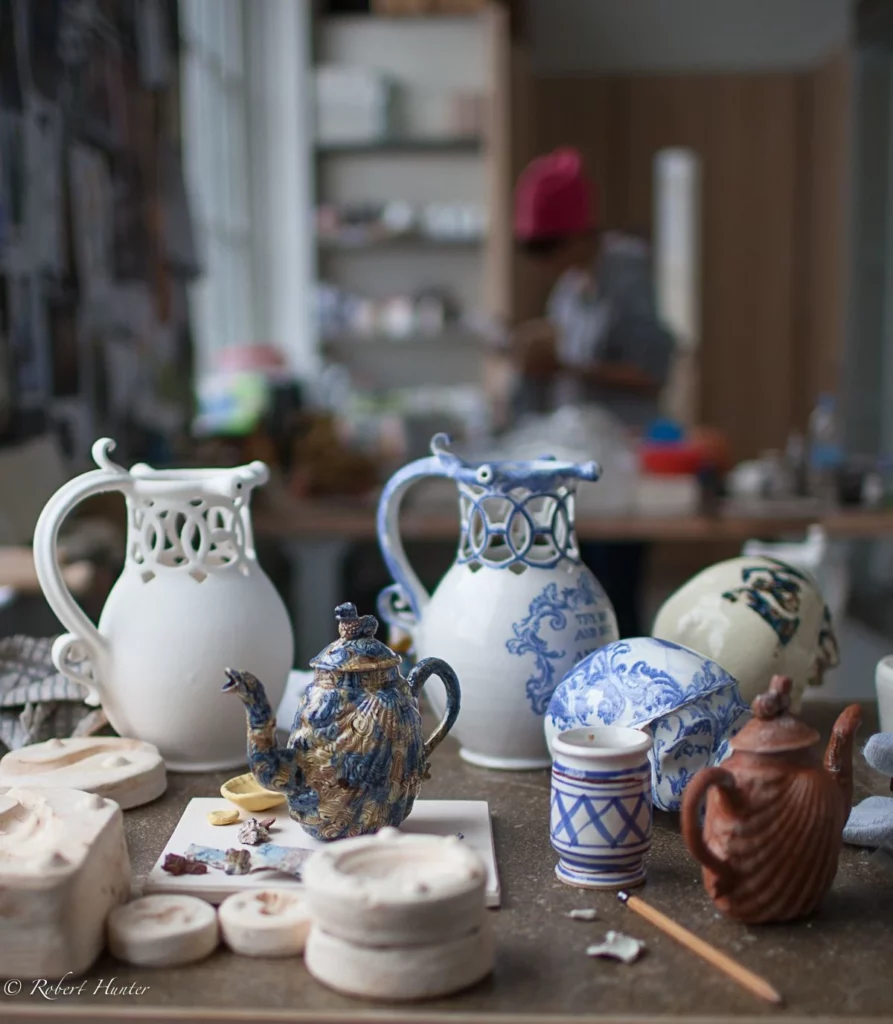 In addition to her mastery of colonial-era ceramic methods, Michelle Erickson is worldwide renowned for her development of the twenty-first century social, political, and environmental themes through the use of ceramics.
Because of her years of observation and experimenting, she has developed a unique understanding of historical ceramic technology that allows her to bridge the gap between the past and the present as a ceramic artist.
Pottery, Past and Present
Her inclusion in Pottery, Past and Present (contemporary work) was a logical extension of her earlier work on the subject of alcohol consumption and historical ceramic drinking containers, which she had previously published.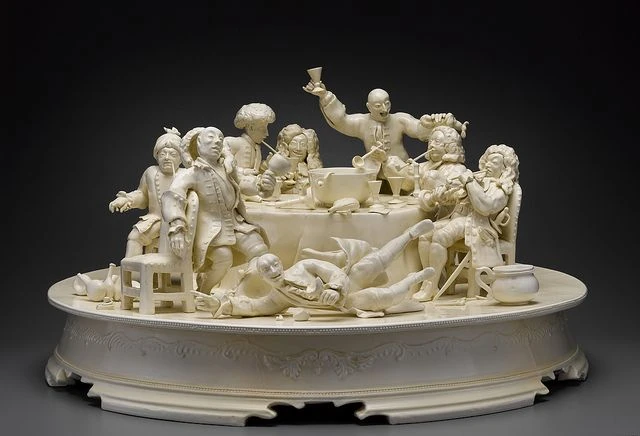 One of her earlier works, a sculptural version of William Hogarth's renowned Midnight Modern Conversation in a creamware setting, served as the inspiration for the broader project's aesthetic. Although this massive, delicate sculpture did not go to the "The Last Drop" show, an oversize image of it served as the space's backdrop.
When she included a recreation of an eighteenth-century English delft puzzle jug decorated with Van Gogh's Skull of A Skeleton with a Burning Cigarette, she was able to further allude to the idea of alcohol's hazards by using another of her previous pieces.
VANITAS
An additional piece (original artwork) by Erickson, created while she was a guest artist at the North Devon Festival of Pottery in Bideford, England, in 2013.
It was chosen as an example of how the study of the past informs much of her creative output. In the shape and form of the harvest jugs produced by Devon potters in the seventeenth and eighteenth centuries, VANITAS is a huge harvest jug of exceptional quality.
This particular work exemplifies the inspirations garnered through Erickson's firsthand observations of seventeenth-century North Devon sgraffito discovered in archaeological excavations in Jamestown, Virginia, as well as his research into the history of the art form.
Museums and Exhibitions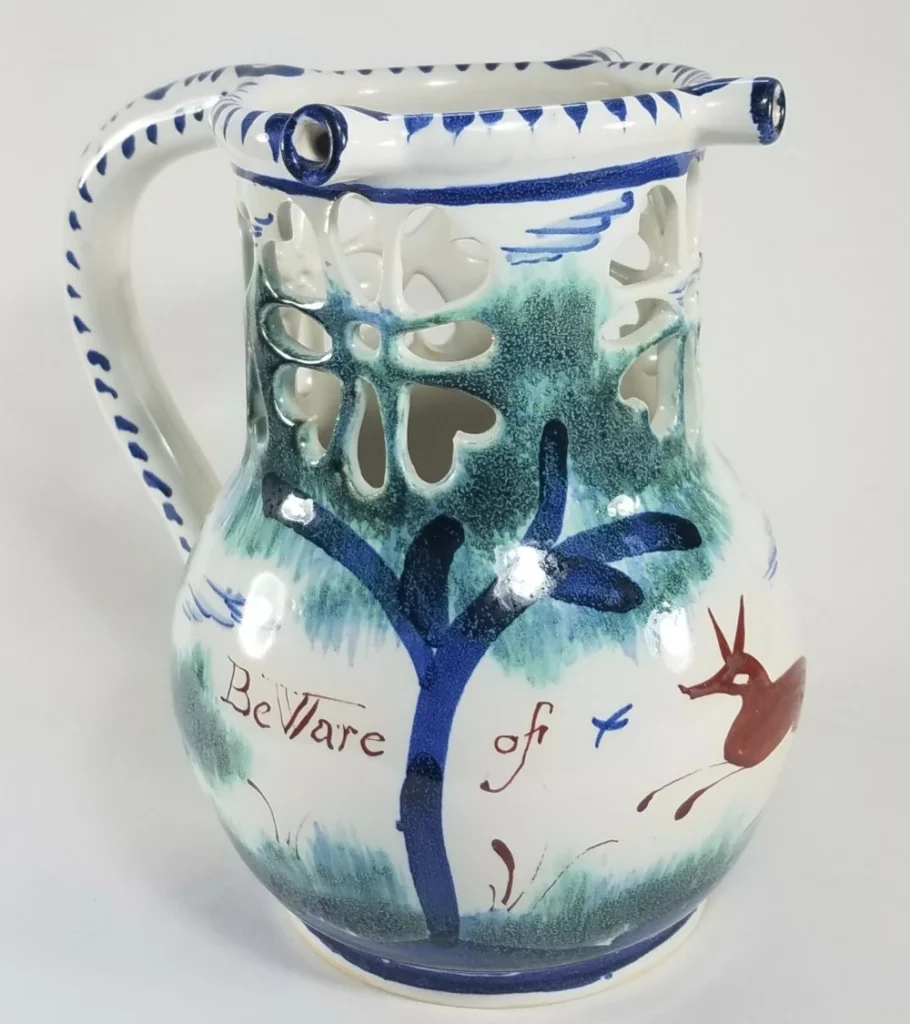 Michelle has a solo exhibition piece named You & I Are Earth (a ceramic medium), which is on display at the Wilton House Museum in Richmond, Virginia, which she created in 2016.
She is also a member of the National Council on Education for the Ceramics Arts, the American Craft Council, and the American Ceramics Circle, among other organizations.
Erickson's highly sought-after designs have re-energized prestigious decorative arts collections by bridging the gap between the past and the present.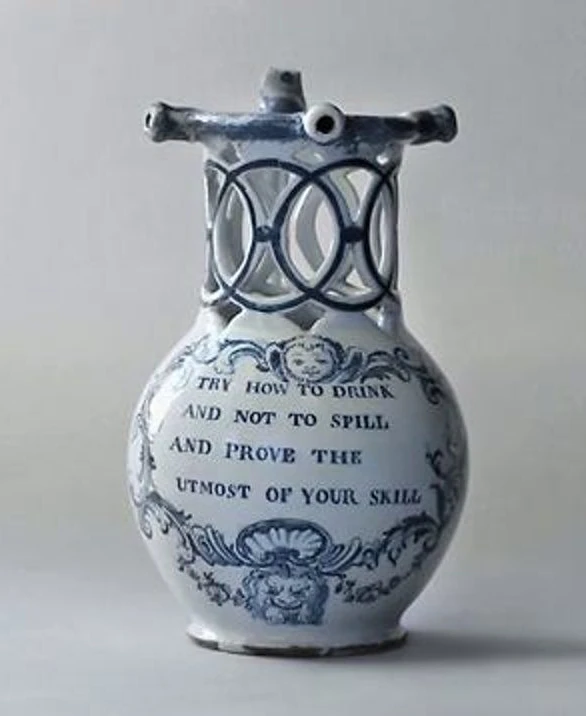 She has had her contemporary art collected by institutions such as the Colonial Williamsburg Foundation, the New York Historical Society, the Chipstone Foundation in Milwaukee, Wisconsin, and others as the first contemporary ceramic art to be bought. She has pieces in the collections of prominent institutions in the United States and Britain, including the Museum of Arts and Design in New York, the Seattle Art Museum, Stoke-on-Potteries Trent's Museum & Art Gallery, and the Victoria and Albert Museum in London (V&A). And has reproduced collections for the Early Southern Decorative Arts, the North Carolina Pottery Center and the National Park Service.
After years of research, Erickson has made significant contributions to a number of key articles (Ceramics Monthly), various international publications and video presentations on historic ceramic technology (acted as a consultant for several major motion pictures), many of which have been published in Ceramics In America since the magazine's founding in 2001.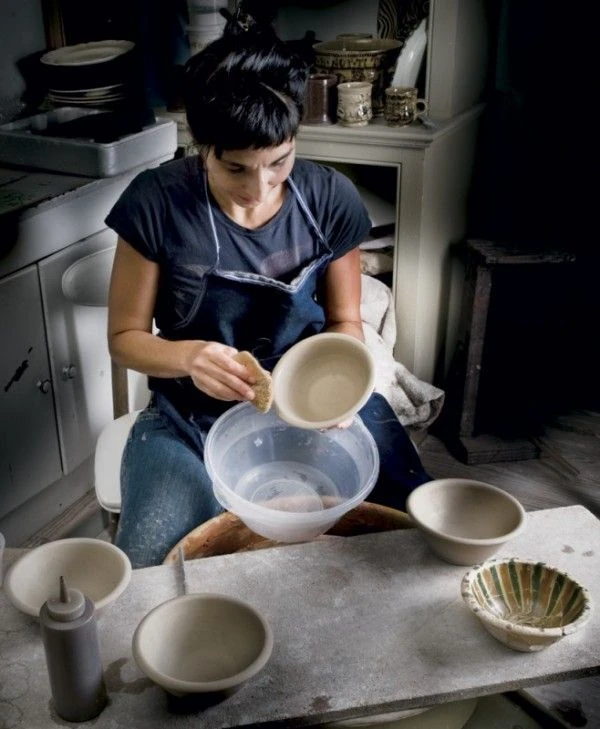 Michelle was an artist-in-residence at the Victoria and Albert Museum in the category of World Class Maker in the year 2012. During her employment, she collaborated with the Victoria and Albert Museum and the Chipstone Foundation to produce three documentaries about her work in the rediscovery of British ceramic skills.
It has been recorded in numerous publications, including several volumes of the annual magazine Ceramics In America, that Erickson's body of work addressing the rediscovery of seventeenth and eighteenth century ceramic techniques has contributed to the advancement of the field.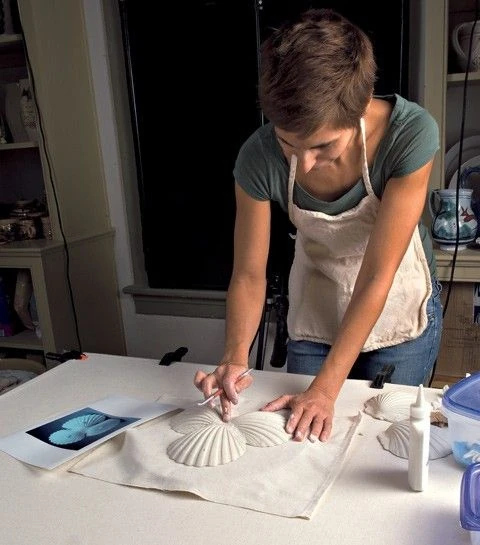 Erickson was commissioned to design and build the official gift to be presented to Her Majesty Queen Elizabeth II during her historic visit to Jamestown, Virginia, to commemorate the 400th anniversary of the founding of the settlement. The design and fabrication of this piece Terra Nova is the subject of the cover feature for the 2008 issue of Ceramics in America Fit For A Queen, written by Ivor Noel Hume OBE, which appears on the back cover of the magazine.
The Potteries Museums in Stoke on Trent, the Philadelphia Museum of Art, the Milwaukee Art Museum, and the Metropolitan Museum of Art are among the places where Erickson has lectured or demonstrated her art. She has created and produced ceramics for a variety of museums, institutions, and collectors, as well as for major film pictures such as The Patriot and HBO's John Adams series, among others.
Since 2014, she has participated in a number of shows, including a solo show at the Clay Art Center in New York in April 2014.
Enough Violence at the Society for Contemporary Craft in 2013-14, and Inciteful Clay at the Milwaukee Art Museum in 2014-2017, were all part of the NCECA Invitational Exhibition Flow, which took place from February to March 2014.
Conversations in Clay, a solo exhibition by Erickson, was on display at Virginia MOCA from May through August 2015. Museums of note are: Long Beach Museum, Yale University Museum, Mint Museum, Carnegie Museum and Victoria & Albert Museum.
Popular Ceramic Artists
Images pinterest = Michelle Erickson