Michael Frimkess is an American ceramic artist who lives in Venice, California. Frimkess is best known for employing forms from Greek, Chinese, and Indigenous American antiquity on pottery. Michael Frimkess was one of the youngest artists to study with ceramic tradition maestro Peter Voulkos at the Otis Art Institute, where he was one of the youngest students ever.
Michael Frimkess (born 1937) is a ceramic sculpture artist from the United States who lives in the city of Venice, California. A key figure in the California Clay Movement throughout the 1950s and 1960s, he was a student of Peter Voulkos during this period.
Frimkess' pottery is distinguished by its classical style, which incorporates elements from ancient Greek, Chinese, and Indigenous (Native American) cultures.
Magdalena Suarez Frimkess (Magdalena Frimkess), his wife (born 1929) and colleague, paints his ceramic pieces, which are sometimes adorned with anachronistic, current imagery such as Minnie Mouse or Condorito.
Magdalena was born in Venezuela and migrated to Chile when she was 18 years old. In 1962, Decorative Art in America magazine recognized Magdalena as "the most adventurous sculptor currently working in Chile."
The following year, she relocated to California, where she met Michael.
After beginning with Aztec designs and Native American iconography, Magdalena began to embellish her pots with cartoon characters, commercial slogans, and family pictures in the late 1970s.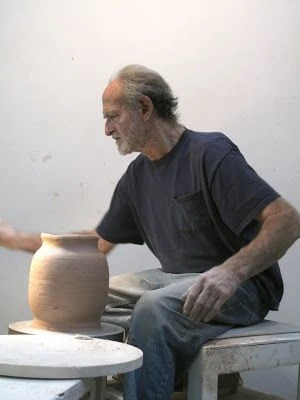 Magdalena's pots are now found in private collections across the world. In her improvisations, she uses whatever pictures come to her mind, intuitively shifting imagery to match the contours of the pots that she and her husband have thrown.
He is also well-known for his creative wheel-throwing and firing tactics, which he has developed over the years.
Michael Frimkess Early Career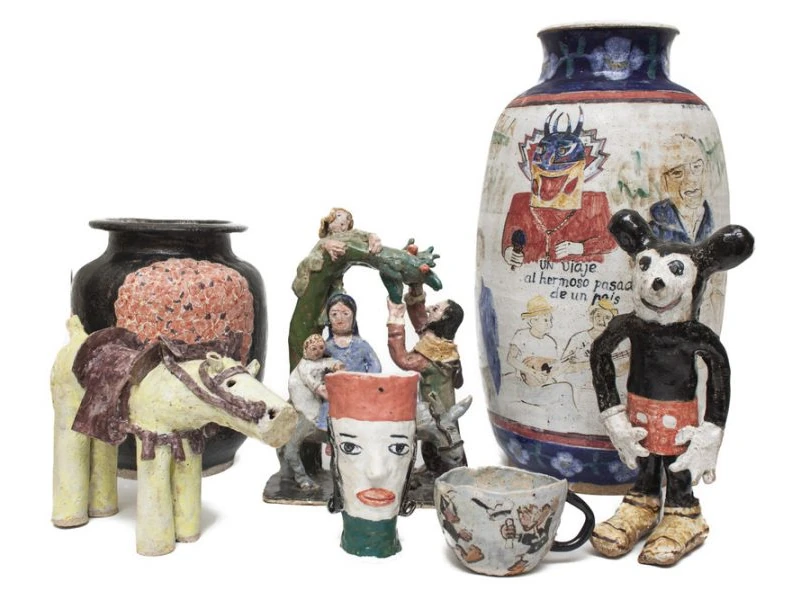 A peek into Frimkess' world: Frimkess was born on January 8, 1937, in the Los Angeles neighborhood of East Los Angeles. He grew up primarily in the Boyle Heights district of Los Angeles, where he claims his family was one of the few remaining Jewish families in the area.
Father Lou Frimkess was an artist and graphic designer in his own right. Early in his life, he was exposed to fine art through sketching and sculpting lessons, as well as visits to several museum exhibitions.
He learned to play the saxophone and piano when he was younger (early years), with aspirations of being a professional jazz musician. After seeing a vision while on a peyote trip, Michael Frimkess, a young aspiring jazz musician, decided to pursue a career in pottery. In 1956, he enrolled in Peter Voulkos's now-famous ceramics class at the Otis College of Art and Design, where he met and collaborated with students like as Ken Price, John Mason, and Billy Al Bengston, among others.
His family relocated to Hollywood when he was 15 years old, and he went on to graduate from Hollywood High School two years later in 1955. A sculpture class he took in high school inspired him to pursue further training in the arts after graduation. He received a scholarship from the Otis College of Art and Design when he was 17 years old, making him the college's youngest ever scholarship recipient (then known as the Los Angeles County Art Institute (Los Angeles County Museum).
After a year at the institution, Frimkess decided to pursue a career in ceramics, a decision he relates to a vision he had while high on peyote in which he saw himself throwing a perfectly shaped vessel.
The ceramics department provided him with the opportunity to work with Peter Voulkos, who is considered to be among the most influential figures of the California Clay Movement. He also collaborated with sculptors and ceramists such as Billy Al Bengston, John Mason, Kenneth Price, Paul Soldner, and others on their projects.
A gallery on Sunset Boulevard first opened its doors to him in 1956, and he was one of ten young artists who exhibited their work there. In 1957, while on a family vacation in Italy, Frimkess worked in a small ceramics factory, where he gained extra instruction in the art of throwing a particularly hard form of clay.
Michael Frimkess Ceramic Art Career
As a result of this, Frimkess moved from New York to Berkeley, California, where he met Peter Voulkos, who was then teaching at the University of California, Berkeley at the time. While there, he worked with Voulkos on bronze and aluminum casting techniques.
It was in the San Francisco Museum of Modern Art in 1963 that his piece "Hooker No. 1" (a bronze sculpture of a television) was on show as part of the annual exhibition of the San Francisco Art Institute.
Frimkess also completed (Frimkess took) an internship at the Clay Art Center in Port Chester, New York, at the urging of Voulkos during that same academic year.
It was at the Art Center that he met Magdalena Suarez, who would go on to become his future wife and regular collaborator. Magdalena had come to the Art Center as part of a scholarship program from Venezuela.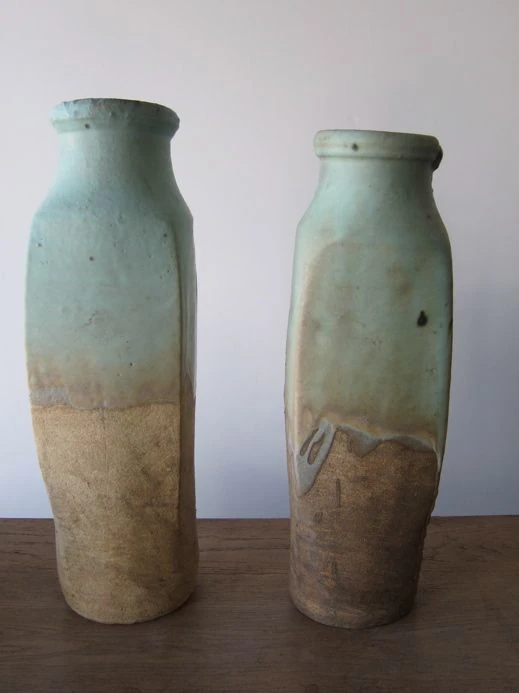 1965 To 1970
On his trip to the east coast, Frimkess was told to tour museums in New York and Boston to learn about ancient Greek and Chinese pottery types. In addition, he began mastering the method of "dry throwing" clay, which involves throwing clay without the use of water. Much of his work produced after 1965 was a recreation of classical forms such as Greek volute kraters, Zuni pots, and Chinese ginger jars, among others.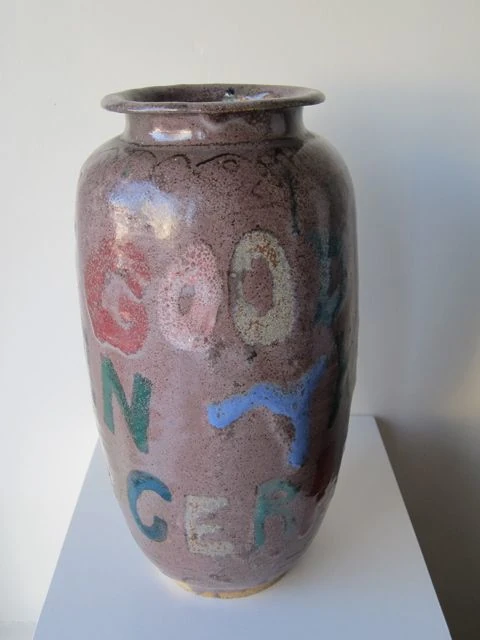 His work was included in the Abstract Expressionist Ceramics show, which took place in 1966 at several venues, including the art gallery of the University of California, Irvine and, later, the San Francisco Museum of Art. In 1967, he was awarded the National Medal of Arts.
1970 To 1976
In 1970, his art was included in an exhibit at the Moore College of Art in Philadelphia, Pennsylvania, among the work of Robert Arneson, Ron Nagle, and David Gilhooly, among others. Frimkess was diagnosed with multiple sclerosis in 1971, and he died in 2002. In the following months, he concentrated on rehabilitation and physical treatment, which took time away from his ceramic work and reduced his production.
He continued to throw the pots, and his wife, Magdalena Suarez Frimkess would glaze and decorate them as he had done previously.
Out Biking with Aunt Samantha, a painting by Michael Frimkess that is now on display at the Renwick Gallery.
1976 To 1982
At the University of California, Santa Barbara's art gallery in 1976, Frimkess' work was shown in the exhibition Clay: The Medium and the Method, which featured work by a variety of artists. His work was presented in the Los Angeles Institute of Contemporary Art for their exhibition entitled Foundations in Clay, which took place a year after that.
The latter exhibition was considered an update of the Abstract Expressionist Ceramics exhibition from 1966, with five of the six artists returning, including Peter Voulkos, Ron Nagle, Kenneth Price, and John Mason, and was organized by the Museum of Modern Art in collaboration with the American Ceramic Society.
1982 To 1988
In the same year, the James Willis Gallery in San Francisco featured a 17-year retrospective of Frimkess' work, which was also on show at the gallery. Another retrospective of his solo and collaborative work was held at the Garth Clark Gallery in Los Angeles in 1982, this time of his solo work.
1988 To 2000 (End Of The 20th Century)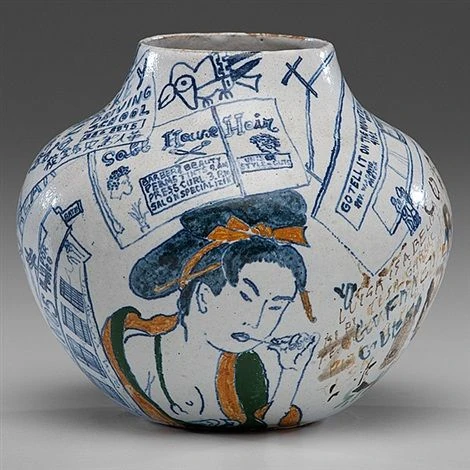 As of 1988, Frimkess's work may be found in the Smithsonian Institution, the American Craft Museum, and the Kyoto, Japan's National Museum of Modern Art, among other institutions. Additionally, his work was included in an exhibition at the Fashion Institute of Technology in New York City that year called Extended Visions, which showcased work by artists who were affected by multiple sclerosis.
2000 To 2013
Vessels of Satire: The Art of Magdalena and Michael Frimkess was the title of an exhibition of Frimkess and his wife's work exhibited at Louis Stern Fine Arts in 2000, which included their work. In 2001, the Smithsonian Institution's Archives of American Art received an official oral history of their lives and work, which was submitted by the two artists.
2003 To 2013
They had a show at Little Tokyo Clayworks in Los Angeles in 2003, where they showcased some of their work. Beginning in 2012, their work began to be featured at South Willard, a menswear store located in the same neighborhood as the gallery.
2013 To 2016
Frimkess' early work was included in an exhibition called Grapevine at the David Kordansky Gallery in Culver City, California, in 2013. The event was organized by the David Kordansky Gallery, which is located in Culver City.
The Frimkesses' collaborative work was on display at White Columns in New York from March 2014 to April 2014.
In August 2014, their work was once again included at the Hammer Museum's biennial show, Made in L.A. The couple also received the Made in L.A. Mohn Career Achievement Award (couple's talented work- sculptures of Walt Disney characters), which was presented to them.
2016 To Present
At the MAK Center in West Hollywood, California, their work was on display as part of an exhibition titled Routine Pleasures that took place in 2016.
Besides being shown in exhibitions, Frimkess' work has appeared in several publications, including Ceramics Monthly, American Ceramics, and Craft Horizons journals, among others. When Frimkess wrote an essay for Craft Horizons in 1966, it was headlined "The Importance of Being Classical," and he was later profiled in that magazine's December 1973 issue ("Michael Frimkess and the Cultured Pot").
Several publications, including both the Los Angeles Times and the New York Times, have lately published profiles of Michael and Magdalena.
Michael Frimkess Ceramic Art Style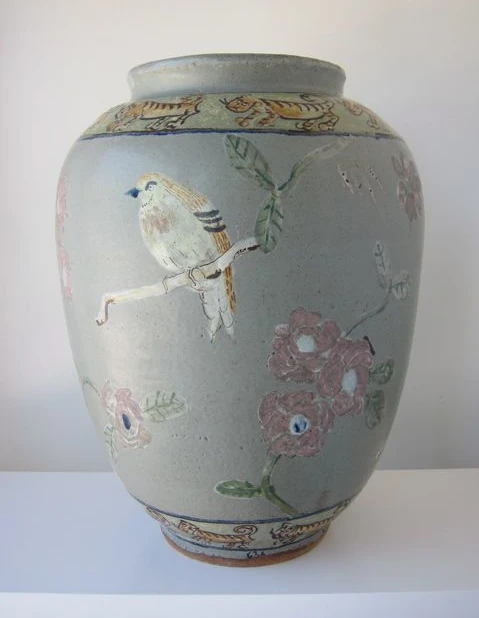 Frimkess' early work comprised a wide range of ceramics as well as bronze and aluminum sculptures, among other things. Taking inspiration from his mentor and teacher, Peter Voulkos, these early works were frequently more free-form and less utilitarian in nature.
His passion in and ability to create classical pottery forms began to grow in the mid-1960s, when he moved to New York City. His work includes Greek volute kraters, Zuni pots, and Chinese ginger jars, to name a few examples. For his vessels, he also learnt the technique of dry throwing hard clay without the use of water, which results in walls that are incredibly light and thin compared to traditional methods.
Aside from that, via his expertise and efforts in kiln design and construction, he created a method of firing stoneware that may be completed in as little as 55 minutes, depending on the material.
In the years before he was diagnosed with multiple sclerosis, Frimkess would glaze and paint all of his ceramic pieces, embellishing them with current sceneries and pop art.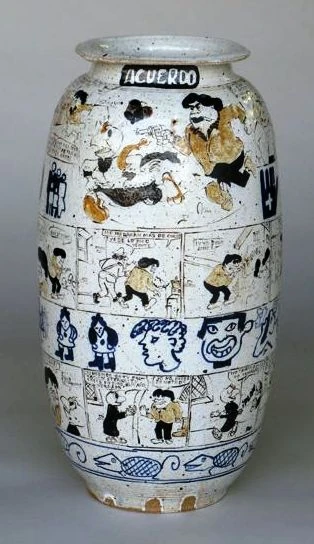 The visuals were frequently "vernacular or historical," and they made extensive use of cartoon sequences or word balloons to ridicule issues such as corruption, segregation, and hypocrisy, among other things.
His art typically dealt with racial tension, and he took inspiration from his youth growing up in a neighborhood that was predominantly made up of Chicanos, Japanese, and Black people. Each of his pots was intended to represent an ideal "melting pot."
Since his diagnosis with multiple sclerosis in 1971, Magdalena Suarez Frimkess has painted the majority of the art on his pots, which is a labor of love for him. Although her art contains themes that are similar to others, it conjures a different cultural experience.
Her glazes and paintings include pop art icons like as Minnie Mouse and Condorito, but they also incorporate folk art and historical elements into their compositions. In general, neither of the two has any influence over the work of the other. Both of them continue to work and live in Venice, California, as before.
Popular Ceramic Artists
Images courtesy of pintrest = Michael Frimkess