John Parker Glick (1938-2017) was a ceramic artist who lived in the United States. John Glick is best known for his innovative one-of-a-kind dinnerware designs, influenced by the decorative patterns and glaze selections of Japanese pottery. John was born in Detroit, Michigan, and died in Walnut Creek, California. He earned his MFA from Cranbrook Academy of Art, Bloomfield Hills, MI, in 1962.
John Parker Glick Facts
Born: Detroit, Michigan, July 1, 1938
Wayne State University B.F.A., 1960
Cranbrook Academy M.F.A., 1962
United States Army, 1962 – 1964
Founded Plum Tree Pottery in 1964
Plum Tree Pottery closed in 2016
John Parker Glick was born on July 1, 1938, in New York City, and died on April 6, 2017. He was a ceramicist. Even though he was willing to try new things in the studio, Glick was most affected by the techniques and aesthetics of Asian ceramics, which can be seen in his use of colorful patterns and glaze selection.
His work with ceramics has inspired him to write various essays about the craft, which you may find online. During the latter part of his career, Glick expanded his product line to include "landscape-oriented" wall panels in addition to ceramics. He was often referred to as "the people's potter," and he is most known for his contributions to the arts and the profession of ceramics.
From 1964 through 2016, Glick was the owner and operator (and spent time at) of Plum Tree Pottery in Farmington Hills, Michigan.
John Parker Glick Early Career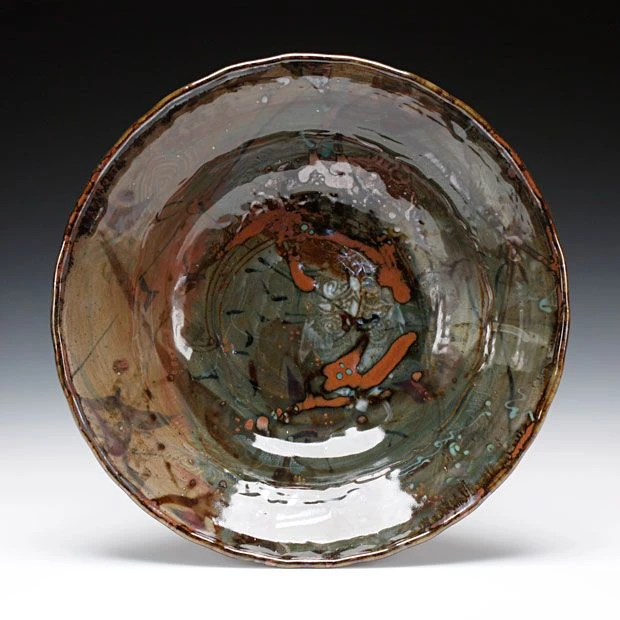 John Glick was born on July 1, 1938, in Detroit, Michigan, to John and Mary Glick. The son of two artists, Glick grew up in an environment that encouraged him to express himself creatively and play an important role in the development of American pottery.
Gardening and painting were hobbies for his father, who worked as a grocery store manager, while his mother was a homemaker who enjoyed cooking, sewing, and other crafts. Glick was involved in his parents' creative efforts from an early age, and he began formally studying art himself in high school after graduating.
John Parker Glick Education And Career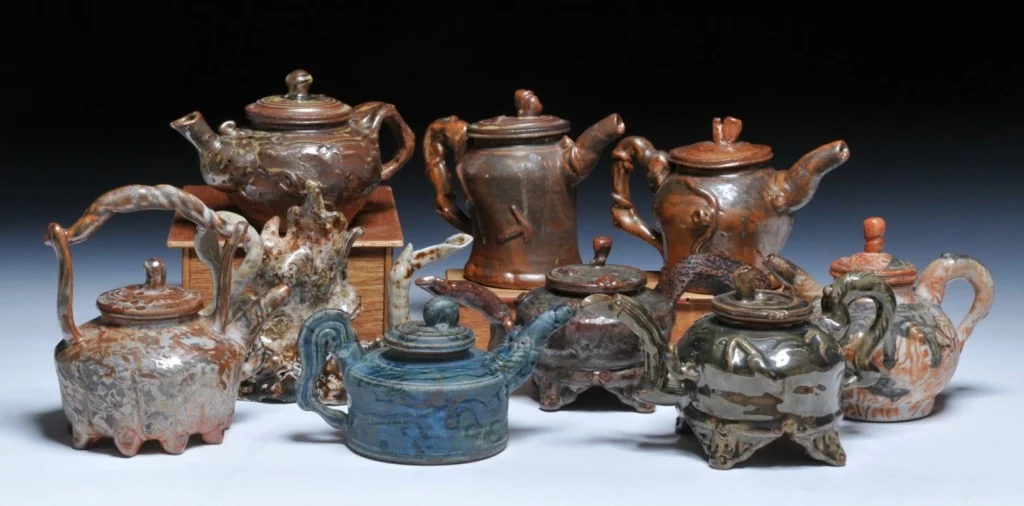 Glick studied geology for one semester when a student at Wayne State University, but rapidly changed his mind and decided to major in both ceramics and metalwork.
In 1960, he graduated with a Bachelor of Fine Arts degree. He obtained his MFA in ceramics from Cranbrook Academy of Art in 1962 after studying under ceramicist Maija Grotell. Following graduation, Glick was drafted into the United States Army, where he remained (spent time) until 1964. While there, he was stationed in West Germany, where he lived in a town (place) that was famous for its salt-glazed pottery.
Conversations with these potters bolstered Glick's commitment to one day work as a full-time potter an mentor in his own studio, as a result of their encouragement.
When Glick returned home to Michigan after serving in the military, he established his own pottery shop, which he named Plum Tree Pottery. Glick chose to start a personal collection of his own work after being encouraged to do so by an art collector he had met during the course of his professional career. A total of around 1,000 pieces were kept by him over a period of 50 years, a significant quantity, but a small proportion of the estimated 300,000 pieces he generated in total.
Glick acknowledged that keeping those pieces was tough because they "should have been on display somewhere," but he was able to use his personal collection as a resource for the 33 apprentices and residents with whom he worked at Plum Tree Pottery. The studio was in operation until 2016, when he and his wife, Susie Symons, relocated to California (to be near family) to be closer to their children and grandchildren.
One of the most important aspects of a career that spanned five decades and resulted in the production of 300,000 pieces of pottery was the ability to remain open-minded. He attributes his success to his "passion of process" and "capacity to ask questions of myself," both of which he attributes to two elements that impacted his career.
For the first, he was motivated to directly invent new tools and machinery in order to broaden his physical means of creativity. His manual extruders, for example, he remembers "outgrowing" and consequently building his own hydraulic extruders to replace them.
Similarly, the latter had an impact on how he conceptualized his work in the first place, influencing how he chose what to make and how to accomplish it, among other things.
John Parker Glick Style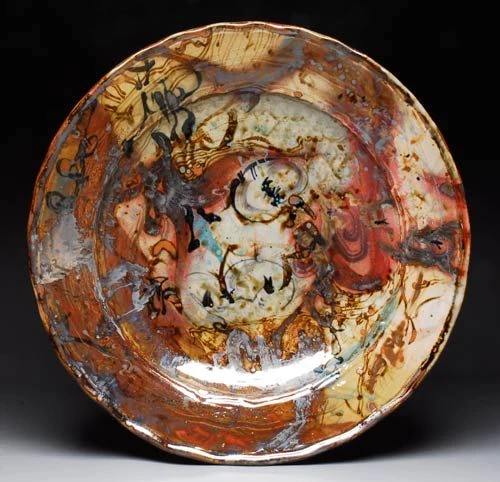 The forms are brash, energetic, and command attention. The decor is bright, vibrant, and exuberant, sometimes flashy, but always full of subtle details, as shown in the photographs.
The quality of the workmanship is usually superb. The pots have clearly been created in a short amount of time, with certainty, naturally, and nearly effortlessly. They are the creations of a man who works six days a week, ten to twelve hours a day, and who has meticulously planned his studio and his life in order to maximize the efficiency with which he manufactures pottery.
The man is methodical and intelligent, and he maintains a high level of self-discipline and dedication to his profession. While doing so, he is filled with passion and enthusiasm, qualities that are evident in each and every pot he produces. It is the confluence of these characteristics that have enabled John Glick to become a highly successful professional potter, both artistically and financially.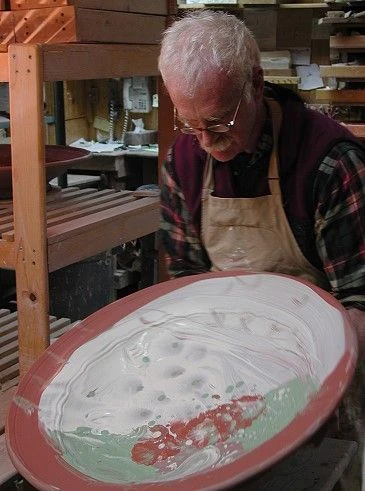 John creates a wide range of pots, most of which are useful. There are more than a dozen different types of items to choose from. Teapots, casseroles, bowls, plates, mugs, covered jars, corked jars, pitchers, wine bottles, tureens, soap dishes, boxes, and planters are just a few of the items he manufactures.
Each of these common shapes is repeated several times with numerous variants, and they are always changing and (shapes evolve guided with control) evolving. A basic shape may be created for a few months or for several years, depending on how long he believes it will be important and alive for him.
When a certain form no longer inspires him to create new variations, he discards it and replaces it with another, even if the pot was proving to be successful. John understands that in order for his work to remain at its best, he must be enthusiastic about the process of creating it. He also understands that in order to remain true to himself and, ultimately, to his customers, he must continue to develop new ideas and discard those that no longer interest him.
"My experience with John's art is that for him the real challenge is making functional pottery that is also exciting to hold, see and use."
Plum Tree Pottery Written By John Parker Glick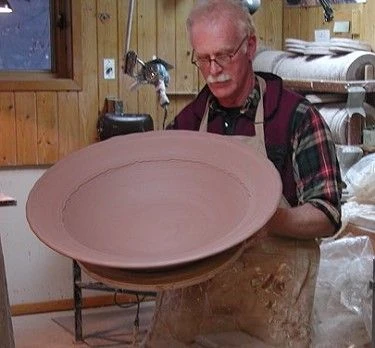 Plum Tree Pottery (closed as of summer 2016) has been a private studio facility in Farmington Hills, Michigan, since 1965.
The potter who finds life in his work sees it every day in small glimpses, and these, probably more than anything else, are the accomplishments.
Shapes, for example, change in response to forces that appear to be beyond my control. This is instinct, intellect, and openness to change fusing into evolution or growth, which I believe is the greatest constructive force behind any potter's approach. Some people refer to it as inspiration.
I can't just exhibit one piece and say (once did 8 cities in two years), "This exemplifies my clay values." I am drawn to both simplicity and complexity, and my work represents my ongoing exploration of how these two extremes can coexist.
The potter who finds life in his work finds it daily in small glimpses, and perhaps these are the successes as much as anything. For example, shapes evolve guided by forces apparently outside my control. This is instinct, intellect and openness to change fusing, into what I think is the most positive force behind any potter's approach: evolution or growth. Some call it inspiration.
Two major factors have contributed to a wonderful adventure in my career during the last fifty years. The first is my undying passion for the creative process. You could say I'm hopelessly enamored with various aspects of pot-making.
It's not enough to just throw a form; I need to make that special throwing rib that adds a special, one-of-a-kind touch, or create an entire "world" of extrusion dies, all of which are lovingly used over time, only to discover that I've outgrown my manual extruders and need to design and build not one, but two hydraulic extruders, which greatly expand my working potential. This is the joy of the process!
The ability to ask me questions(never a loss for words), to insist on inquiry as a part of studio life, is the second ingredient. Doesn't that sound simple?
Perhaps not. Without that tiny nudge in the backside, one could be tempted to remain too fixed in mindset, and hence in pots.
As a result, the concept of the "question" has become ingrained in my everyday studio thought. Is it to take a break from a certain period of work? Is it time to introduce a new way of thinking about what I'm going to make?
I've been developing more pictorial, landscape oriented wall panels and pots recently. At first, it was a bit of a shock, but it turned out to be a very welcome "irritant" that has propelled and informed every aspect of my career.
When we are alone with our innermost thoughts about why we need to produce things out of clay, we will hopefully discover a private truth that tells each of us a very personal answer, woven from the same mysterious strands that have caught the spirits of artists throughout history.
The following honors have been bestowed onto Glick: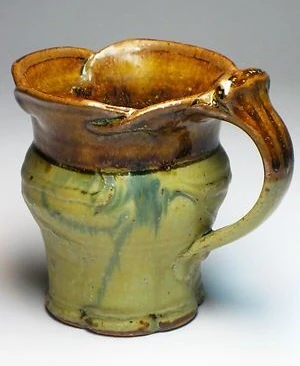 2016: Nancy Coumoundouros Distinguished Service to the Arts Award, City of Farmington Hills, Michigan
2009: Invited Guest, International Ceramics Studio, Kecskemét, Hungary
2001: Governor's Michigan Artist Award, ArtServe Michigan (now Creative Many Michigan)
1990: Individual Artist's Grant, Michigan Council for the Arts[20]
1988: Fellowship, National Endowment for the Arts
1977: Fellowship, National Endowment for the Arts
1977: Governor's Award, Michigan Foundation for the Arts
1972: Louis Comfort Tiffany Award, Louis Comfort Tiffany Foundation
1961: Louis Comfort Tiffany Award, Louis Comfort Tiffany Foundation
Glick's Work Can Be Seen In The Following Museums: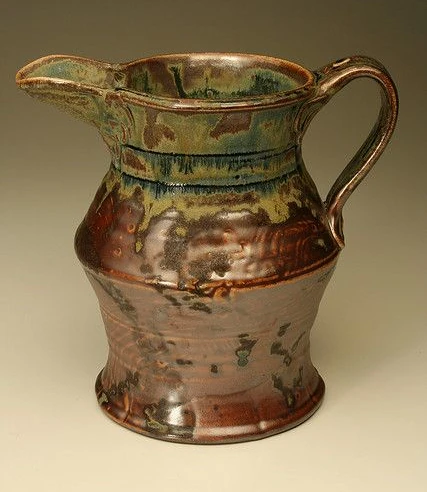 Canton Museum of Art, Canton, Ohio
Craft and Folk Art Museum, Los Angeles, California
Cranbrook Art Museum, Bloomfield Hills, Michigan
The Crocker Art Museum, Sacramento, California
Delaware Art Museum, Wilmington, Delaware
The Detroit Institute of Arts, Detroit, Michigan
Dinnerware Museum, Ann Arbor, Michigan
The Everson Museum of Art, Syracuse, New York
The Flint Institute of Arts, Flint, Michigan
Gardiner Museum, Toronto, Ontario, Canada
Hunter Museum of American Art, Chattanooga, TN
Kansas City Art Institute, Kansas City, Missouri
Krannert Art Museum, Champaign, IL
Los Angeles County Museum of Art, Los Angeles, California
The Mint Museum, Charlotte, North Carolina
Museums of Art and Design, New York, New York
The Museum of Fine Arts, Houston, Texas
The Newark Museum, Newark, New Jersey
Racine Art Museum, Racine, Wisconsin
Smithsonian American Art Museum, Washington, D.C.
University of Michigan Museum of Art, Ann Arbor, Michigan
Yixing Art Museum, Yixing, China
Schaller Gallery in St. Joseph, Michigan
Among Glick's Exhibitions Are:
"First comprehensive exhibition of studio potter John Glick's work opens at Cranbrook Art Museum", Art Daily. Retrieved on 2 May 2017.
2016-2017: John Glick: A Legacy in Clay, Cranbrook Art Museum, Bloomfield Hills, MI
2006: John Glick: Looking Back – Making Now, 42 Years in Clay, Birmingham Bloomfield Art Center, Birmingham, MI
1990: A Retrospective Selection Plus Recent Works, Fosdick-Nelson Gallery, School of Art & Design, Alfred University, Alfred, NY
1975: Ten Year Retrospective Exhibition: John Glick, Pewabic Pottery, Detroit, MI
2017: Major Mud 3, The Morean Arts Center, St. Petersburg, Florida
2015: Standing on Ceremony: Functional Ware from RAM's Collection, Racine Art Museum, Racine, Wisconsin
2014: Magic Mud: Masterworks in Clay from RAM's Collection, Racine Art Museum, Racine, Wisconsin
2014: White Gold: The Appeal of Lustre, Racine Art Museum, Racine, Wisconsin
2013: Plates & Platters: Salon Style, The Clay Studio, Philadelphia, Pennsylvania
2011: Big Creek Pottery: A Social History of a Visual Idea 1967-1983, Santa Cruz Museum of Art and History, Santa Cruz, California
2007: Cityscape/Landscape, A Group Exhibition, The Clay Studio, Philadelphia, Pennsylvania
2006: 20th Anniversary of Watershed Center for Ceramic Arts: Invitational Exhibition, The Society of Arts and Crafts, Boston, Massachusetts
2005: National Teapot (tea bowl) Show VI, Cedar Creek Gallery, Creedmoor, North Carolina – last year
2004: When Form Meets Function, Ella Sharp Museum, Jackson, Michigan
2002: Great Pots: Contemporary Ceramics from Function to Fantasy, Newark Museum of Art, Newark, New Jersey
2000: Color and Fire: Defining Moments in Studio Ceramics, 1950-2000, Los Angeles County Museum of Art, Los Angeles, California (and tour)
1999: Pacific Tides: The Influence of the Pacific Rim on Contemporary American Ceramics, Lancaster Art Museum, Lancaster, Pennsylvania
1995: In Praise of Craft, Renwick Gallery, within Smithsonian American Art Museum, Washington, D.C.
1989: Surface and Form, National Museum of Ceramic Art, Baltimore, Maryland
Books Referring To John Glick:
Janet Koplos and Bruce Metcalf, Makers: A History of American Studio Craft, The University of North Carolina Press, Chapel Hill, NC, 2010.
Coll Minogue, Slab-built Ceramics, Crowood Press (UK) 2008
Glenn Adamson, Thinking Through Craft, Berg, Oxford, NY, 2007
21st Century Ceramics in the United States and Canada, Curator: William Hunt, American Ceramics Society, 2003.
Skilled Work: American Craft in the Renwick Gallery, Smithsonian Institution, 1998.
Frank and Janet Hamer, The Potter's Dictionary of Materials and Techniques, A&C Black Ltd., 1997.
Angela Fina and Jonathan Fairbanks, The Best of Pottery, 1996.
Tony Birks, The Complete Potter's Companion, Conran Octopus, London, England, 1993.
Collaboration in Print, Stewart & Stewart Prints 1980 – 1990, Exhibition Catalogue.
Richard Zakin, Ceramics, Mastering the Craft, Chilton & Co., 1990.
Emanuel Cooper, A History of World Pottery, Chilton Trade Book Publishing Co., Radnor, PA, 1990.
American Ceramics: The Collection of the Everson Museum of Art, Edited by Barbara Perry. Rizzoli New York and Everson Museum of Art, Syracuse, NY, 1989
Elaine Levin, The History of American Ceramics, Harry N. Abrams, New York, NY, 1988.
Peter Lane, Ceramic Form: Design and Decoration, Rizzoli, Inc., New York, NY, 1988.
Last year – John Gibson, Pottery Decoration: Contemporary Approaches, A&C Black, London, England, 1987.
Ben Steinzar, Basic Ceramics, Prentice-Hall, 1987.
Peter Dormer, The New Ceramics: Trends and Traditions, Thames & Hudson, New York, NY, 1986.Kenneth Clark, The Potter's Manual, Chartwell Books Inc., Secaucus, NJ, 1985.
Katherine Pearson, American Crafts: A Source Book for the American Home, Stewart, Tabori and Chang, New York, NY, 1983.
Glenn Nelson, Ceramics: A Potter's Handbook, Fifth Edition, Holt Rinehart-Winston, 1983.
Robin Hopper, The Ceramic Spectrum, Chilton Book Co., Radnor, PA, 1983.
"Towards Humanism in Apprenticeship" (article by John Glick) in Apprenticeship in Craft, Edited by Gerry Williams, Daniel Clark Foundation, 1981.
Julie Hall, Tradition and Change, The New American Craftsman, E.P. Dutton, New York, NY, 1979.
Garth Clark, American Potters: The Work of Twenty Modern Masters, Watson-Guptil Co., 1979.
The Studio Potter Book, Daniel Clark Publishers, 1978.
Paul Donhauser, History of American Ceramics: The Studio Potter, Kendall Hunt Publishing Co., Dubuque, IA, 1978.
John Conrad, Contemporary Ceramic Techniques, John Conrad, Prentice-Hall, 1978.
Garth Clark and Margie Hughto, A Century of Ceramics in the United States 1878 – 1978, E.P. Dutton, New York, NY, 1978.
Thomas Shafer, The Professional Potter, Watson-Guptil, New York, NY, 1976.
Jack Troy, Salt Glazed Ceramics, Watson-Guptil, New York, NY, 1975.
Thomas Shafer, Pottery Decoration, Watson-Guptil, New York, NY, 1975.
Polly Rothenberg, The Complete Book of Ceramic Art, Crown Publishers, 1972.
Lee Nordness, Objects U.S.A., Viking Press, 1970.
Hunt, Bill. "John Glick: A Legacy", Ceramics Monthly, October 2015.
Storneware – Pottery or other ceramics burnt at a reasonably high temperature are referred to as stoneware, which is a rather broad phrase. A vitreous or semi-vitreous ceramic, according to modern technical definition, is one that is predominantly composed of stoneware clay or non-refractory fire clay. It is nonporous regardless of whether it is vitrified or not; it may or may not be glazed.
Abstract expressionism – Modernism and abstract expressionism are two distinct art movements that emerged in the United States during World War II. Abstract expressionism was born in New York City in the 1940s. It was the first particularly American movement to attain international renown, and it established New York as the cultural capital of the Western world, a position that had previously been held by Paris.
Popular Ceramic Artists
Photo courtesy of (please visit for more) pintrest page = John Glick