Mark Pharis is an emeritus professor and former chair of the Department of Art at the University of Minnesota. He works in an earthenware workshop with Wayne Branum in Roberts, Wisconsin. He has been on the boards of directors of the Archie Bray Foundation, the Northern Clay Center, and other organizations. Mark is known for his slab-built geometrical teapots.
| | |
| --- | --- |
| Artist | Mark Pharis |
| Known For | Slab-built geometrical teapots |
| Nationality | American |
| Education | University of Minnesota |
Mark Pharis Background
In the fall of 1967 at the University of Minnesota, Mark was introduced to ceramics for the first time. As he began his studies at the university, he found his way into a number of art classes and, finally, into the ceramics workshop.
Mark's best friend's parents had pushed him to pursue a degree with Warren MacKenzie, which he eventually accomplished. It was a life-altering experience in every way. Until 1971, he was a member of a group of exceptionally talented and dedicated undergraduate students at the university.
Mark established a pottery workshop in a rural area outside of Houston, Minnesota, in the summer of 1973 and continued to work there until 1989, when he retired. Professor at the University of Minnesota's Department of Art since 1985, he has a wide range of interests. He was chair of the department from 1998 to 2004, and Associate Dean of the College of Liberal Arts from 2005 to 2008.
Almost all of Mark's early work was functional, wheel-thrown, and "once fired" in a kiln that was fired with wood and petroleum. Since 1992, he has focused exclusively on earthenware as a medium. Today, he constructs his sculptures by hand from slabs carved into forms using two-dimensional paper designs.
The procedure owes a great deal to the pattern-making traditions that may be seen in the sewing and sheet metal industries. When he is creating these pieces, he considers and employs geometric principles. Though informal and intuitive in nature, it is unrelated to serious mathematics.
Mark Pharis Art Style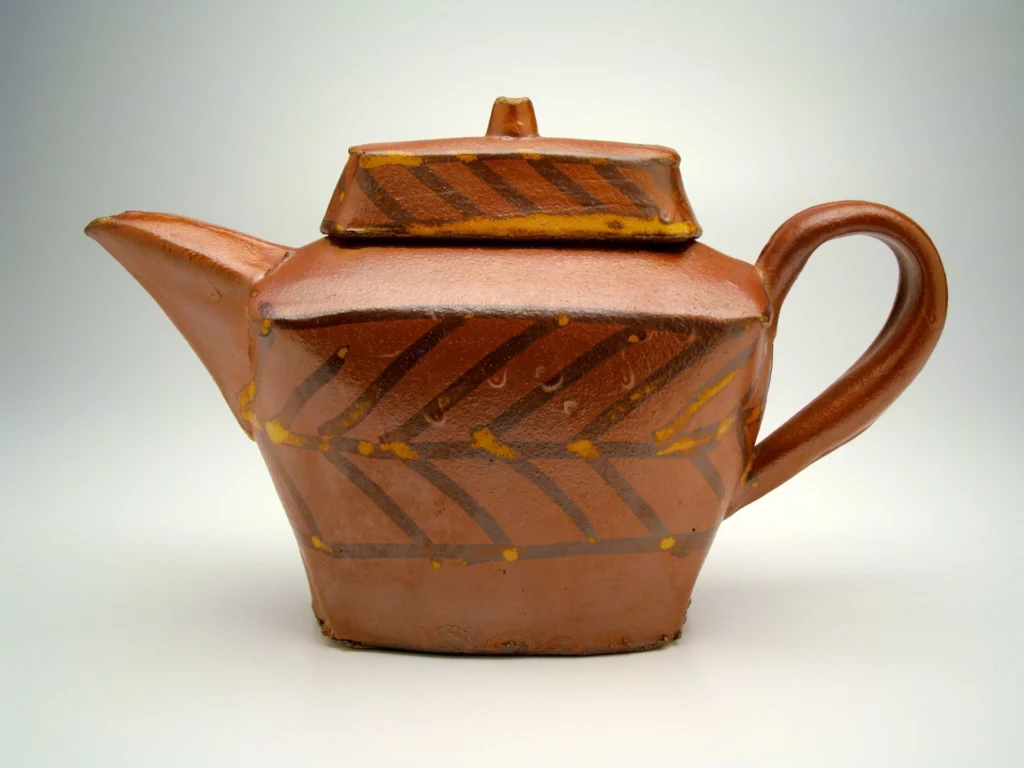 The pots created by ceramicist Mark Pharis demonstrate a nuanced and expressive grasp of the form. He uses a wonderfully delicate sense of form in his vases, teapots, bottles, and other containers, as well.
In addition to studying with Warren MacKenzie, America's most renowned apprentice to the British potter Bernard Leach, Pharis comes from a long line of potters who have influenced him.
Pharis uses a flat slab of clay and cuts and folds it into a volume to create his clay pots, which are then fired. This building approach leaves the seams and joints visible, which serves as a framework to explain the form while also emphasizing the roundness and controlled energy of the volume.
Short Video Mark Pharis Building A Teapot
Education Of Mark Pharis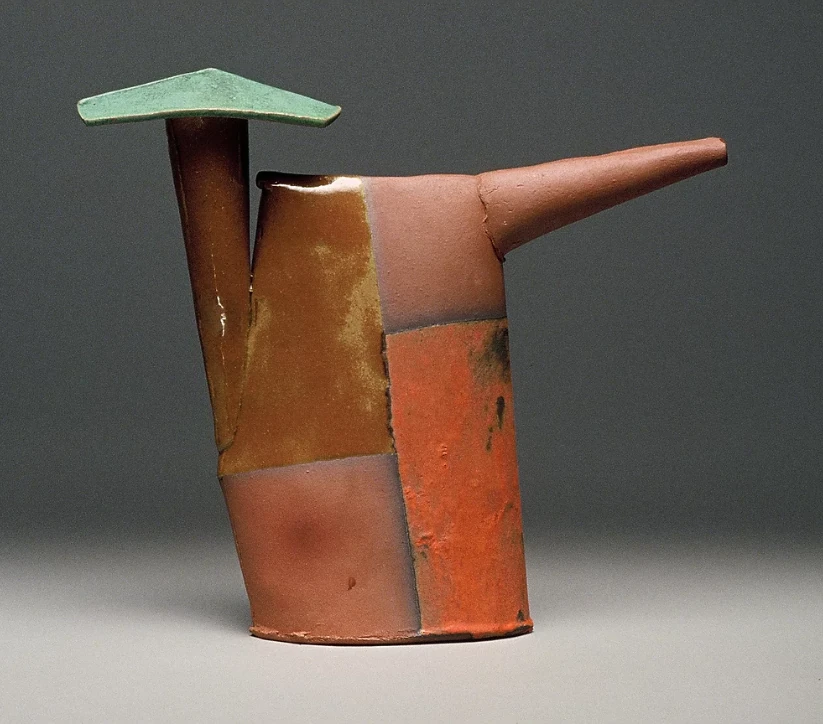 1998-2004 Department of Art, University of MN-Minneapolis, Chair
1985-1997 University of Minnesota, Minneapolis, MN Professor, Department of Art, 1996 Associate Professor, Department of Art, Fall-1988 Assistant Professor, Professor, Department of Art, 1985
1980-85 Winona State University, Winona, MN (part-time, a quarter-time position, to begin with; it was two-thirds when I resigned. Ceramics and sculpture classes are available.)
1984-1985 winter at Viterbo College, LaCrosse, WI; 1982 fall (part-time)
1983 Summer Blossom Festival, Kent State, Kent, OH (visiting artist)
1981 summer New York State College of Ceramics, Alfred, NY (summer session)
1977–80 Rochester Art Center, Rochester, MN
1974–76 (part-time, community education courses)
1976 fall Studio Arts Department, University of Minnesota, Minneapolis, MN (full-time, single-quarter)
1973–the summer at the University of Colorado, Boulder, Boulder, CO (summer session)
1973-1974 winter at Kansas City Art Institute, Kansas City, MO (full-time, semester, sabbatical replacement)
1971-72 Hamline University, St. Paul, MN (part-time)
1967-1971 University of Minnesota, Minneapolis, MN
Collections Of Mark Pharis
Mint Museum, Charlotte, NC
Gardner Museum, Toronto, Canada
University of Minnesota Foundation, Minneapolis, MN
Charles A. Westum Museum of Fine Arts, Racine, WI
Minneapolis Institute of Arts, Minneapolis, MN
Fundacion Banco Mercantil, Carcas, Venezuela
Weisman Museum, Minneapolis, MN
Arizona State University, Tempe, AZ
Arkansas Arts Center, Little Rock, AK
The University of Tennessee, Knoxville, TN
The Contemporary Museum, Honolulu, Hawaii
The University of Colorado, Boulder, CO
New York State College of Ceramics, Alfred, NY
Kansas City Art Institute, Kansas City, MO
The University of Wisconsin-River Falls, River Falls, WI
Viterbo College, LaCrosse, WI
The Victoria and Albert Museum is located in London, England.
Dickinson College, Carlisle, PA
University of Minnesota Galleries, Minneapolis, MN
Everson Museum, Syracuse, NY
Los Angeles County Museum, Los Angeles, CA.
Exhibitions By Mark Pharis
2005 Fete 05 Tour de Clay, NCECA, Baltimore, MD March
Seven Earthenware Potters, Homewood House, Baltimore, MD March
Solo Exhibit, Akar Gallery, Iowa City, IA, July
Solo Exhibit, Lacoste Gallery, Concord, MA, October-Catalog
Taipei County YingKo Ceramics Museum, Taipei, Taiwan
American Pottery Festival, Northern Clay Center, Minneapolis, MN Sept
Objects of Virtue, Bedford Gallery, Walnut Creek, CA June
SOFA New York, Lacoste Gallery, New York, NY June
Invitational, Pleasures of the Table, Ransburg Gallery, University of Indianapolis, Indianapolis, (NCECA) MN. March
Invitational: Material Matters, Faculty from the Division of Ceramic Art curated the exhibition, which took place at the Fosdick-Nelson Gallery at NYSCC in Alfred, New York, in October.
Invitational, College Bowl II, Northern Clay Center, Minneapolis, MN, Sept.-Oct.
Presenter Exhibition, Arrowmont School of Arts and Crafts, Gatlinburg, TN, Oct.
Archie Bray Foundation, Scholarship Benefit Auction, Helena, MT, July
American Pottery Festival, Northern Clay Center, Minneapolis, MN Sept
2003 Invitational: 21st Century Ceramics in the United States and Canada, Canzani Center Gallery, Columbus College of Art & Design, Columbus, OH, Sept
Invitational, Mingei Legacy: Continuity and Innovation through Three Generations of Modern Potters, Mingei International Museum, San Diego, CA, March.
Salon Exhibition, Lacoste Gallery, Concord, MA, Nov.
Art Moves, 2003 Department of Art Faculty Exhibition, Katherine E. Nash Gallery, University of Minnesota, Minneapolis, Sept.
The Artful Teapot – 20th Century Expressions from the Kamm Collection, COPIA Museum, Napa CA May – a traveling exhibit touring the following venues in North America – Montgomery Museum, Montgomery AL, The George R Gardiner Museum, Toronto Canada,
L.A. Long Beach Museum of Art (Long Beach, CA), Chicago Cultural Center (Chicago, IL), and Mint Museum of Craft and Design (Charlotte, NC)
2002 Invitational, "Functional Connections," Lacoste Gallery, Concord, MA, Feb.
Invitational, "Electric Fired Show," Wooster Center for Crafts, Worchester, MA April
Two people, 55 Wooster Street, New York, NY, Mark Pharis/Alexis Kuhr, June
Invitational, Anderson Ranch Faculty Exhibit, Snowmass, CO June
FreeHand Gallery, Los Angeles, CA, Oct curated by Jeff Oestreich. Exhibit "The Artful Teapot – 20th Century Expressions from the Kamm Collection", COPIA Museum, Napa, CA May–(this is a traveling exhibit that tours the following venues in North America: Montgomery Museum, Montgomery, AL; The George R. Gardiner Museum, Toronto, Canada;
L.A. Long Beach Museum of Art (Long Beach, CA), Chicago Cultural Center (Chicago, IL), and Mint Museum of Craft and Design (Charlotte, NC)
2001 Invitational, "Clay National Invitational", Blue Spiral Gallery, Asheville NC March
International Invitational, "Snake in the Garden", Aberystwyth Arts Center, Aberystwyth, Wales June (the exhibition also traveled to the Collins Gallery at the University of Glasgow in Scotland in October).
Group, "Better off Lead," Raymond Avenue Gallery, St. Paul, MN. Feb.
Invitational, "Clay Odyssey 2001", Archie Bray Foundation, Helena, MT, June
Invitational, "25 Select 25", Lill Street Art Center, Chicago, IL, June
Invitational, "Studio Days 2001", Chester Springs Studio, Chester Springs, PA, Oct.
Invitational, "For the Table", Santa Fe Clay, Santa Fe NM, December
2000 Group Exhibition, "Conversations", Chester Springs Studio, Chester Springs, PA June
Invitational, "Ten Years in Retrospect," Northern Clay Center, Minneapolis, MN, Oct.
Invitational, "26th Annual Invitational Pottery Show and Sale," Old Church Cultural Center, Demarest, NJ, Dec.
Invitational, "Bistro 1615", Santa Fe Clay Works, Santa Fe, NM, Nov.
Invitational, Arrowmont Center of Arts and Crafts, Gatlinburg, TN, Aug.
Invitational, "Studio Days 2000", Chester Springs Studio, Chester Springs, PA, Sept
Faculty Exhibit, "Show Off: Uof M Faculty Artists", Rochester Art Center, Rochester MN May
Invitational, "Beyond the Body: Architectural Ceramics", Lacoste Gallery, Concord, MA, April 1–5.
Sioux City Art Center, Sioux City, Iowa. Invitational, "Suited to a Tea," Sioux City, Iowa.5th of January
1999: One-person exhibition, Sala Mendoza, Caracas, Venezuela February
Invitational, "Artists Collect", Minneapolis Art Institute, Minneapolis, MN. July 1–4.
Invitational, "Pottery for Pleasure and Use," Ellipse Arts Center, Arlington, VA, Sept.
Invitational, "American Pottery Festival", Northern Clay Center, Minneapolis, MN, April
Invitational, "American Masters-Artists from the Santa Fe Clay Workshop Program 1994–99", Santa Fe Clay, Santa Fe, NM, Dec.
Invitational, Suited to a Tea", Sioux City Art Center, Sioux City IA Sept
Invitational, "Art of Pouring," The Clay Studio, Philadelphia, PA, Dec.
1998: One-person exhibition, Trax Gallery, Berkeley, CA April
Invitational, "Clay With Content" WDO Gallery, Charlotte, NC Dec
Invitational, Northern Michigan University, Marquette, MI, Nov.
Donation, Benefit Auction, Northern Clay Center, Minneapolis, MN, Sept.
Invitational, Functional Clay, John Elder Gallery, New York, NY May
Invitational, NCECA Benefit Auction, Sotheby's, New York, NY, March
Invitational, Teapots and Other Forms, Ferrin Gallery, Northampton, MA Feb
Invitational, Contained Space-Lidded Forms, Pewabic Pottery, Detroit, MI March
1997 Invitational, Functional Work: American Potters, Arvada Center for the Arts and Humanities, Arvada, CO, Oct.
Invitational, Master Potters from the Heartland, Emison Gallery, DePauw University, Greencastle, IN, Oct.
Invitational, Large Works/Intimate Scale-Ten Ceramic Artists, curated by Mary Barringer, Ewing Gallery, University of Tennessee, Knoxville, TN Sep
The Minnesota/Wisconsin Invitational, curated by Marshall Browne, Gallery 11021, Lill St, Chicago, IL July
Two-person exhibition, The Works Gallery, Philadelphia, PA, March
All Campus Faculty Exhibition, Katherine Nash Gallery, Mpls, MN 5th of January
1996 Invitational, Clay/Wood/Fire/Salt, Contemporary Artifacts Gallery, Berea, KY, June
Invitational, Studio Days, Chester Springs Studio, Chester Springs, PA September
Donation of clay at the Metropolitan and Northern Clay Center Benefit Auction, St. Paul, MN, Sept.
Invitational, 'Woodfired Pottery', The Target Gallery, The Torpedo Factory Art Center, Alexandria, VA, June
Hershey Museum, Hershey, PA; Craft Artists from the Collection of Robert L. Pfannebecker March
Invitational, NCECA Endowment Benefit, the Strong Museum, Rochester, NY, March
Invitational, Teapot Exhibition Art Resources Gallery, St. Paul, March
1995: One-person exhibition, Garth Clark Gallery, Los Angeles, CA JA
Faculty Spot Light, Katherine Nash Gallery, University of Minnesota, MN Oct.
Invitational NEW WORK, 1995 Department of Art Faculty Exhibition "
Frederick R. Weisman Art Museum, University of Minnesota, MN Oct
Invitational, "Christen, Pharis, Mackenzie," Macalester College, St. Paul, MN, March
Invitational Valley Faculty," Sheridan Art Gallery, Kutztown University, Kutztown, PA Jan.
Hamline University Ceramics Invitational, Hamline University, St. Paul, MN. 05.03.2019
Invitational, "Holman After Mid-Night," MC Gallery, Minneapolis, MN, Feb.
Invitational, "Across the Big Muddy," The Phipps Art Center, Hudson, WI, Mar.
Invitational, "Convergence," Continental Clay Co., Minneapolis, MN Mar.
Invitational, "Twentieth Anniversary Exhibition" at The Clay Studio, Philadelphia, Pa. Oct.
Invitational Work, 1995 Department of Art Faculty Exhibition, Frederick R.
Weisman Art Museum, University of Minnesota, MN Oct
Co-Curator of "Artists Select Mimbres", Frederick R. Weisman Museum, University of Minnesota, MN Jan.
Faculty exhibition, Hoard, Lane, Pharis, Katherine Nash Gallery, University of Minnesota, Minneapolis, MN March
1994: One-person exhibition, Garth Clark Gallery, New York, NY., Jan.
Two-person exhibition, Anna Beth Rosen and Mark Pharis, Revolution: A Gallery Project, Ferndale, MI, Jan.
Invitational, "Minnesota Clay," Rochester Art Center, Rochester, MN May
Invitational, "Warren MacKenzie-Sphere of Influence", Southern Illinois University, Edwardsville, IL, Nov.
Invitational, "Wisconsin Pots", Mark Pharis and Wayne Branum, Raymond Avenue Gallery, St. Paul, MN, Oct.
Juried group exhibition, Phipps Center for the Arts, Hudson, WI, Feb.
At the 1993 Invitational, "The American Way: Views on Use and Function in American Ceramics," Aberystwyth Arts Center, Aberystwyth, Wales, U.K., July
Invitational, "Teapots," Fine Arts-Kunsthandel, Kalckreuthstrasse 13, Berlin-Schoneberg, Germany, Nov.
Invitational, "Daily Rituals," Pottery Northwest, Seattle, WA., Aug.
Invitational, "The American Hand: 50 Years of Crafts", Minnesota Museum of American Art, St. Paul, MN., May
Invitational, "Narrative, Satirical, Straight" Ceramics Faculty from the University of Minnesota, Northern Clay Center, St. Paul, MN., Mar.
Invitational, "Final Critique," Eight Faculty Members and Eight Graduate Students, Pro-Art Gallery, St. Louis, MO., July
Invitational, "Archie Bray Foundation Benefit Exhibition," International Gallery, San Diego, California, March
1992: One-person exhibition, Pro Art Gallery, St. Louis, MO, Nov.
Invitational, "Midwest Potters," The Works Gallery, Philadelphia, PA, Oct.
Invitational, "Archie Bray Foundation Benefit Exhibition," Owen Patrick Gallery Philadelphia, PA, Feb.
Invitational, "Ceramic Work", Cheltenham Center for the Arts, Cheltenham, PA
Selections from permanent collections, "Chthonic Realms: Philadelphia Clay Collects", Helen Drutt Gallery, Philadelphia, PA, March
1991 Invitational, "Teapot Invitational", Swidler Gallery, Royal Oak, MI., Sept.
Invitational, Sphere of Influence "Pro Art Gallery, St. Louis, MO., Oct.
Invitational, "The New Bronze Age," The Society for Art in Crafts, Pittsburgh, PA., Sept.
Invitational, "The Evasive Vase 91," Pro Art Gallery, St. Louis, MO., Feb.
Invitational, "Teapots: Contemporary Views 91," Pro Art Gallery, St. Louis, MO., Jan.
1990: One-person exhibition, Garth Clark Gallery, New York, New York, Dec.
One-person exhibition, "Clay and Metal Pots," St. Cloud State
University, Kiehle Gallery, St. Cloud, MN, Feb.
Invitational, "Intentionally Regional," Northern Clay Center, St. Paul, MN, Nov.
Fresh Contexts" Invitational, Augustana College, Rockland, IL, Oct.
Invitational, "The Vase as Container", Swidler Gallery, Royal Oak, MI.,
April 1989: One-person exhibition, Garth Clark Gallery, New York, NY, Oct.
One-person exhibition, Pro Art Gallery, St. Louis, MO, Nov.
Invitational, "New Clay," Katherine Nash Gallery, University of Minnesota, Mpls, MN
Invitational, "St. Olaf Ceramics Invitational," St. Olaf College, Northfield, MN., Oct.
Invitational, Followers of a Tradition, University Gallery, University of Minn., Mpls, MN Oct.
Collection selections, "Robert L. Pfannebecker Contemporary Crafts Exhibition, Kauffman Gallery, Shippensburg University, Shippensburg, PA March
Invitational Group Exhibition, St. Paul Art Academy, St. Paul, MN, Feb.
At the 1988 Invitational, "A Pot Is A Pot… Or Is It? curated by Michael McTwiggan (editor of American Ceramics), Athenaeum Museum, Alexandria, VA. invitational group.
Invitational, "The Form of Function," The Creative Arts Workshop, Newhaven, CT
1987 One-Person Show, Garth Clark Gallery, Los Angeles, CA
Invitational, "23+1," Hillstreet Gallery, Chicago, IL
Chicago, IL. Invitational, "New Art Forms," (held at the Navy Pier) Chicago, IL. Represented by Pro-Art, St. Louis, MO
1986: One-Person exhibition, Pro-Art Gallery, St. Louis, MO
permanent collection, "American Potters Today," Victoria and Albert Museum, London, England
Invitational, "International Show of Ceramic Art," Seven Dials Gallery, London, England
Faculty exhibition, "University of Minnesota Faculty Exhibition," Katherine E. Nash
Gallery, University of Minnesota, Minneapolis, MN
Contemporary Crafts: A Concept in Flux, "Society of American Crafts,"
New York, NY, and Pittsburgh, PA
Invitational, "Rituals of Tea IV," Garth Clark Gallery, New York/London.
Invitational, "Salt in the City," Pro-Art, St. Louis, MO
Invitational, "Teapot, Pitcher, Invitational," Pewabic Pottery, Detroit, MI
1985: One-Person exhibition, Hadler-Rodriquez Galleries, New York, NY
"Botanical Inspired Ceramics," Missouri Botanical Garden, St. Louis, MO
Hadler-Rodriquez Galleries, New York, NY, "Invitational."
Invitational, "Utility Plus," MAEP Gallery, Minneapolis Institute, Minneapolis, MN
Invitational, "Contemporary Functional Pottery," Pyramid Arts Center, Inc., Rochester, NY
Invitational, "Rituals of Tea III," Garth Clark Galleries, Los Angeles,
Invitational, "Opening Show," Pro-Art, St. Louis, M
1984 "Two-Person exhibition," University of Wisconsin, River Falls, River Falls, WI
Juried, "Functional Ceramics," Wooster College, Wooster, OH
Invitational, "RISD Ceramics Invitational," Rhode Island School of Design, Providence, RI
Invitational, "The American Coffee Cup," Rochester Art Center, Rochester, MN
Invitational, "Rituals of Tea," Garth Clark Galleries, New York, NY and Los Angeles, CA
1983: One-Person exhibition, Ree Schonlau Gallery, Omaha, NE
Hadler-Rodriguez Galleries, New York, NY, one-person exhibition
One-person exhibition, Winona State University, Winona, MN.
Invitational, "Macalester College Ceramics Invitational 83," Macalester College, St. Paul, MN
Invitational, "Mingei-sota," in conjunction with the "Echoes Conference," Kansas City, MO
Invitational, "Teapot Show," Detroit Gallery of Contemporary Crafts, Detroit, MI
Invitational, "Mingei-sota," Hand and Spirit Crafts Gallery, Scottsdale, AZ
1982: One-Person Show, Lodestone Gallery, Boulder, CO
"Two-Person show," by Design Gallery, Minneapolis, MN
Invitational, "Art/Craft/Design," Philadelphia College of Art, Philadelphia, PA
Invitational, "Wood Fired Pots," Craftsmen Gallery, Omaha, NE
1981 Invitational, "The Art of Tea," Detroit Gallery of Contemporary Crafts, Detroit, MI
Invitational, "Fire and Clay," Austin College, Sherman, TX
Invitational, "Teapots USA," University of Southern Illinois, Edwardsville, IL
Invitational, "Useful Pots," Arvada Center for the Arts and Humanities, Arvada, CO
Invitational, "Dinnerware Show," Craftsman Gallery, Omaha, NE
Invitational, Archie Bray Foundation, Helena, MI.
1980 One-Person Show, Casper, WY
Invitational, "Utilitarian Clay Works," Hamline University, St. Paul, MN
Macalester College, "Ceramics 79, Minnesota Ceramic Invitational," St. Paul, MN
Juried, "Minnesota Craft Competitive," Rochester Art Center, Rochester, MN
1978: One-Person Show Rochester Art Center, Rochester, MN
Juried, "Works on or of Paper and Clay," Memphis State University Memphis, TN
"Decorated Functional Pots," Viterbo College, LaCrosse, WI
"Clay in Clay County," Plains Art Museum, Moorhead, MN
1977: One-Person Show Rochester Art Center, Rochester, MN
One-person show at Sontag Gallery, St. Paul, MN
1976 "Two-Person Show," Viterbo College, LaCrosse, WI
Invitational, "Rising Stars," Niagara Falls, NY
Invitational, "The MacKenzie Influence," Sontag Gallery, St. Paul, MN
1975 Juried "Minnesota Craft Competitive," Rochester Art Center, Rochester, MN
1974 Invitational, "Warren MacKenzie and Friends," Rochester Art Center, Rochester, MN
1973 Invitational, Jewish Community Center, Kansas City, MO. group show.
1972 "Two-Person exhibition," Coffman Gallery, University of Minnesota, Minneapolis, MN
1971 "Two-Person exhibition," Coffman Gallery, University of Minnesota, Minneapolis, MN
Juried, "Arrowhead Crafts Exhibition," Duluth, MN
Invitational, Jewish Community Center, Minneapolis, MN. group show.
1970 Juried, "Beaux-Arts 70," Columbus, OH
1969 "Four-person exhibition," Coffman Gallery, University of Minnesota, Minneapolis, MN
Juried, "Great Lakes Student Show," Platteville, WI
Scholarship, University of Minnesota, Minneapolis, MN
1968 Juried, "Great Lakes Student Show," Platteville, WI
Scholarship, Penland School of Crafts, Penland, NC
Popular Ceramic Artists
References
Pinterest