Karen Karnes was an American ceramist, best known for her wheel-thrown functional pottery, salt-glazed, earth-toned stoneware ceramics, and her experiments with wood firing and sculptural pottery.
She was born in 1925 in New York City, where she attended art schools for children. Her garment worker parents were Russian and Polish Jewish immigrants, and the family lived in the Bronx Coops.
Karen Karnes Early Career And Education
A ceramicist from the United States, Karen Karnes was born on November 17, 1925, and died on July 12, 2016. She was best known for her salt-glazed, earth-toned stoneware ceramics, materials and creative process during the late twentieth and early twenty-first centuries
She was born in New York City in 1925, where she attended art schools for children while growing up. Her textile worker parents were Russian and Polish Jewish immigrants who had settled in the Bronx Coops with their family when she was a child.
Karen has been affected by her parents' communist ideas in a variety of ways, and she has shown admiration for those who work in tiny communities.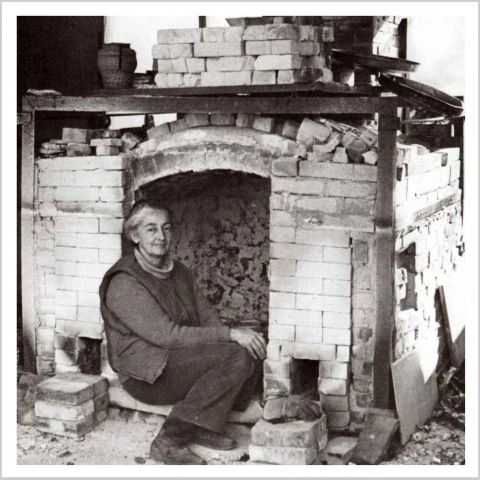 High School
To attend La Guardia High School, Karnes had to submit an application and get approved. Although she grew up in an urban environment and was exposed to metropolitan realities and visual inspirations, she believes that her parents' old-world values helped to keep her grounded. [ She studied design at Brooklyn College, where she graduated in 1946 with a bachelor's degree. After graduation, she went on to study ceramics in Italy, where she continued her studies after returning home.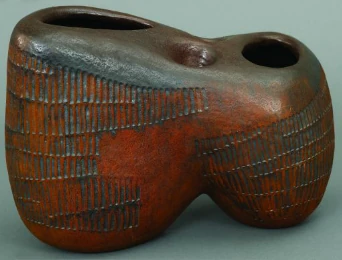 When Karnes returned home from Italy, she enrolled in a graduate program at Alfred University, but she left before completing her degree to take a position as a professor at Black Mountain College.
College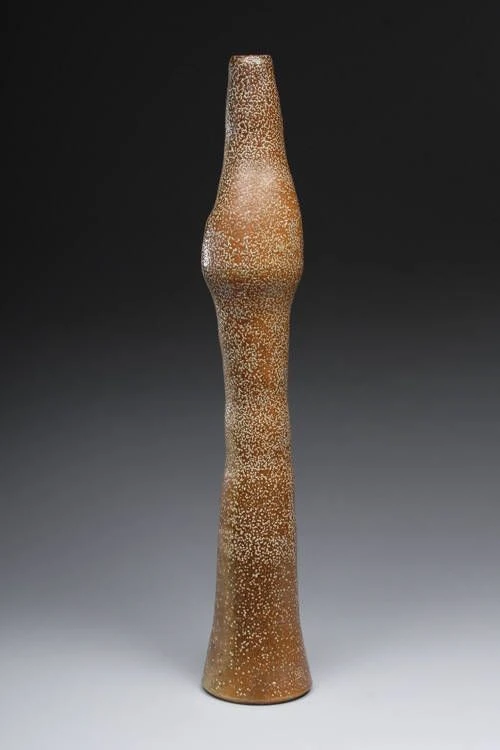 Karnes first came into contact with Black Mountain College in 1947, when she enrolled in a summer design course taught by Josef Albers.
The Weinribs went to North Carolina in 1952, where they worked as potters-in-residence at Black Mountain College, where she met her husband David Weinrib. Karnes and Weinrib met Merce Cunningham and John Cage while attending Black Mountain College, and they eventually resided with them at the Gate Hill Community in Asheville, North Carolina.
When Karnes first started, she worked with molds and fired her creations in an oil-fueled kiln. Karnes learnt to use a potter's wheel during her time in Italy, which she credits to her travels there.
She studied ceramics at the New York State College of Ceramics at Alfred University after returning to the United States, and in 1952 she and her then husband David Weinrib were appointed potters-in-residence at Black Mountain College, a position they held until 1954.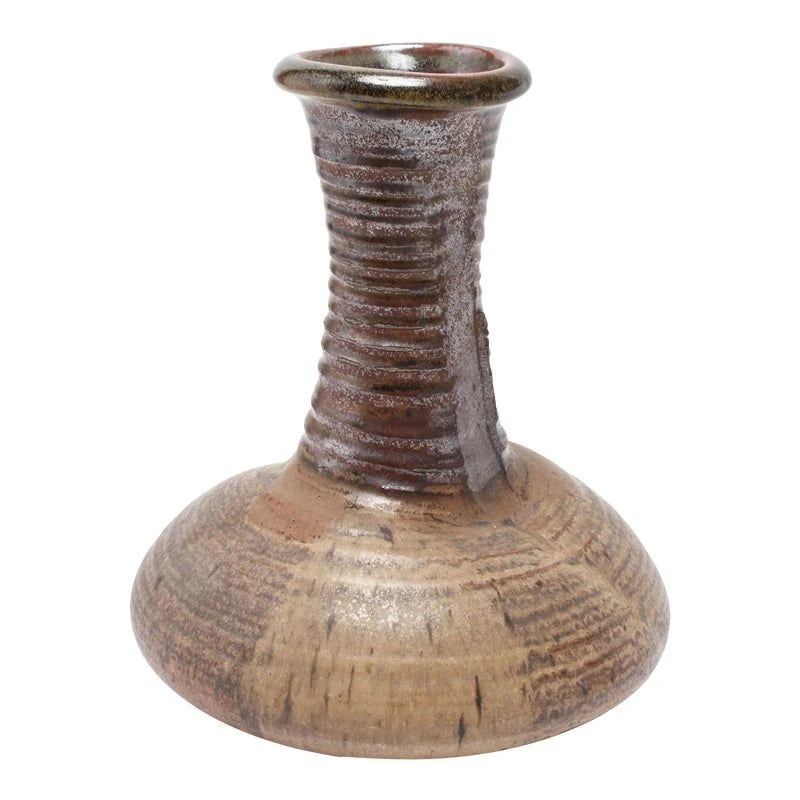 They were in attendance for a series of seminal ceramics symposiums that included Soetsu Yanagi, Shoji Hamada, and Bernard Leach, as well as Marguerite Wildenhain, who served as the symposium's moderator. These symposia, which were attended by potters and ceramics educators alike, had a significant impact on the production and firing of pots (modern art) in the United States for decades.
The Pottery Seminar, conducted at the College in 1952, brought together Karnes with foreign potters Bernard Leach, Shoji Hamada, and Marguerite Wildenhain, as well as local potters Malcom Davis and Mark Shapira, who became friends.
When she was in North Carolina, she became associated with the Southern Highland Craft Guild, which was then known as the Southern Highland Handicraft Guild, and she sold her work in downtown Asheville as a member of the guild.
Karnes spent twenty-five years as a resident of the Gate Hill Cooperative in Stony Point, New York. She relocated to the neighborhood in 1954 after graduating from Black Mountain College just a few months before it closed.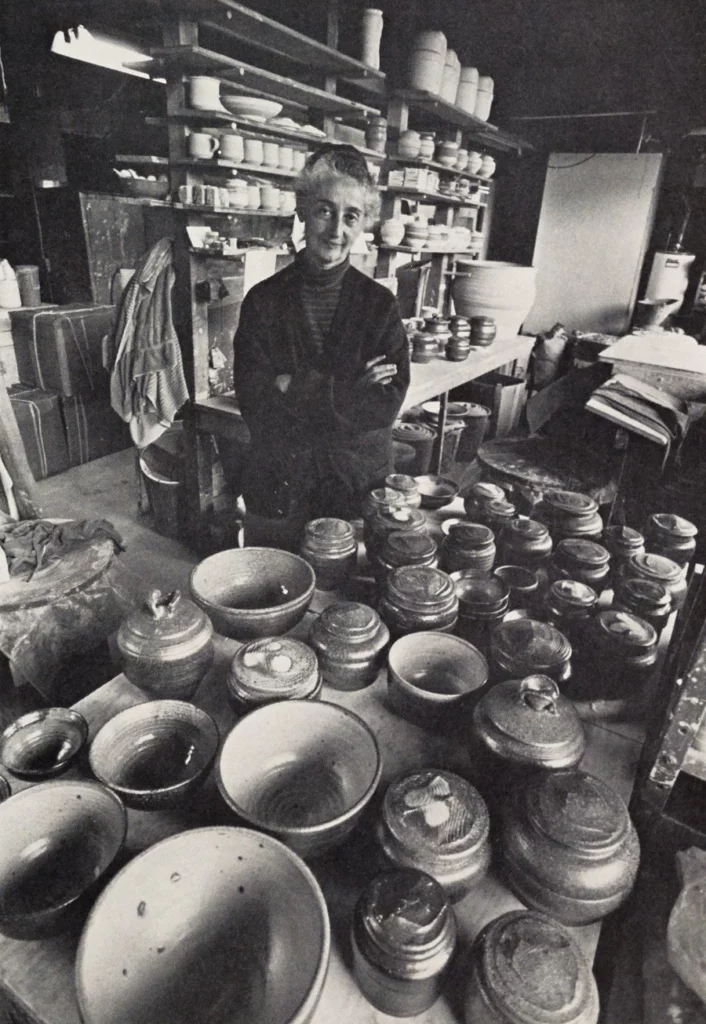 Karnes and her husband moved to Stony Point, New York, in 1954, where they collaborated with other potters to establish the Gate Hill Cooperative, which continues to this day. The production of multiples and practical pottery, as well as the development of her trademark flame ware casseroles, were the main focus of Karnes' work during this period.
These are thick-walled jars that have been thrown with deep finger ridges that keep the glaze in place to create a two-tone look. They are finished with a lid handle that has been pulled and folded or an open loop handle that has been added at an angle. The natural rhythm of the lid handle helped to maintain the clay's sense of flexibility.
The casseroles are an example of Karnes' ability to combine a respect for ceramic (ceramic art) traditions with a contemporary aesthetic.
At Gate Hill, she created her workshop and kilns, and she collaborated with M. C. Richards and a local ceramics engineer to design and promote a flameproof clay body (ceramic clay) that has since become widely used. Karnes began manufacturing oven-top casserole plates with this clay, a design that she has continued to create for more than fifty years.
Karen Karnes Career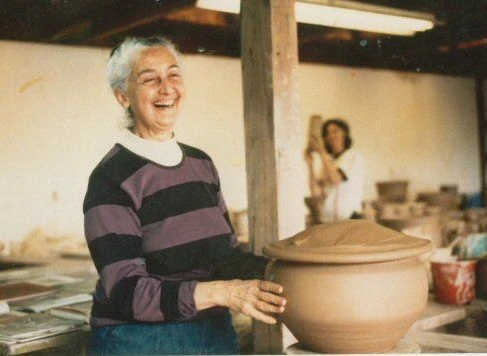 Karnes originally experimented with salt-firing in 1967 while working in a workshop at the Penland School of Crafts in North Carolina.
Karenes' latter work was concerned with current pots, which were given a different level of attention to design than her earlier pottery. While she created a variety of practical designs, both conventional and contemporary in style, she also continued to make casserole dishes, teapots and cups and bowls.
An additional one of her most well-known shapes was the cut-lid jar, which she first created while attending a workshop with Paulus Berensohn. Karnes continued to explore with this form until the late 1960s, when she decided to retire from the sport.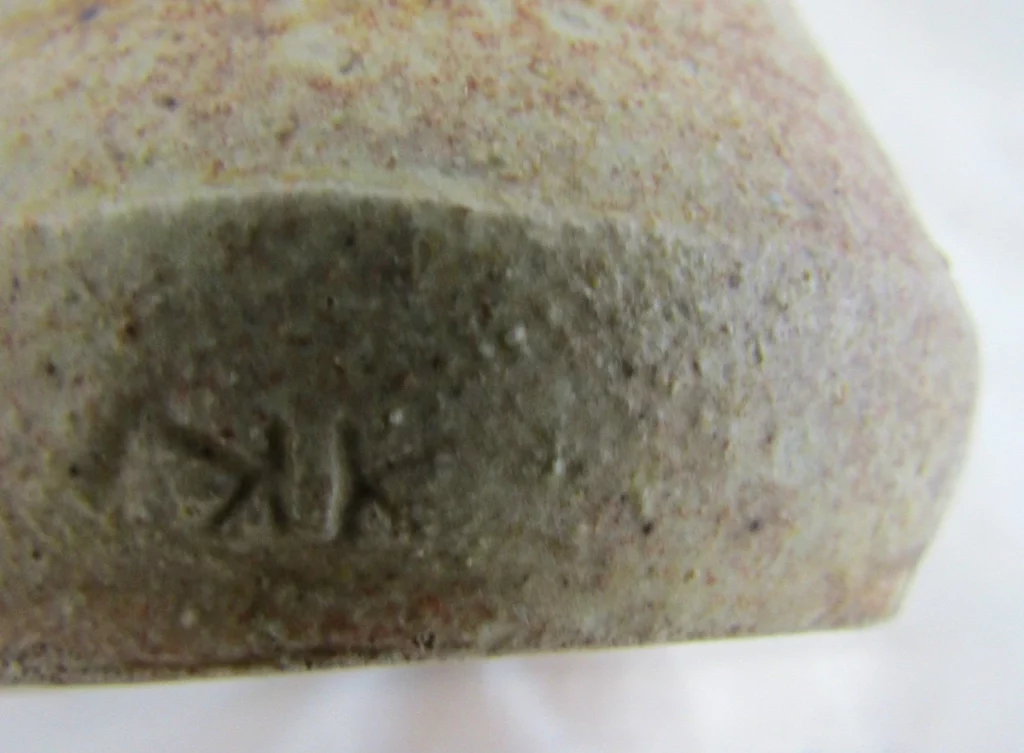 She decided to spend the remainder of her life on a farm, where she would work with clay and employ traditional firing techniques such as wood and salt firing. In 1998, a kiln fire engulfed her home and workshop, causing them to be destroyed.
Karen was able to rebuild her country cottage and pottery studio with the support of donations from a huge ceramic sale. She was awarded a graduate fellowship from Alfred University, as well as a gold medal from the American Craft Council for her exceptional craftsmanship.
Karen Karnes Legacy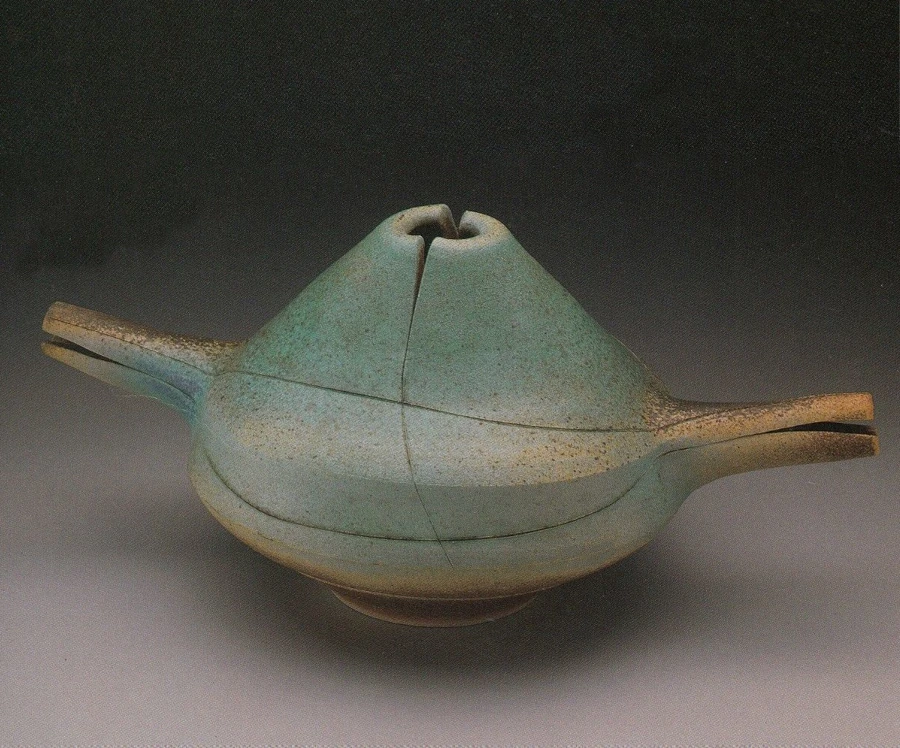 In addition to several exhibitions and permanent collections around the world, her work has been included in numerous publications.
Karen Karnes Public Collections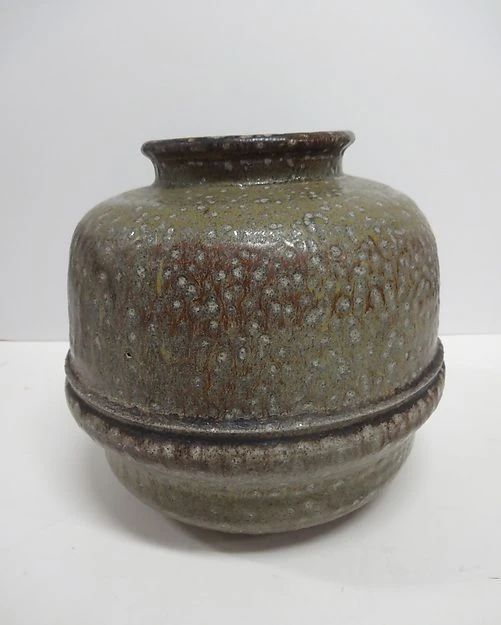 American Museum of Ceramic Art, AMOCA, Pomona, California
Asheville Art Museum
Vermont Arts Council Governor's Award
Lucy Lacoste Gallery
Garth Clark Gallery
Arizona State University Art Museum, Pheonix, Arizona
Aukland Museum, Aukland, New Zealand
Bemidji State University Collection, Bemidji, Minnesota
Canton Museum of Art, Canton, Ohio
Cranbrook Academy Museum of Art, Bloomfield Hills, Michigan
Currier Museum of Art, Manchester, New Hampshire
Delaware Museum of Art, Wilmington, Delaware
American Museum of Ceramic Art
Detroit Institute of Art, Detroit, Michigan
Everson Museum of Art, Syracuse, New York
Honolulu Museum of Art, Honolulu, Hawaii
Los Angeles County Museum of Art (LAMCA), Los Angeles, California
Manchester Craftsmen's Guild, Pittsburgh, Pennsylvania
Metropolitan Museum of Art, New York, New York
The Mint Museum, Charlotte, North Carolina
Museum of Arts and Design, New York, New York
Museum of Fine Arts, Boston, Massachusetts
Museum of World Folk Art, La Jolla, California
Nelson Fine Arts Center, Arizona State University, Tempe, Arizona
National Endowment
Northern Clay Center, Minneapolis, Minnesota
Palmer Museum of Art, Pennsylvania State University, University Park, Pennsylvania
Philadelphia Museum of Art, Philadelphia, Pennsylvania
Racine Art Museum, Racine, Wisonsin
Schein-Joseph International Museum of Ceramic Arts, Alfred University, Alfred, New York
Southern Highland Craft Guild, Asheville, North Carolina
Smithsonian American Art Museum, Renwick Gallery, Washington, D.C.
St. Louis Museum of Art, St. Louis, Missouri
Topeka Public Library, Topeka, Kansas
Victoria and Albert Museum, London, England
Weisman Art Museum, University of Minesota, Minneapolis, Minnesota
Artabys
Wichita Center for the Arts, Wichita, Kansas
Karen Karnes Bibliography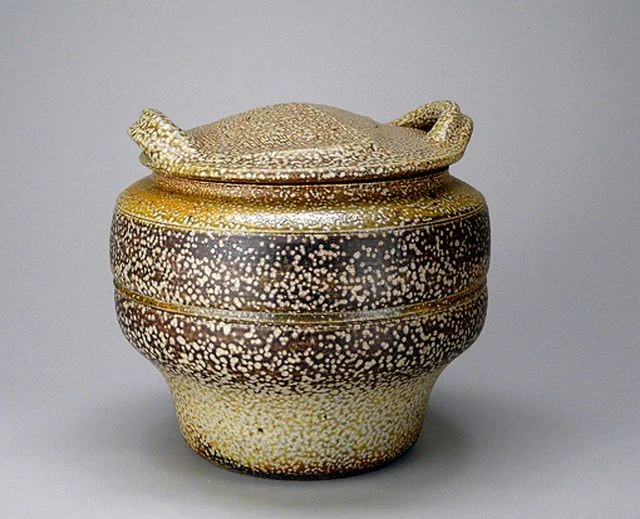 Boylen, Michael. "A Karen Karnes Workshop." Ceramics Monthly, 1981.
Clark, Garth, and Margie Hughto. A Century of Ceramics in the United States 1878-1978. New York, NY: E.P. Dutton, 1979.
Dietz, Paula. "American Pottery." New York Times Home Design, April 13, 1986
Hynes, Reggie. "Karen Karnes Workshop." Ceramic Review, May/ June 1982.
"Karen Karnes Retrospective." Ceramics Monthly, March 1978.
"Karen Karnes," Ceramic Review, March/April 1978.
Lynn, Martha Drexler. Clay Today Contemporary Ceramists and Their Work A Catalogue of the Howard and Gwen Laurie Smits Collection at the Los Angeles County Art Museum. Los Angeles, CA: Chronicle Books,1990.
Levin, Elaine. The History of American Ceramics From Pipkins and Bean Pots to Contemporary Forms, 1607 to the Present. New York, NY: Harry N. Abrams, Inc., 1998.
Rubin, Michael. "Karen Karnes." Ceramics Monthly, April 1986.
Mark Shapiro, ed. Chosen Path: The Ceramic Art of Karen Karnes. Chapel Hill, NC: The University of North Carolina Press, 2010.
Silberman, Robert. "Modernism As It Was Meant To Be." American Craft, April/May 2011.
Smith, Dido. "Karen Karnes." Craft Horizons, May/June 1958.
Popular Ceramic Artists
Pinterest = Images